Unique Inns on Pacific Coast Highway
Get Some Fun PCH Gifts Here
Unique Inns
on the Pacific Coast Highway
Unique Inns on the Pacific Coast Highway include some of the best independently-owned boutique hotels, spas, and lodges in California, Oregon and Washington.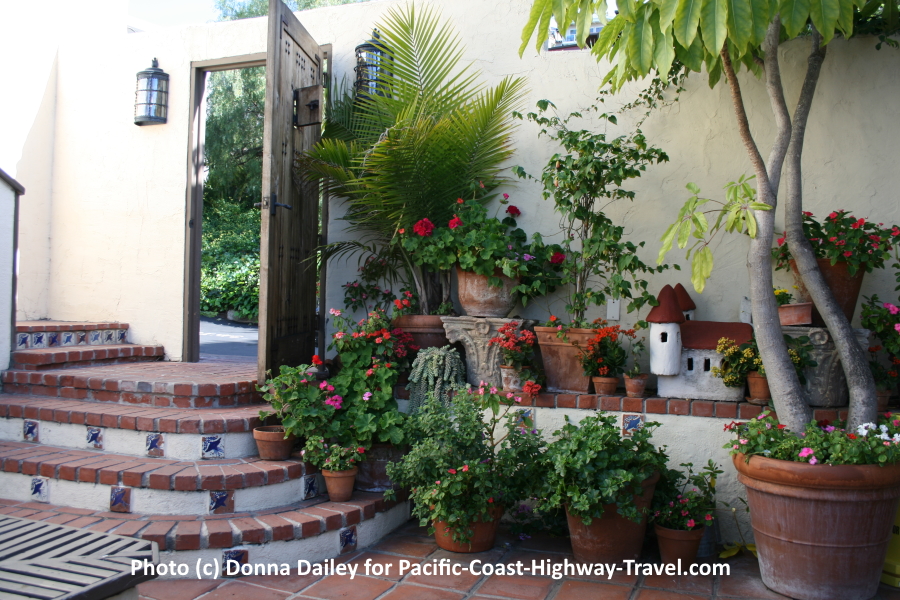 Casa Laguna
A Unique Inn in Laguna Beach
Unique Inns aren't limited to the Pacific Coast Highway, but they provide some of the best independently-owned boutique hotels, spas, inns, and lodges along the coasts of California, Oregon and Washington, as well as in Napa Valley wine country. 

The organisation also has members in Idaho and in Canada's British Columbia Province, in Vancouver, Mayne Island and Victoria.

There are Unique Inns in other places along the Pacific Coast Highway, including Monterey, Elk, Occidental, Muir Beach, San Francisco, La Jolla, and Santa Catalina Island in California, and in Seaview in Washington. But the Inns listed below are ones we ourselves have actually stayed in, and can recommend from personal experience. They're all different, but we found something special and memorable in each of them. 

CALIFORNIA
Laguna Beach
Casa Laguna Hotel and Spa
2510 South Coast Highway
Tel: 800-233-0449
Luxury Unique Inn right on the Pacific Coast Highway, but even though our room was overlooking the highway we didn't experience traffic noise. Other rooms (only 16 rooms in all) are further up on the Laguna's terraced hillside, and amenities include a small spa and business centre. We loved the genuinely gourmet breakfasts!

Carmel-by-the-Sea
Cypress Inn
Lincoln & 7th
Tel: 1-800-443-7443
The Cypress is right in the centre of Carmel, and a short stroll from the Demetra restaurant where we had one of the best meals of our recent Pacific Coast Highway trip. The Cypress is famous for being co-owned by movie star Doris Day, and there's plenty of movie memorabilia around the place. It's an upmarket inn that's also well-known for being very pet-friendly, going the extra mile to look after its visitors' four-legged friends.

Vagabond's House Inn Bed & Breakfast
4th & Dolores
Tel: 1-800-262-1262
We loved this place, which does have a laid-back vagabond/bohemian flavor to it, with most of its 13 rooms off a central stone courtyard filled with plants, waterfalls and a big oak tree. Many have their own private entrance, like little cottages. This is one we're definitely going back to, for longer.

Napa Valley
Wine Country Inn
152 Lodi Lane, St.Helena
Tel: 888-465-4608
We arrived here when the complimentary afternoon wine-tasting and gourmet appetizers were being enjoyed in the large and relaxed lounge area. We felt instantly at home. The Wine Country Inn has 20 rooms, four suites and five luxury cottages, overlooking acres of vines on the edge of St Helena. It's the perfect place for a romantic wine country break.

1801 First
1801 First Street, Napa
Tel: 800-518-0146
Right in Napa town itself, 1801 First is a boutique inn/bed and breakfast with just five luxury suites in the main building, which dates from 1903. There are two separate cottages behind the mansion, and the Carriage House too. The gourmet breakfast was something special, as was the complimentary wine tasting when we loved the chance to meet our fellow guests. Lots of people come here for special birthdays, honeymoons, and anniversaries.

Mendocino
Stanford Inn by the Sea
Coast Highway and Comptche Ukiah Road
Tel: 800-331-8884
Close to Mendocino is this truly unique Unique Inn. It's built in rustic lodge style on a hillside and is run on eco-friendly lines, with a certified organic garden whose produce is served in the outstandingly good Ravens Restaurant, which has won many accolades for its vegetarian and vegan cuisine. There's a heated indoor pool, a Massage in the Forest spa with yoga sessions too.

Eureka
Carter House Inns
301 L St., Eureka
Tel: 800-404-1390
This inn and its Restaurant 301 have both been called the best in Northern California, and the restaurant's wine cellar is one of the best in the entire country. It's a block or so back from the Pacific Ocean on the edge of Eureka's historic downtown district.

OREGON
Gold Beach
Tu Tu' Tun Lodge
96550 N Bank Rogue River Rd
Tel: 541-247-6664
The Tu Tu' Tun Lodge is one of the best lodges we've stayed in on the entire Pacific Coast Highway. In fact it's a few miles back from the Highway on the banks of the Rogue River, surrounded by woodland... and peace and quiet. It's great for hikers and nature lovers, and for gourmets too with top-notch gourmet food and a complimentary afternoon wine-tasting.

Yachats
Overleaf Lodge and Spa
280 Overleaf Lodge Lane
Tel: 800-338-0507
The Oregon coast is renowned for its rocks and tidepools, and its unspoilt beaches, and from the Overleaf Lodge we were able to walk right out the door and enjoy all these things. We watched the sun set from our balcony as children explored the tidepools (all rooms have ocean views), then drove into Yachats to eat, and in the morning enjoyed a walk along the paths and beaches. Really relaxing.
More Information about Unique Inns

For more details and for online booking information for all the Unique Inns in California, Oregon and Washington, as well as their inns in Idaho, and British Columbia in Canada,
visit the Unique Inns website. 
---
---
Sep 26, 23 04:18 AM

The Iconic Big Sur Waterfall Everyone Needs to See At Least Once

Sep 24, 23 05:26 AM

Pacific Coast Highway Travel picks the best restaurants in Santa Cruz, choosing the finest gourmet eating places, with both local and international cuisine.

Sep 24, 23 04:17 AM

Pacific Coast Highway Travel visits the Big Basin Redwoods State Park, which is the oldest state park in California.