Cambria Lodging:
Cambria Pines Lodge
We were really pleased to get to our Cambria lodging, the Cambria Pines Lodge. We'd had a long and tiring drive from Barstow, and never wanted to see Bakersfield traffic again. Especially not in the rain. 

Beautiful Gardens, Near Hearst Castle
It was a real relief and delight then to find that Cambria Pines was a peaceful retreat, spread out over 25 acres and with 5 acres of gorgeous gardens. They're definitely among the most beautiful hotel grounds we've ever seen, and if you're a garden lover looking for lodging along California's Central Coast, this is the place. You'll be in heaven.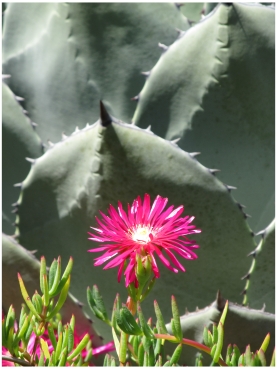 In the Gardens at Cambria Pines Lodge
All Photos (c) Donna Dailey
Cambria Lodging near Hearst Castle
There was no time to admire the gardens when we arrived, as we'd booked an evening tour of Hearst Castle, about 10 miles north of Cambria. These evening tours are something special, only available on summer weekends, and we didn't want to miss it. The gardens would have to wait till the morning.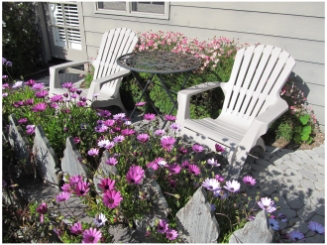 Our Cambria Lodging
Cambria Pines has a range of accommodation spread out around those 25 acres. We were staying in a lodge (room 918) at the western edge of the property, whose rear patio (above) looked out onto trees and a quiet open area. We sat out there before breakfast on the second morning, enjoying a cup of coffee and listening to the drilling sound of woodpeckers, the cackle of a family of magpies, and the vivid flashes of blue jays flying from tree to tree in the sunlight.
Our lodge had both a big bedroom and an enormous living room, both with a kind of rustic French antique-look to them. The floors were made from a lovely light-colored distressed-style wood, and everything about the furniture and the amenities combined style and comfort with a very laid-back California feel.
Cambria Lodging: Breakfast
The Cambria Pines dining room was fully-booked for dinner the night we were there, as they had a big wedding party in. That was a shame (though not for the wedding guests!), as if breakfast was anything to go by then the food here is exceptional.
There was a terrific red salsa and potatoes with sausages, which we both tucked into. Also on offer were scrambled eggs, biscuits and gravy, real OJ, really good coffee, home-made muffins, toast, fruit, yoghourt, and probably a few more things we didn't find.
There were two dining rooms with a mix of booths and tables, and a cosy inn-like atmosphere. There was some outside seating too, which many guests were taking advantage of on a beautiful sunny April morning.
Cambria Pines Lodge Gardens
The gardens at Cambria Pines Lodge were so special we spent most of our morning there wandering round them, taking photos and videos. We couldn't drag ourselves away. You can see why here in this short YouTube slideshow: 

The slideshow doesn't even begin to show the full glory of the gardens. They're not vast but there are several different sections to them – the Herb Garden, Succulent Garden, Flower Bed, Green Garden, Gazebo Garden, White Garden, Rose Garden, and Organic Kitchen Garden – with secret corners, benches, statues, birds and butterflies of course, some dramatic cacti and many whimsical touches too, like the bird houses overgrown with flowers, and the 'flower bed' – a wooden bedframe that has almost melted into the flowers and foliage, and made a suitable closing shot for our little slideshow.
The Verdict on Our Cambria Lodging
There's plenty of Cambria lodging to choose from, and we've stayed at some lovely places here already, including the Pelican Inn and Suites and the Olallieberry Inn Bed and Breakfast. They were both terrific places, and Cambria Pines Lodge is too, especially if you enjoy gardens. Very highly recommended.

Contact Details

Cambria Pines Lodge
2905 Burton Dr
Cambria, CA 93430
Tel: 805/927-4200
Toll Free: 800/966-6490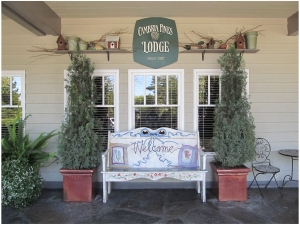 ---
---
Feb 01, 19 04:24 PM

San Clemente in California is a small city on the Pacific Coast Highway midway between San Diego and Los Angeles, noted for its beaches, surfing, and Spanish colonial-style architecture.

Jan 21, 19 05:19 PM

If you're looking for good Gold Beach Oregon lodging check out the Tu Tu Tun Lodge a few miles inland along the Rogue River, not far from the Pacific Coast Highway on the Southern Oregon coast.

Jan 21, 19 04:48 PM

Gold Beach is a small town on the Oregon coast at the mouth of the Rogue River with the Pacific Coast Highway, Highway 101, here called the Oregon Coast Highway, running right through it.