Pelican Inn and Suites
Cambria, California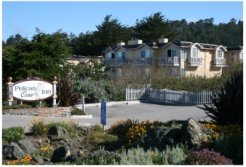 The bad news was that we arrived too late to enjoy the free wine and cheese that they serve every afternoon from 3-5pm at the Pelican Inn and Suites on the edge of Cambria, on California's Central Coast. We'd been too busy enjoying ourselves watching seals and sea otters playing in the ocean at Morro Bay about 20 miles down the coast. 
The good news was that we still had the complimentary desserts to look forward to, served every night from 7.30-9pm. Now that's what you call a good idea! So later we tucked into the several different kinds of cheesecake, the chocolate cake, carrot cake, and assorted cookies, all laid out buffet-style in the dining room. With a bottle of wine from nearby Paso Robles wine country, we were happy. Another good day on the Pacific Coast Highway.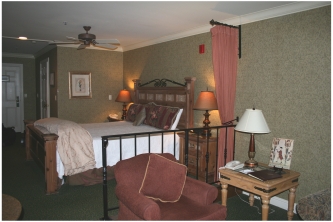 Cambria Inn Free Extras
As well as the free wine and cheese, and those free desserts, the Pelican Inn and Suites serves a substantial complimentary buffet-style breakfast – several cooked options, make-your-own waffles, muffins, toast, lots of juices. We were impressed. There's also free parking, and the rooms have free internet, and coffee-makers with tea and coffee. It's a non-smoking property, by the way.
Our Room at the Pelican Inn and Suites near Cambria
We were in room 212 (above), which overlooked the swimming pool. Some rooms have full-on ocean views, and some others have partial views, so check when booking as the ocean-view rooms are in demand. Our room was huge, with a comfortable sofa and several easy chairs in a living room area, a step down from where the enormous and comfy bed was. It was all really spacious, and plenty of room to dump our bags without falling over them. 
The furniture was wooden, there were brass lamps and some art works around, all in a modern version of a classic style, and very relaxing. Sometimes it's the little things that make a difference, too. As I got out the laptop to check the emails, I looked for a power outlet and there were plenty available, and easy to get to. How many times in hotel rooms have I crawled under the desk, or pulled out a bedside table, or had to unplug a lamp before I could use a power socket? Not here – well done on that score, Pelican Inn.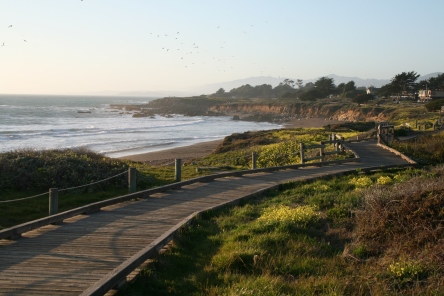 The Shoreline in Front of the Pelican Inn and Suites
What to do from the Pelican Inn and Suites in Cambria
Right outside the Inn's entrance is the rocky beach, with a wooden walkway running behind it so you don't have to walk along the road – not that the road's very busy anyway, though there are quite a few other inns, houses and a restaurant or two along here. Within a few minutes of the hotel we were watching some seals on the rocks. 
The Inn doesn't serve full meals but there's plenty of good eating choices in Cambria, which is only a few minutes drive away on the other side of the Pacific Coast Highway. Hearst Castle and San Simeon are only a few miles north, and a few miles beyond that the wonderful elephant seal beach at Piedras Blancas. Cambria also makes a good base for exploring Paso Robles Wine Country, which is just inland from here and a beautiful drive to get there. It's also much more scenic than Napa, in our view. So all in all the Pelican Inn and Suites in Cambria made the perfect base for us for a couple of nights and days of local exploring.
More Information
Pelican Inn and Suites
6316 Moonstone Beach Drive
Cambria, California 93428
Tel: (805) 927-1500
Toll Free Reservations (800) 222-9160
---
---
Mar 12, 18 03:07 PM

The Pacific Coast Highway goes right through Laguna Beach, a relaxed artsy beach resort town between Los Angeles and San Diego. Located about 80 miles from San Diego, its attractions include shopping…

Mar 09, 18 06:34 PM

The Pacific Coast Highway goes right through Huntington Beach, otherwise known as Surf City USA and a popular beach resort town between Los Angeles and San Diego. It's about 40 miles from LA and 90-10…

Feb 28, 18 10:24 AM

Lots of people have recently been choosing their Best West Coach Beaches, Best Beaches in the World and Best California Beaches so Pacific Coast Highway Travel has listed the best of the best.