Get Some Fun PCH Gifts Here
San Simeon
San Simeon is a tiny town of a few hundred people close to Hearst Castle on the California coast midway between San Francisco and Los Angeles.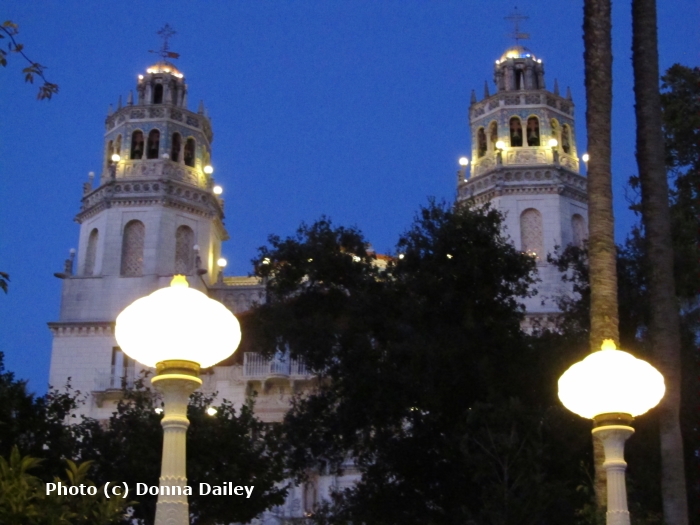 Hearst Castle Evening Tour
There's not a lot to do in San Simeon itself, but it does make a good base for a day or two while exploring everything close by. We haven't stayed there ourselves but we have visited the Cavalier Oceanfront Resort to look around and it was a lovely place, right on the ocean as the name tells you. 
We usually stay in Cambria, which is livelier than San Simeon and with more accommodation and eating options, but it is about 7 miles further south than San Simeon's motels. If you're visiting Hearst Castle in the evening or have a tour booked for early in the morning, staying in San Simeon can make more sense.
Hearst Castle
Most of the accommodation in San Simeon is close together and roughly 4 miles south of the entrance to Hearst Castle. You can read all about Hearst Castle on some of our other pages:
Hearst Castle Tours
Visiting Hearst Castle
Driving from Los Angeles to Hearst Castle
Hearst Castle Evening Tours
Elephant Seals
About 7-8 miles north of San Simeon is one of our favorite stops on the Pacific Coast Highway. We simply cannot drive by without stopping at Piedras Blancas, or the Elephant Seals Beach. We can guarantee that you'll never have seen anything like it in your life. It's the only elephant seal rookery in the world that is easily accessible and is open for free every day of the year. Yes, the elephant seals don't even take Christmas Day off!
Piedras Blancas Light Station
Drive north from the elephant seals and in less than 2 miles on the ocean side (naturally) will be the Piedras Blancas Light Station. We have to admit that we've not yet visited here simply because we always spend longer than planned watching the elephant seals.
The light station dates back to 1874 and was originally 100 feet tall, but an earthquake in 1948 damaged the top and it's now 70 feet high. You can tour the light station but you must book in advance here.
Note also that tours do not start at the light station itself but at the former Piedras Blancas Motel, which is 1.5 miles further north.
San Simeon Beaches
San Simeon can also offer some very good beaches, if you want to relax a little. The William Randolph Hearst Memorial State Beach is hard to miss as it's directly across from the entrance to Hearst Castle. The soft sand beach has kayaking, fishing, boating, and other facilities, and the Coastal Discovery Center is open at weekends.
Further south is Pico Creek Beach, which is walking distance from most of the local motels and hotels. There are also hiking trails from this beach, and several other beaches are within easy driving distance of San Simeon.
Driving to San Simeon
Driving from Los Angeles to San Simeon should take about 4 hours in normal traffic, if you take the fastest route along I-5 and then cut across to the coast on Highway 46. It's a pretty straightforward drive, but allow for traffic which can push the journey time up to 5 hours.
Going from LA to San Simeon along the Pacific Coast Highway will add about an hour to the journey time. The total distance from central Los Angeles is about 240 miles, whether you go along the coast or take I-5.
From San Francisco to San Simeon is also about 240 miles and should take 4-5 hours, perhaps a little more if the traffic is bad. You can go south along Highway 101 to Paso Robles and then take Highway 46 out to the coast. This is the way to go if Big Sur is blocked, as it has been a few times in recent years.
The other option is to take Highway 1 along the coast which trims the journey to about 200 miles but the journey time can be anything from 3.5 to 5.5 hours, depending on the state of the traffic.
Where to Stay in San Simeon
---
---
Sep 26, 23 04:18 AM

The Iconic Big Sur Waterfall Everyone Needs to See At Least Once

Sep 24, 23 05:26 AM

Pacific Coast Highway Travel picks the best restaurants in Santa Cruz, choosing the finest gourmet eating places, with both local and international cuisine.

Sep 24, 23 04:17 AM

Pacific Coast Highway Travel visits the Big Basin Redwoods State Park, which is the oldest state park in California.