Get Some Fun PCH Gifts Here
Hearst Castle Tours

Hearst Castle tours show you round the former home of William Randolph Hearst in San Simeon, one of the best things to do along the Pacific Coast Highway.

Hearst Castle tours are definitely one of the very best things to do while driving the Pacific Coast Highway. In fact we'd say that along with seeing Big Sur, and the Monterey Bay Aquarium, it's one of the must-see PCH attractions, and the highlight of California's Central Coast.
Hearst Castle is in San Simeon, a few miles north of Cambria, and either place makes a good base for an overnight stop along the drive. As it's advisable to book Hearst Castle tours in advance, we recommend basing yourself near here one night, and booking on one of the early morning tours. For the practical information you need, see our Visiting Hearst Castle page.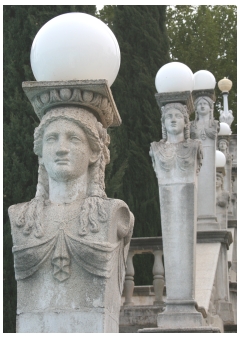 Our Hearst Castle Tour
We booked on the Experience Tour, which is the general introductory tour recommended for all first-time visitors to Hearst Castle, although you're free to choose whichever tour appeals to you most from the several that are available. Since we did this tour the name has been changed to the Grand Rooms Museum Tour, but the actual tour is very similar.

Some Unusual Hearst Castle Gifts
We set off in the small coach for the 5-mile ride up the hill to the Castle itself, and on the way we learn about the zoo that William Randolph Hearst had here.

It was the world's largest private zoo, and included lions, cheetahs, leopards, reindeer, kangaroos, and many other creatures. There are still Barbary sheep, deer, and Roosevelt elk in the grounds, and if you're driving past Hearst Castle and think you see some zebra grazing, you're not hallucinating. There are still about fifty of them living at Hearst Castle, along with about 5,000 head of cattle in the 80-90,000 acres of land.

The original ranch here had to be as self-sufficient as possible, as when work on building the Castle began in 1919, it was quite remote. All the water used at Hearst Castle still comes from three natural springs that are here.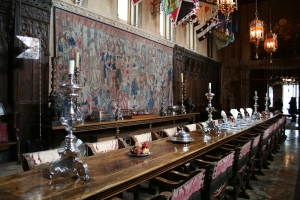 The Dining Room at Hearst Castle (All Photos (c) Donna Dailey)

The Hearst Fortune
It was in 1919 that Hearst inherited the land and the family fortune of almost $11 million. His father had been a successful prospector, and had found the largest strikes of gold, silver, and copper in the United States.
William Randolph went on to add to the fortunes by building his publishing empire. He owned magazines like Cosmopolitan, Good Housekeeping, and Home and Country, and owned newspapers in every major city in the United States.

However, by the late 1930s he was $120 million in debt, and had to cut back on some of his excesses. By the time he died in 1951, though, he had rebuilt his fortunes and was worth somewhere between $200-400 million.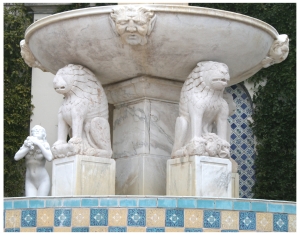 Hearst Castle Tour Highlights
There is so much to see on a Hearst Castle tour that it's impossible to describe everything. Highlights include the outdoor swimming pool with its authentic Roman ruins that are about 1800 years old; the dazzling blue and gold of the indoor pool, where Hollywood celebrities used to bathe; the main entrance to the main house, which is modeled after two Spanish cathedrals and incorporates a 16th-century convent door; and the grand dining room with the bottles of ketchup and mustard on the table, reflecting Hearst's taste for what he called 'ranch food';

Those are just a few of the highlights of a typical Hearst Castle tour. We went away fascinated by William Randolph Hearst, and his Castle. It's an essential stop on any Pacific Coast Highway drive.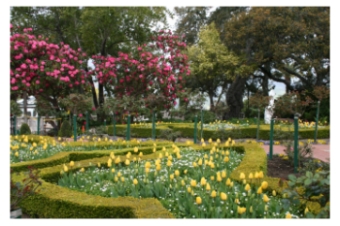 The Gardens at Hearst Castle

Further Information
To find out the practical information about a visit to Hearst Castle (how long to allow, how to get there, where to stay etc) see our Visiting Hearst Castle page.
For further information and to book a tour, visit the Tours page of the Hearst Castle website. You must book in advance for tours if visiting Hearst Castle, as places are limited and the tours are extremely popular.

Driving from Los Angeles
If you're visiting Hearst Castle from Los Angeles, see the detailed driving advice on our LA to Hearst Castle page.
Where to Stay in San Simeon
Where to Stay in Cambria
---
---
Sep 26, 23 04:18 AM

The Iconic Big Sur Waterfall Everyone Needs to See At Least Once

Sep 24, 23 05:26 AM

Pacific Coast Highway Travel picks the best restaurants in Santa Cruz, choosing the finest gourmet eating places, with both local and international cuisine.

Sep 24, 23 04:17 AM

Pacific Coast Highway Travel visits the Big Basin Redwoods State Park, which is the oldest state park in California.