Hearst Castle Evening Tours
Hearst Castle 
Evening Tours
We'd booked one of the Hearst Castle evening tours last year but were foiled by a medical emergency. We were determined to do one on this year's drive down the Pacific Coast Highway, though, so we booked again. Thank goodness we did, as touring William Randolph's former home along California's Central Coast as the sun is going down is the most magical way of seeing Hearst Castle.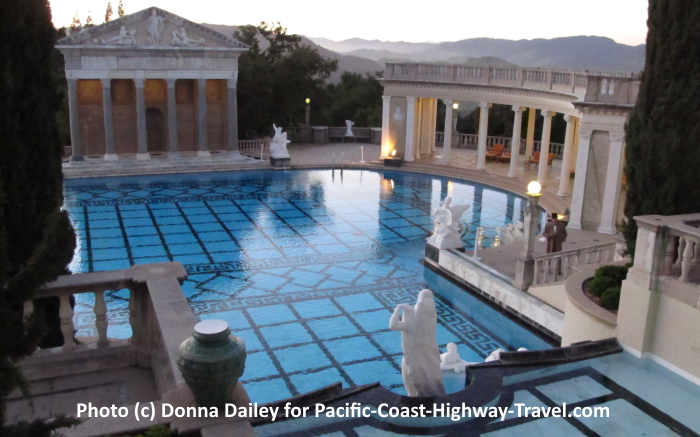 As the Sun Goes Down
All Photos (c) Donna Dailey
Hearst Castle Evening Tours are Different

We've done a daytime tour before, and the two are very different. There's a slight overlap in that everyone is always given an overview of Hearst Castle, of course, but there's a special feeling as you ride up to the castle in the coach while the sun is sinking in the sky. As you approach you can see the castle light's twinkling in the twilight, and hear the perky sounds of some Jazz Age music around the grounds.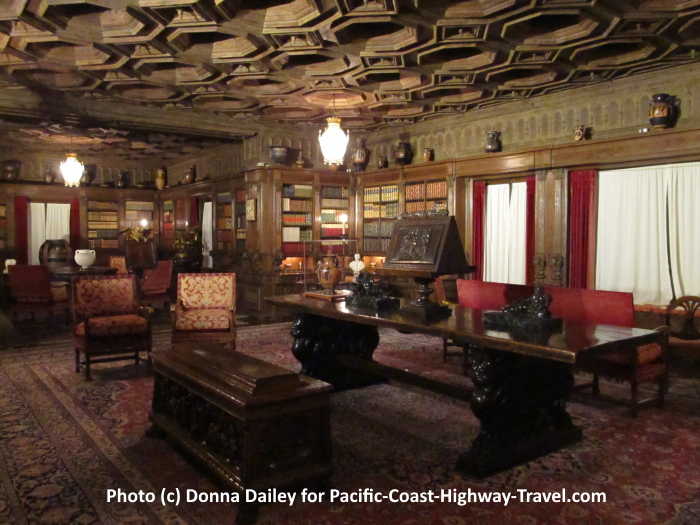 From Hollywood to Hearst Castle
For the evening tour they try to recreate the atmosphere of one of William Randolph Hearst's famous parties, for which movie stars and politicians would arrive from Los Angeles, over 200 miles to the south. Guests would get here by taking a train from Burbank, getting into Hearst's own special carriages at the back of the train. They would get out at San Luis Obispo, where a limousine would pick them up and bring them to the castle.
They would be given a tour of the castle and grounds, and meanwhile maids would unpack their bags so their rooms were ready by the time the tour finished. It's very similar to today's tours – except you don't get to stay in the castle overnight!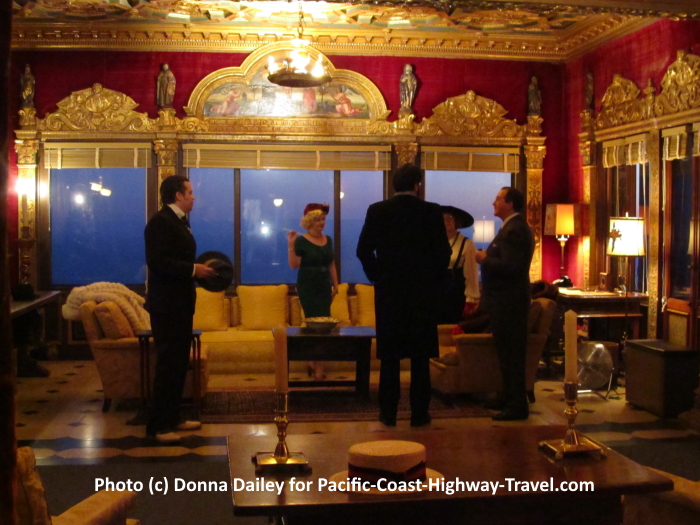 Costumed Guests Bring the Castle to Life
Costumed Guests on Hearst Castle's Evening Tours

As you're guided round the castle you encounter actors in costume, who really help create the feeling that you're also a guest at a Hearst party. An entertainer sings by the spectacular outdoor pool, a group of guests is playing billiards in the billiard room, some are doing jigsaws, others chatting on the phone, and some women seem to be have a wonderful time swapping gossip in one of the guest bedrooms.

A William Randolph Hearst Party

A Hearst party would normally begin with cocktails, followed by a 5-course dinner. Guests were told not to bring their own alcohol, as Hearst believed in moderation and he would provide the drinks for his guests. After dinner there would be billiards and other games, perhaps a movie in the private cinema, or entertainment around the swimming pool.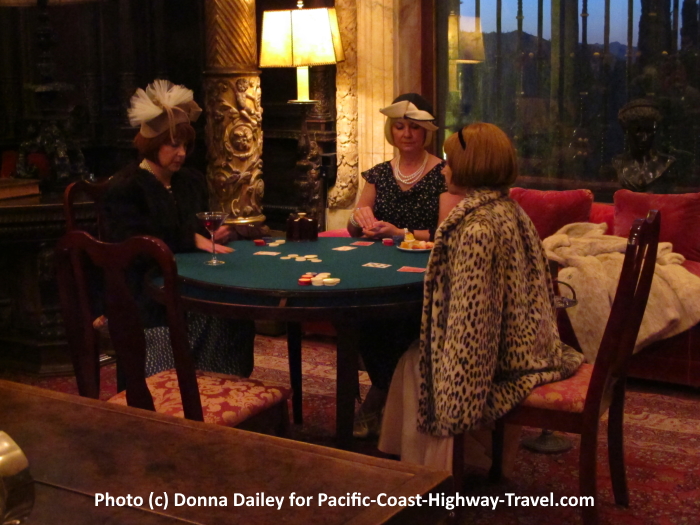 Celebrity Guests

We visit one of the medium-sized guesthouses, the Casa del Monte, where Cary Grant and David Niven had both stayed. It got its name because Hearst liked to tell guests that they looked out at his mountain. Yes, his mountain. You can see one peak 35 miles in the distance which marked the edge of his property.
Other notable guests over the years included Charlie Chaplin, Winston Churchill, George Bernard Shaw, Howard Hughes, Gary Cooper, Joan Crawford, Harpo Marx, Jean Harlow, and many more famous names. Single female guests stayed in the main houses while single men stayed in the guesthouses. Unmarried couples were not allowed to share a room.

Highlights of the Evening Tours

As well as the party atmosphere, the tours do also tell you all about the building of Hearst Castle, where Hearst's money came from (and where it went), with a few juicy bits of movie star gossip along the way.
You visit some of the overwhelmingly opulent rooms like the Guest Library, the Main Library, the Dining Room, the Morning Room, the Kitchen, and even into Hearst's private suite. It's an entertaining evening, an eye-opener into the private world of William Randolph Hearst.
As we were driving back to the Visitor Center in the bus, fellow guests were all talking enthusiastically about the tour. One even said: 'That was worth driving all the way from San Diego for.' High praise indeed.
Hearst Castle Location

The entrance to Hearst Castle is in the little town of San Simeon, right on the Pacific Coast Highway. It's well sign-posted on your right if you drive north about 9 miles from Cambria (allow 15 minutes). Drive into the large parking area and then go into the Visitor Center to collect your pre-booked tickets. Coaches up to Hearst Castle leave from the Visitor Center at the specified times.
You might want to try to get there at least an hour before your tour as a fascinating and informative 40-minute film, Hearst Castle: Building the Dream, is shown every 45 minutes throughout the day in the theater. Check the showtimes in advance on the Hearst Castle Theater page of their website.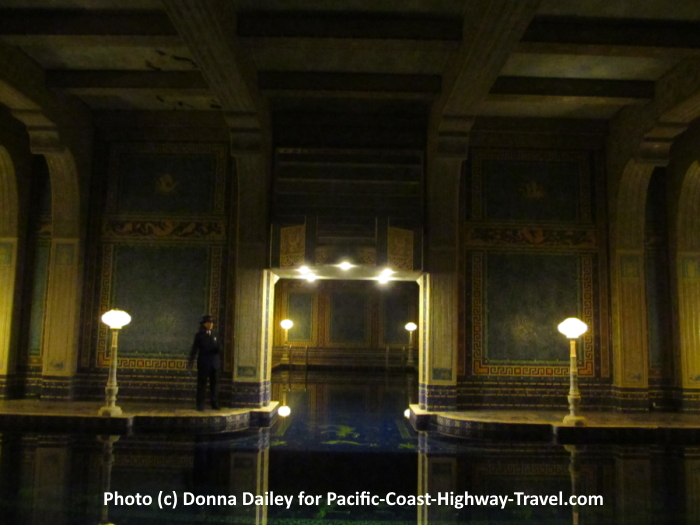 Booking Hearst Castle Evening Tours

You must book in advance for an evening tour of Hearst Castle, as places are limited and the tours are extremely popular. They also only take place in Spring and Fall, on most Friday and Saturday evenings. Tours last 2hrs 10mins and involve climbing up and down over 300 stairs. Learn more and book your place on the Hearst Castle Evening Tours page of their website.

Further Information
To find out the practical information about a visit to Hearst Castle (how long to allow, how to get there, where to stay etc) see our Visiting Hearst Castle page.
For further information and to book a tour, visit the Tours page of the Hearst Castle website. You must book in advance for tours if visiting Hearst Castle, as places are limited and the tours are extremely popular.

Driving from Los Angeles
If you're visiting Hearst Castle from Los Angeles, see the detailed driving advice on our LA to Hearst Castle page.
---
---
Oct 06, 21 03:29 AM

The Pacific Coast Highway is California's longest state route at 656 miles (1,055 kilometres) and runs along the Pacific Ocean, making it arguably one of the prettiest drives in the United States. Fou…

Oct 06, 21 03:29 AM

United Airlines just made a lot of friends among cycling enthusiasts. The Chicago-based carrier has eliminated its fees for passengers traveling with their bicycles, joining fellow airlines American a…

Sep 30, 21 03:15 AM

Best Tours & Travel's recent reopening saw sellout tours and a continuing recovery in its private charter operations, thanks to nonstop outreach throughout 2020's shutdown months that continues today.