Pacific Coast Highway Travel
Planning Your PCH Road Trip
CURRENT ROAD CONDITIONS
The Pfeiffer Canyon Bridge, which carries the Pacific Coast Highway in Big Sur, was closed in March 2017 after crumbling. It re-opened in October 2017.
Not long after the bridge collapsed, a mudslide about 30 miles south of the bridge also closed another part of the highway, likely to be for a year. You can still drive most of the highway but will need to take a detour inland to get round the mudslide, but if you don't mind retracing your steps a little you can still see almost all of the coast.
If you can delay your trip till later in 2018, that would be better, but if you have to make the drive before then you can still do it but get up-to-date information on the situation on the
UPDATE September 2017
Mudslide won't be cleared till summer 2018.
Read Conde Nast Traveler
Get the information on making that PCH road trip right here.
Pacific Coast Highway Travel has:
and much more, here at Pacific Coast Highway Travel!
---
These are the Most Popular Pages
on Pacific Coast Highway Travel
Click on the Photos to Take You Straight There
---
---
Don't miss this amazing video of two paddle boarders meeting four migrating gray whales at Laguna Beach
---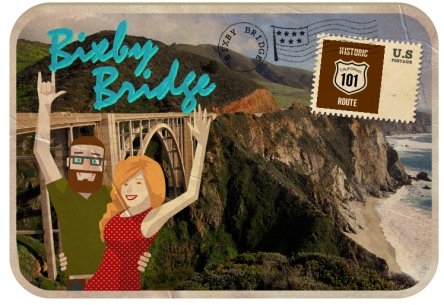 And read our own blog about the great
new travel sharing app:
Pearlshare
---
Mike and Donna are also the co-editors of the 101 USA Holidays website, which recommends the best US vacation experiences to UK holidaymakers.
---
Safety First and Foremost
The PCH is for everyone to enjoy - not just drivers but cyclists, walkers, and residents too. Take a look at this safety video and make sure everyone gets to enjoy the road:
---
---
Feb 23, 18 03:14 PM

Mendocino in Mendocino County is a small but pretty California coastal town, popular with artists and with travelers. It has featured in many songs and movies, and the TV series Murder She Wrote.

Feb 07, 18 12:00 PM

Here are the facts and figures about Balboa Park in San Diego, which is bigger than New York's Central Park and contains 19 gardens, 17 museums and 14 restaurants.

Feb 06, 18 05:12 PM

San Simeon is a tiny town of a few hundred people close to Hearst Castle on the California coast midway between San Francisco and Los Angeles.