Get Some Fun PCH Gifts Here
Scenic Spots on the Pacific Coast Highway
Scenic Spots on the Pacific Coast Highway
Pacific Coast Highway Travel's guide to the most scenic spots on the Pacific Coast Highway in California with Big Sur, Bixby Bridge and Pfeiffer Beach.
Choosing the most scenic spots on the Pacific Coast Highway is a difficult task, even if you limit it, as we've done here, to the California stretch of PCH. However, we've given it a try, and here's our personal and totally biased list in alphabetical order.
Scenic Spots on the Pacific Coast Highway

Big Sur
We start with a bit of a cheat because Big Sur isn't one scenic spot but a series of them, running for miles through the stretch of the Central California coast between Carmel and San Simeon. Little wonder this has been called one of the most scenic stretches of coastline in the world.
The dramatic nature of the coastline here, with mountains tumbling right down to the sea, also makes it vulnerable to landslides during winter storms. It often gets closed for repair, so if you really want to see the best of Big Sur, travel in summer or fall. See our separate page on Big Sur.
Bixby Bridge

Ten miles north of Big Sur and 30 minutes south of Carmel and Monterey, Bixby Bridge must be the most photographed bridge along the Pacific Coast Highway after the Golden Gate Bridge.

Pull in at the viewpoint on the ocean side of the highway, just north of the bridge, for great shots of both the bridge and the Big Sur coastline beyond. See also our full page on Bixby Bridge.
Greyhound Rock Beach
Greyhound Rock Beach is an unusual and less-well-known beach, about a 10-minute drive north of the tiny town of Davenport on the Pacific Coast Highway. Davenport is itself about 20 minutes north from Santa Cruz.
The beach is within the Greyhound Rock State Marine Conservation Area, which is a marine life protection area. Look for a small path to the north of the parking lot to get to the beach. We've included it in our scenic spots list for the Pacific Coast Highway as it's a quieter beach and it gets its name from the unusual rock formation just offshore. We're not sure that it looks like a greyhound, more like a gray whale to us, but it's certainly different.
The Best PCH Guide
We've read lots of guides to the Pacific Coast, and easily the best one is the Moon Handbook. You can read our review here, or buy it through the Amazon link below.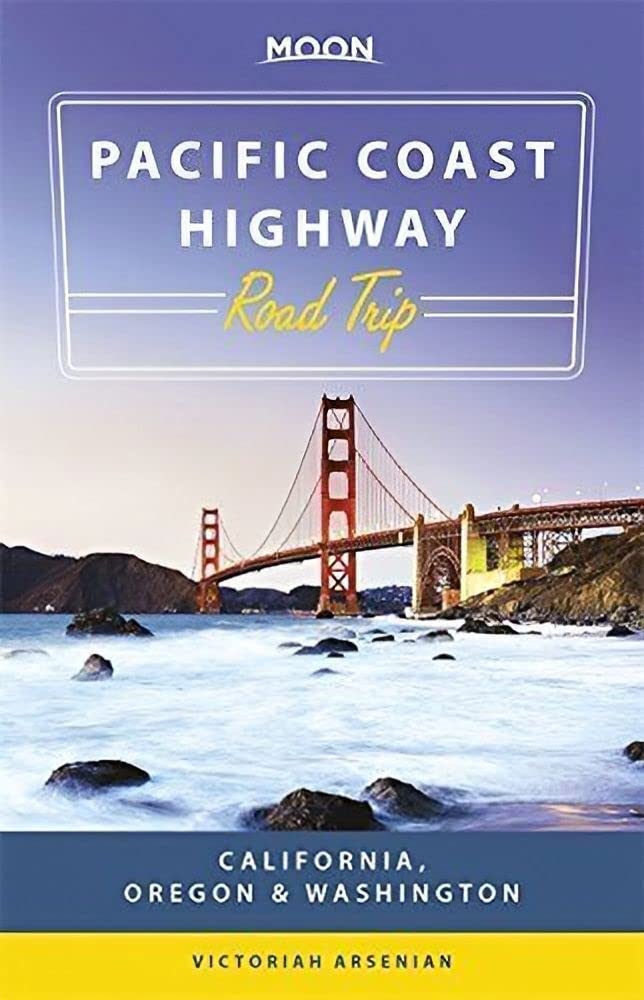 It's a great beach if you're traveling with a family as it's a very safe place, secluded, and there are lots of tide pools to explore. You can also go beachcombing here, and there's a family picnic area. Fishing is also popular, and there are some nature trails too. We definitely recommend this, especially if you were spending a day or two in Santa Cruz.
McWay Falls

McWay Falls is an 80-foot-tall (24m) waterfall on the coast of Big Sur in central California that flows year-round from McWay Creek in Julia Pfeiffer Burns State Park. The park is about an hour's drive south of Carmel. Look for a turning on the east side of the highway marked McWay Canyon/Julia Pfeiffer Burns State Park, which leads you round to the parking area..
During high tide, it becomes what's called a tidefall, which is a waterfall that empties directly into the ocean. You'll have to be content with a distant view of the falls, though, as it's illegal to hike down to McWay Falls.
Morro Bay
Morro Bay is one of our favorite scenic spots along the Pacific Coast Highway. We like to either spend a night there, or at least pull in, walk round, have a coffee or a bite to eat, and walk round to see what the sea otters are up to, swimming and playing in the bay itself. They're wonderful creatures.
A good scenic photo is anything that shows Morro Rock in it. See our main Morro Bay page for more information.
Pfeiffer Beach
With its purple-tinged sand, cliff faces, and offshore rock formations, this is one of the prettiest little beaches you'll find. Scenic? Certainly! Read more on our page on the Best Beaches in California.
Point Lobos State Natural Reserve
We were sent to Point Lobos by a colleague when we were staying in Monterey and asked him for recommendations for a good walk. We're so glad that he did. You can read our page about our visit here, and see our YouTube video here. Also check out the official website here.
Point Loma

The last of our favorite scenic spots along the Pacific Coast Highway (alphabetically, that is) is Point Loma. It's not one spot but a scenic peninsula west of San Diego and easily missed if you were headed north out of the city in search of that Pacific Coast drive. We like to point out places that are easily missed, though you can't miss out the must-sees like Big Sur.
To get to Point Loma, head north out of San Diego on North Harbor Drive as if you were going to the airport. Pass the airport and when North Harbor Drive ends, make a left onto Rosecrans Street and keep going. Then take a drive around the peninsula, as like out first entry for Big Sur this is also a cheat as it's not one scenic spot but many.
Among the things you can enjoy are the Point Loma tide pools, nature trails, the Old Point Loma Lighthouse, and the Cabrillo National Monument.
---
---
Nov 29, 23 07:10 AM

PCH Travel's intro to the Disneyland Resort, which includes both Disneyland Park and Disney California Adventure Park, just a few miles from the coast highway.

Nov 27, 23 04:20 AM

PCH Travel picks the best time to visit the Olympic Peninsula, with a monthly summary of the weather, plus hotel prices and special events to help plan a visit.

Nov 25, 23 07:03 AM

PCH Travel picks the best time to visit Santa Barbara, with a monthly summary of the weather, plus hotel prices and special events to help plan a visit.