Monterey
Cannery Row, Monterey Bay Aquarium
We love Monterey, which makes a perfect stopping-off point on any Pacific Coast Highway drive. 

Monterey Bay Aquarium
In fact there's so much to see and do here, you might want to break the journey and spend two nights. You can spend at least half a day just at the fantastic Monterey Bay Aquarium, and then there's Cannery Row with its John Steinbeck connections, the Monterey State Historic Park with some fine old buildings (including the oldest government building in California), the fun of Fisherman's Wharf, whale-watching cruises, and lots more.

In the Monterey Bay Aquarium. All Photos (c) Donna Dailey
Things we love about Monterey
Monterey Bay Aquarium
The Monterey Bay Aquarium is definitely one of our top Pacific Coast Highway attractions, and one of the finest aquariums in the United States. Allow at least half a day if you want to have a chance to see everything, including of course popular events like feeding the sea otters, the penguins, the sharks, and catching some of the talks and displays that change regularly. (Check the Daily Activities page on the Monterey Bay Aquarium website for details.)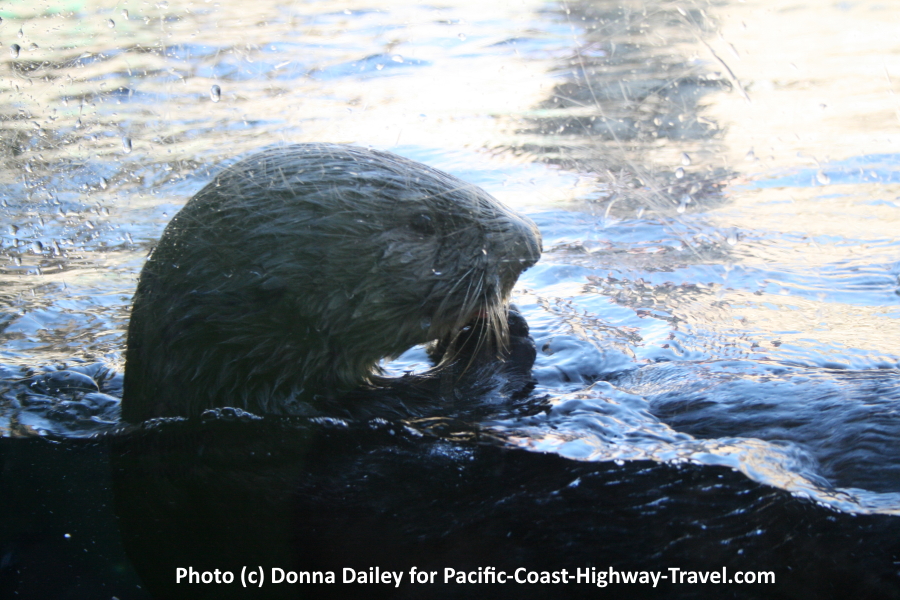 We couldn't get enough of fascinating creatures like the jellyfish and the sea dragons (above), while other big attractions include the hauntingly beautiful Kelp Forest, the Giant Pacific Octopus Exhibit, and the Open Sea Exhibit, where you can gaze through a 90-ft window onto sea creatures including tuna, turtles, sharks and puffins, all enjoying the natural feel of their 1.2 million gallon home.
It's not surprising that the Monterey Bay Aquarium has been called one of the best family attractions in the USA. See our separate page that tells you much more about the Monterey Bay Aquarium.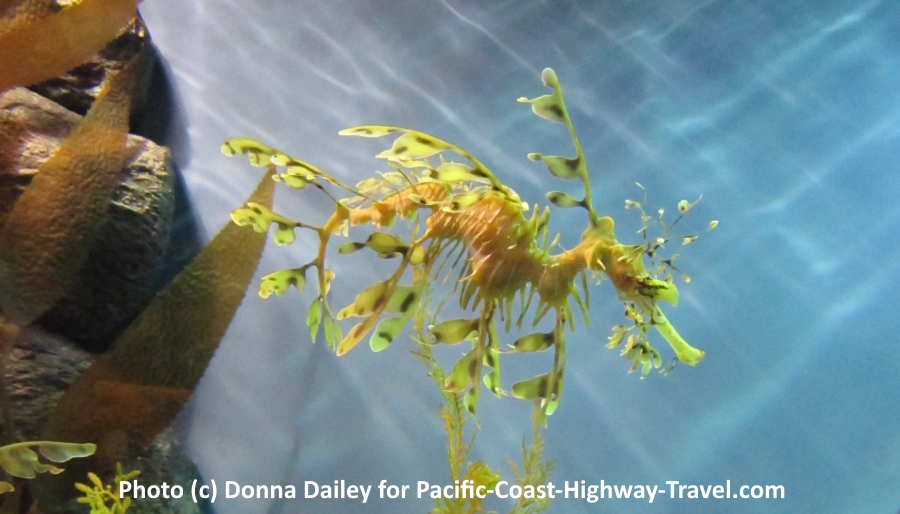 Seadragon
Cannery Row
See our Cannery Row page.

Fisherman's Wharf
Mike Loves Clam Chowder!
You can't visit Monterey without going to Fisherman's Wharf, where you'll probably be greeted by the sounds of sea lions barking, and some of the restaurant owners trying to tempt you in with free samples of their clam chowder, and other food. There are several restaurants along the Wharf, and after a mouthful of their clam chowder we just had to eat at Abalonetti's, where we had a great front seat view to watch the sea lions playing in the water.
The Wharf has lots of shops too, and a choice of several whale watching cruises. If you want to go see some whales, just head straight to Fisherman's Wharf. Read our Whale Watching in California page first, to find out when the best whale watching seasons are.
To find out more about Fisherman's Wharf visit the official Fisherman's Wharf website. 
Monterey State Historic Park
As well as being a lively town with its many visitor attractions, one of the things we love about Monterey is that it's so steeped in history. You can take a walking tour around the historic district, following the markers on the ground that guide you along the Path of History. We picked up a leaflet at the tourist office, or you can get one from the Monterey State Historic Park Visitor Center on Custom House Plaza, a few short blocks back from Fisherman's Wharf. We were fascinated to see the house where the Scottish writer Robert Louis Stevenson lived for a while in 1879, and the 1827 Custom House, the oldest government building in California.
For more information visit the official Monterey State Historic Park website.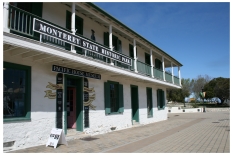 Monterey State Historic Park
Point Lobos State Reserve
See our separate page about our visit to the Point Lobos State Reserve, a few miles south of Monterey and right on the Pacific Coast Highway. Don't miss it!

More Information
For more information on the many things to do in Monterey, where to stay and where to eat, visit the official Monterey Tourist Office website. 

Where to Stay in Monterey
For more photos, see our YouTube slide show of
the Best of Monterey

---
---
Oct 06, 21 03:29 AM

The Pacific Coast Highway is California's longest state route at 656 miles (1,055 kilometres) and runs along the Pacific Ocean, making it arguably one of the prettiest drives in the United States. Fou…

Oct 06, 21 03:29 AM

United Airlines just made a lot of friends among cycling enthusiasts. The Chicago-based carrier has eliminated its fees for passengers traveling with their bicycles, joining fellow airlines American a…

Sep 30, 21 03:15 AM

Best Tours & Travel's recent reopening saw sellout tours and a continuing recovery in its private charter operations, thanks to nonstop outreach throughout 2020's shutdown months that continues today.