Monterey Bay Aquarium
The Monterey Bay Aquarium is definitely one of the top sights on the Pacific Coast Highway, right up there with Hearst Castle and Big Sur as places you must see.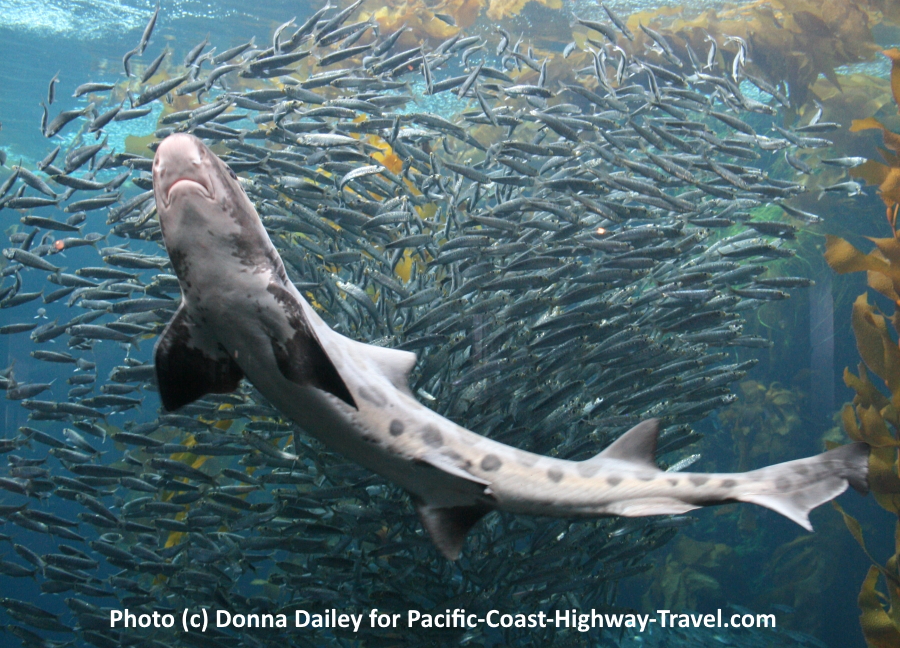 Well, it's hard not to see Big Sur, you drive right through it, but to get the most out of a visit to the aquarium you should plan to spend a night in Monterey, Pebble Beach, Pacific Grove, or in neighboring Carmel. If you stay in Carmel and do the 17-Mile Drive, it will bring you very close to the aquarium in Monterey.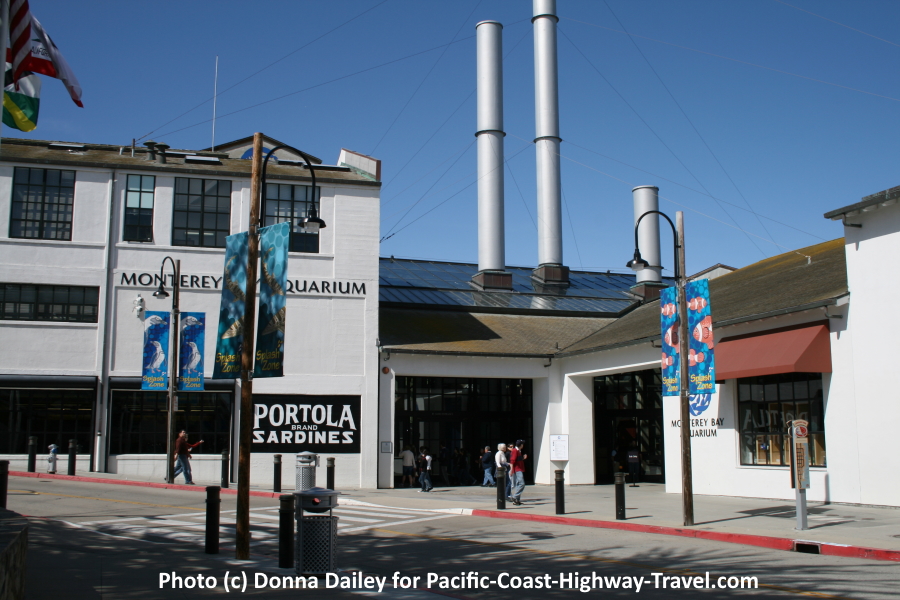 Exhibits at the Aquarium
The Jellies Experience is the latest special exhibit to open, and this is devoted to the fascinating and rather strange world of the jellyfish. We had no idea there were so many different kinds of really beautiful jellyfish, and the Jellies Experience is an imaginative display that shows these sometimes surreal worlds. With some fun Sixties Psychedelia too, it's an exceptional exhibition, and you can read more about it on our page about The Jellies Experience jellyfish exhibition.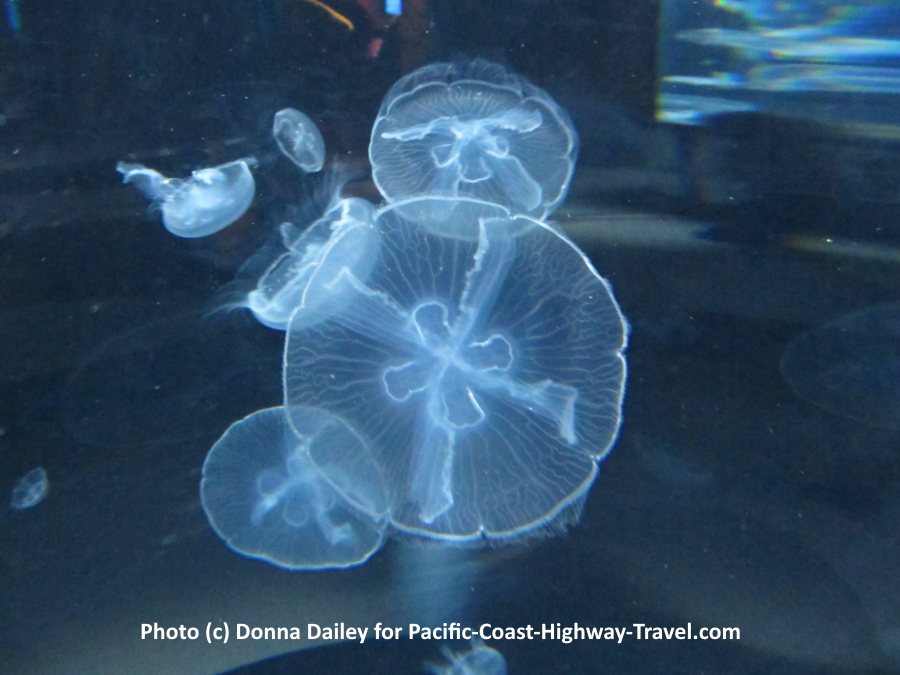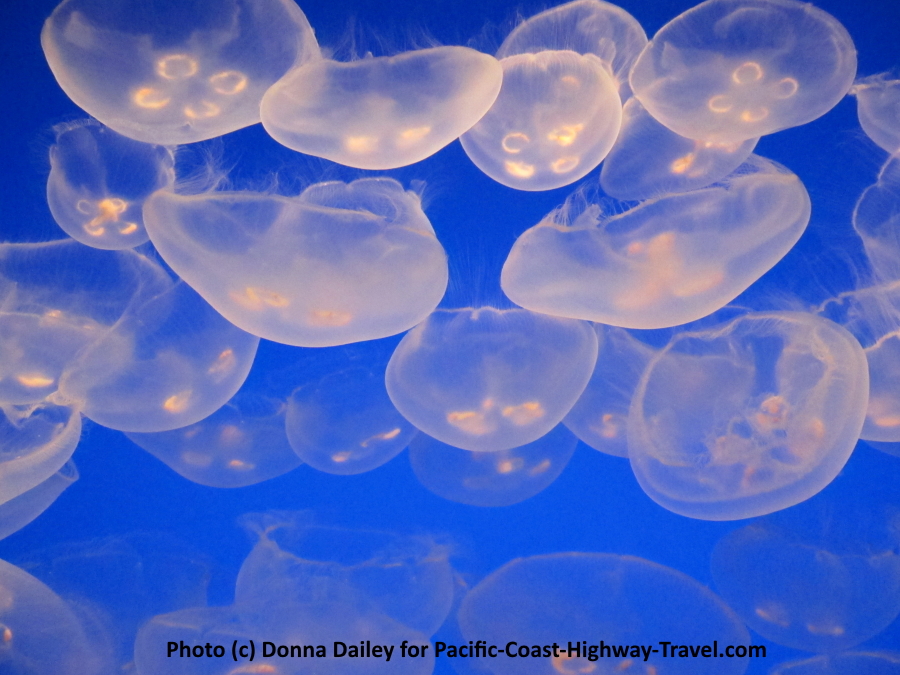 How Long to Spend at the Monterey Bay Aquarium?
There's a lot to see at the aquarium, and there are events and activities, including feeding times for penguins, otters, sharks, turtles, and other creatures, that are always popular to watch (so get to these early to get a good spot.) There are talks throughout the day too, but these usually include the opportunity to get up close with some of the sea creatures, animals and birds, and these too are always entertaining and especially delightful for children.

So, it's hard to say how long you might want to spend there. We would suggest you allow a minimum of two hours, to even get around everything. Allow half a day or more if you want to try to catch fun things like the otter feeding and training program, and the musical shows too. As for your own feeding program, there's a casual self-service café (11am-4pm) if you want a quick meal, and a restaurant (11am-2pm) where you can enjoy a fabulous view of Monterey Bay.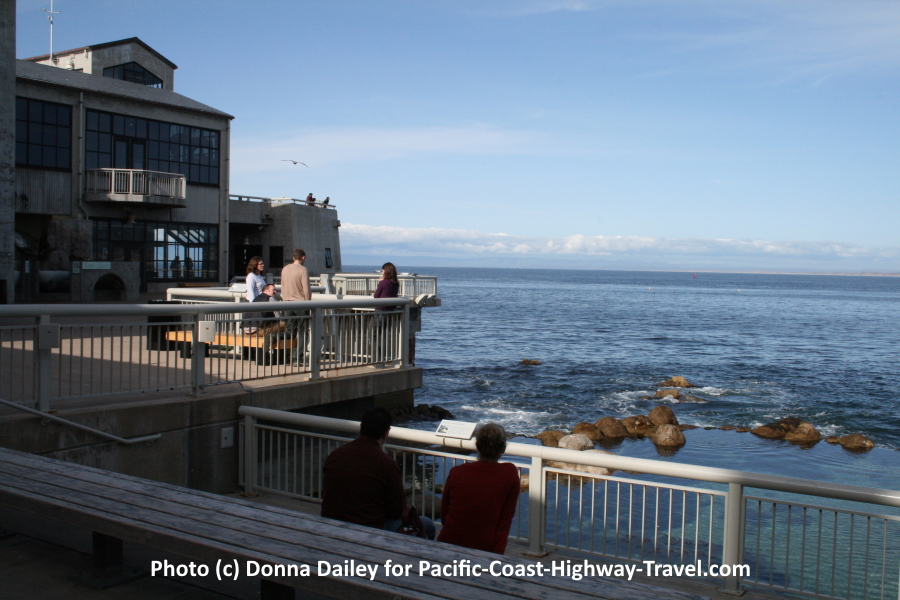 We are always drawn to the displays on the seahorses and the sea dragons (above), which we love so much. We never miss feeding time with the otters, where the staff also show you how they train and inter-act with the animals. The Kelp Forest is a really mesmerising display, and is one of the tallest aquarium exhibits in the world. Watching leopard sharks and other creatures glide quietly by, while shoals of sardines swirl around creating impressive natural patterns in the water, is a beautiful way to appreciate the underwater world.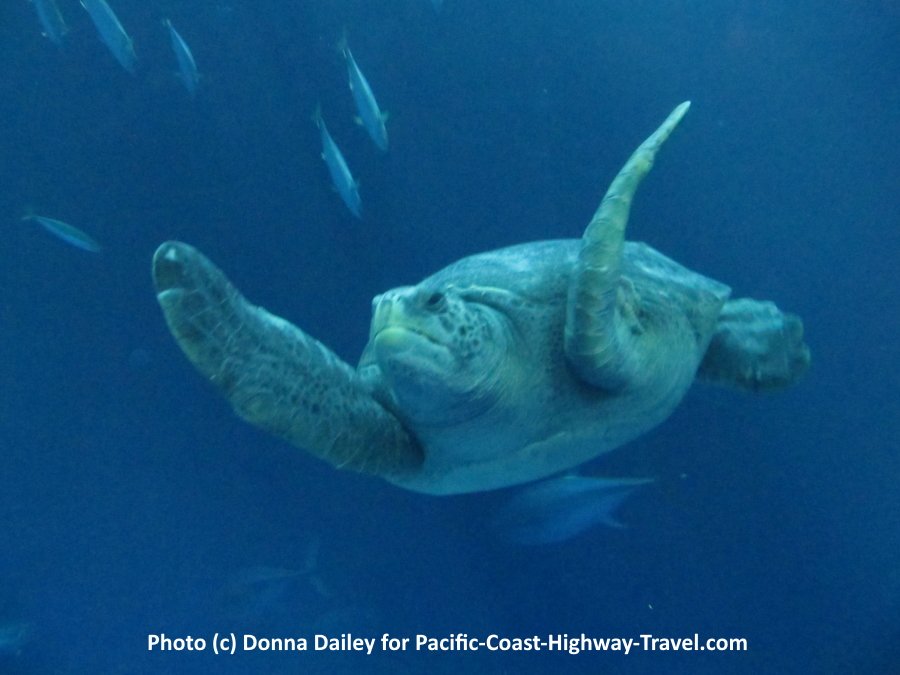 The aquarium has many other exhibits too. The Pacific octopuses are a big draw, the Splash Zone offers children (and adults) hands-on experiences with some of the creatures, and it is always funny and surprising to see penguins and other birds swimming so agilely under the water. More than anything, though, the aquarium teaches us to love and respect the creatures we share the planet with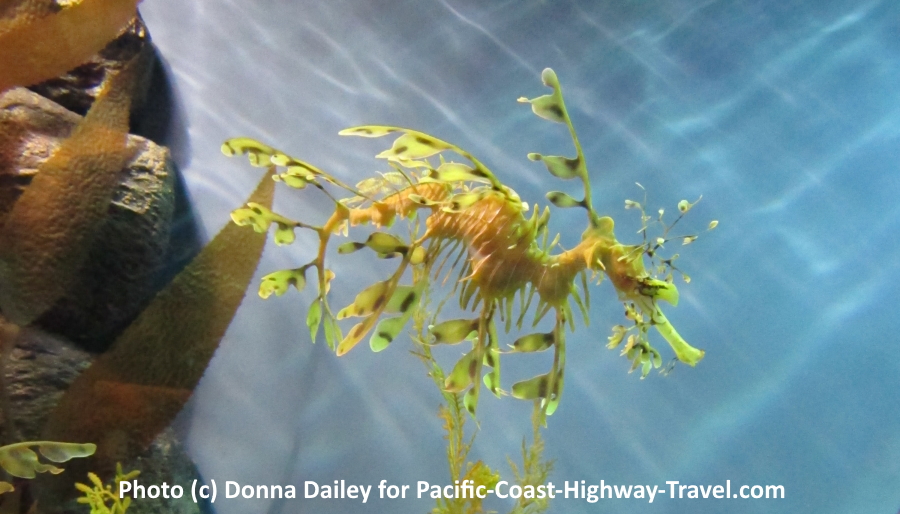 A Seadragon
Practical Information
The aquarium is at the west end of Cannery Row, and the entrance is at the junction of Cannery Row and David Avenue. If you're staying in the old part of Monterey, nearer to Fisherman's Wharf, it's only a 20/25-minute walk to the aquarium. In the summer there's also a free visitor trolley linking all the main Monterey sights. You can also park bicycles for free, just across the street from the main entrance.

The aquarium is only a short drive from Pacific Grove, Pebble Beach and Carmel, and there are several parking garages nearby. Free street parking is hard to find, so our advice is not even to try. Check the aquarium's website (see link below), which has very thorough information on all of this.

Contact Details
Monterey Bay Aquarium
886 Cannery Row
Monterey, CA 93940
Tel: (831) 648-4800
For other things to do in Monterey,
visit our Monterey page

All Photos (c) Donna Dailey

---
---
Oct 06, 21 03:29 AM

The Pacific Coast Highway is California's longest state route at 656 miles (1,055 kilometres) and runs along the Pacific Ocean, making it arguably one of the prettiest drives in the United States. Fou…

Oct 06, 21 03:29 AM

United Airlines just made a lot of friends among cycling enthusiasts. The Chicago-based carrier has eliminated its fees for passengers traveling with their bicycles, joining fellow airlines American a…

Sep 30, 21 03:15 AM

Best Tours & Travel's recent reopening saw sellout tours and a continuing recovery in its private charter operations, thanks to nonstop outreach throughout 2020's shutdown months that continues today.