Monterey Boutique Hotel:
Hotel Pacific
This Monterey boutique hotel couldn't have a better location, less than a 5-minute walk to Fisherman's Wharf. It's even closer to the museums of the Monterey State Historic Park, and maybe a leisurely 30-minute walk along the Monterey Peninsula Recreational Trail to the Monterey Bay Aquarium. This is at the far end of Cannery Row, so it's about 15/20 minutes to the start of Cannery Row itself. It's a great location, then. There are hotels along Cannery Row but then you have to walk to Fisherman's Wharf and Old Monterey and we prefer staying in this part of town.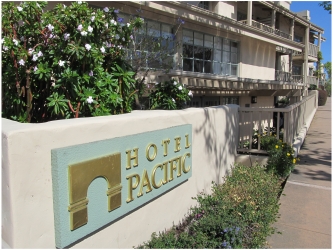 All Photos (c) Donna Dailey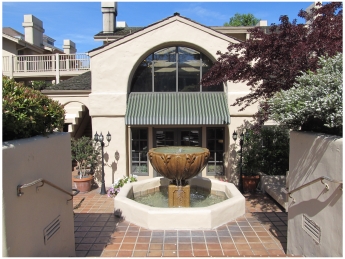 Monterey Boutique Hotel: Parking
We arrived very early at the Hotel Pacific and the reception staff were friendly and said it was fine to park our car in their garage and come back and check-in later when the room was ready. There's a daily parking fee ($19 when we were there) at the Hotel Pacific. There are cheap parking garages nearby but they're a bit of a walk, and street parking isn't an option. Still, at least the Hotel Pacific did have a large private underground car park, close to the attractive reception area, and you could go direct to your car any time without needing valet parking.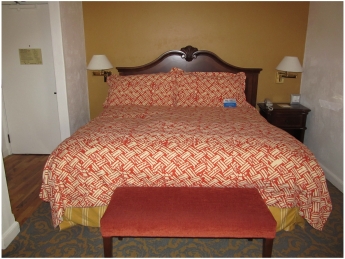 Monterey Boutique Hotel: Accommodation
Our room, 426 (above and below), was on the 4th floor and was beautiful. It was a lovely large suite with a small balcony, a fireplace, wooden floors, huge bed, comfy chairs, acres of space, and a general antiquey, relaxing atmosphere. All the rooms at Hotel Pacific have their own fireplace, and ours was welcome that evening just to take the chill off the air. From our balcony you could see the ocean over the rooftops, reminding you how close you are to the sea - and its occasional chills.
The feather bed that night was amazingly comfortable, feather beds being standard in all rooms. Every room also has Avida toiletries, and comes with either a balcony or a patio. There is internet throughout the hotel, although there is a fee to access it, and the Hotel Pacific is pet-friendly. They also serve complimentary afternoon refreshments, but we were out all day and missed them!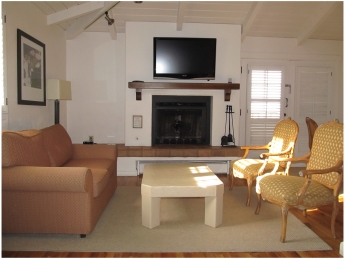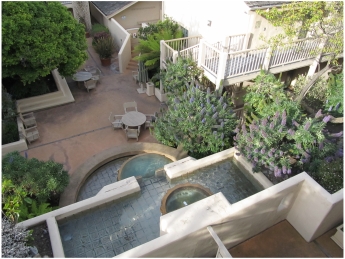 Courtyards and Greenery:
The View from Our Balcony
Monterey Boutique Hotel: Plus Points
There were lots of things we liked about the Hotel Pacific. That perfect location, for one, making it easy to walk to all the main sights, and be able to stroll out to eat in one of the liveliest parts of Monterey with dozens of good bars and restaurants. It really helped us get the most out of our short time in Monterey.
We loved the building itself, or rather the several Spanish-style adobe buildings which sprawled along most of a block, with hidden courtyards, lovely plants, and a delightful colonial feel about it. There was a good breakfast in a really bright and pleasant room, with sculptures and paintings all around. The staff were both professional and friendly, the hotel's easy to find, and the car parking was very convenient. The only criticisms would be that we like to see free parking and free internet included in the room rate, but apart from those two minor niggles, this could well be one of the best boutique hotels in Monterey. And the bottom line is – yes, we would definitely stay there again.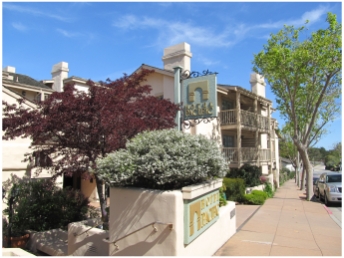 Contact Details
Hotel Pacific
300 Pacific Street
Monterey, CA 93940
Tel: 831/373-5700
Freephone: 800/554-5542

---
---
Nov 28, 17 10:28 AM

From the world's largest surf competition to the biggest corgi celebration, here is our pick of some of the top Huntington Beach Events in 2018.

Nov 16, 17 11:44 AM

Pacific Coast Highway Travel's website recommendations on Where to Stay in Carmel include reviews of the Mission Ranch, Sea View Inn, The Cypress Inn, Lamp Lighter Inn and Vagabond's House Inn.

Nov 16, 17 11:40 AM

This Carmel dog-friendly hotel, the historic Cypress Inn, is co-owned by movie legend Doris Day and offers luxury lodgings for pet-loving travelers (cats welcome too) in Carmel-by-the-Sea.