Santa Monica Luxury Hotels
Get Some Fun PCH Gifts Here
Santa Monica Luxury Hotels:
Le Meridien Delfina
There are many Santa Monica luxury hotels and while Le Meridien Delfina is not right by the beach it has a great bar, pool, restaurant.

There's certainly no shortage of Santa Monica luxury hotels, but Le Meridien Delfina appealed to us as soon as we walked through the doors. 

It managed to be both stylish and intimate at the same time. At the far end of the chic-looking lobby, the bar stood out with its array of brightly-colored backlit bottles. Beyond that, doors led to the swimming pool, and all around the place there were sculptures and art-works that added to the interest of staying there.
Bad News, Good News
The bad news was that our room wasn't quite ready, which wasn't the hotel's fault as we'd got there early after a short drive from Dana Point, with the Los Angeles traffic for once not being too bad. The receptionist couldn't have been sweeter and more helpful, and suggested we might like a drink by the pool and she'd come and call us when the room was available. Before we knew it she was back out again, and said that to save us waiting too long she'd put us into a better room. Now that's service.

Enjoy our YouTube Slide Show of Le Meridien Delfina

Our Room at Le Meridien Delfina
The room was terrific, with acres of space and a relaxing cream and blue color-scheme. The best bit was out on the balcony. Well, the two best bits. One was the view down to the ocean, and the other was – a hot tub! Yes, a hot tub on the balcony, set back so it was private, and before you knew it we had the tub filled and were relaxing enjoying the view. Not all rooms have ocean views, however. Some have mountain views, so if you want to see that ocean, be sure to ask when you reserve. Almost all the rooms do have large balconies, though.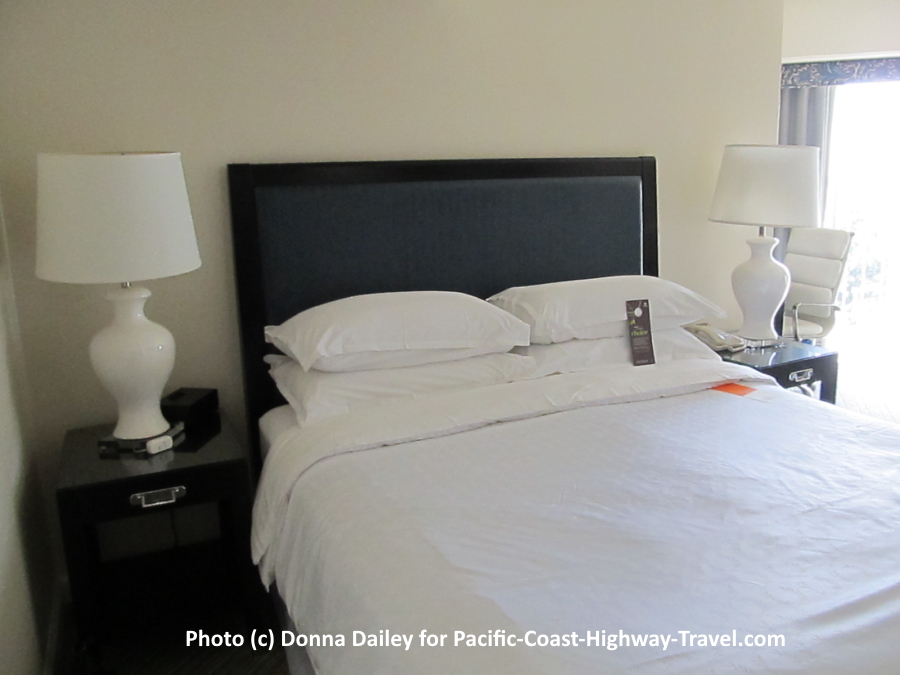 Dining Options
Most luxury hotels have two dining options. There'll be a casual bistro/café kind of a place, and there'll be a formal dining room. Le Meridien Delfina was refreshingly different. You could eat in the bar at the end of the lobby, which was almost always buzzing, while on the Mezzanine Level was the i.café and Surf Bar, where there were computer terminals, another bar, and a proper dining room where breakfast was also served.
Both places were refreshingly casual, and served from more or less the same menu. And while the approach was relaxed, the food was superb. Choices ranged from sandwiches, soup and lots of Small Bites like crab cakes and calamari through to proper entrées. These included king salmon and cous cous, striped bass, eggplant roulade, and some of the best steak frites we've tasted in a long time.

Le Meridien Delfina Location
Although the Delfina isn't close to the beach, you do pay a premium on room rates in some other hotels for that convenient access. In practical terms, we didn't find it a drawback at all. It was about an 8-minute walk down to the sea front, and a little further to the 3rd Street Promenade.
Additional Amenities
There is complimentary self-parking in a garage directly below the hotel, though you could enjoy Valet Parking too if you prefer. There's a heated plunge pool, surrounded by private cabanas, and a Fitness Center too. The hotel is also 100% smoke-free.

Contact Details

Le Meridien Delfina
530 Pico Blvd
Santa Monica, California 90405
Tel: 310/399-9344
Toll-free: 888/627-8532
---
---
Nov 29, 23 07:10 AM

PCH Travel's intro to the Disneyland Resort, which includes both Disneyland Park and Disney California Adventure Park, just a few miles from the coast highway.

Nov 27, 23 04:20 AM

PCH Travel picks the best time to visit the Olympic Peninsula, with a monthly summary of the weather, plus hotel prices and special events to help plan a visit.

Nov 25, 23 07:03 AM

PCH Travel picks the best time to visit Santa Barbara, with a monthly summary of the weather, plus hotel prices and special events to help plan a visit.