Get Some Fun PCH Gifts Here
Casa Laguna Hotel and Spa
The Casa Laguna Hotel and Spa in Laguna Beach is right on the Pacific Coast Highway and has luxury rooms, a swimming pool, and real gourmet breakfasts.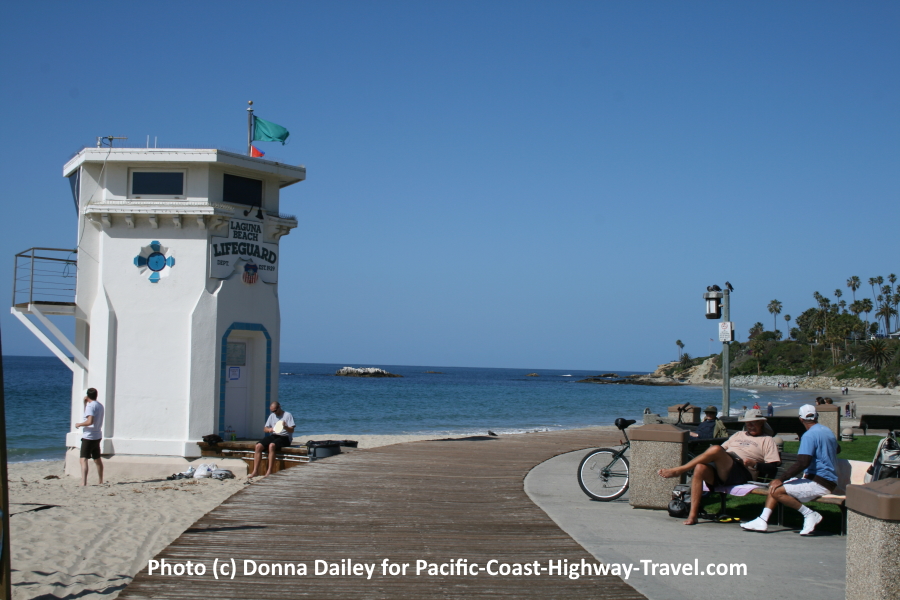 All Photos (c) Donna Dailey
Arriving at Casa Laguna, a great Laguna Beach Hotel and spa, was the real start of our Pacific Coast Highway drive the first year we did it. We'd had a few days in San Diego, but it was time to drive the highway at last. The official Pacific Coast Highway starts at Dana Point, about 7 miles south of Laguna Beach, so Casa Laguna was our first official night on the road.

Casa Laguna Hotel and Spa:
Location and Parking

And it was right on the road – number 2510, on the Pacific Coast Highway. We were counting the numbers, saw the Casa Laguna sign, and pulled in outside the front door. The official parking was at the back, and that was our only complaint. There's a limited number of parking spaces, and some of them very tight to get into and out of. It was a pain in the butt, to be blunt. But once we were parked, we walked through the entrance gate and into a paradise.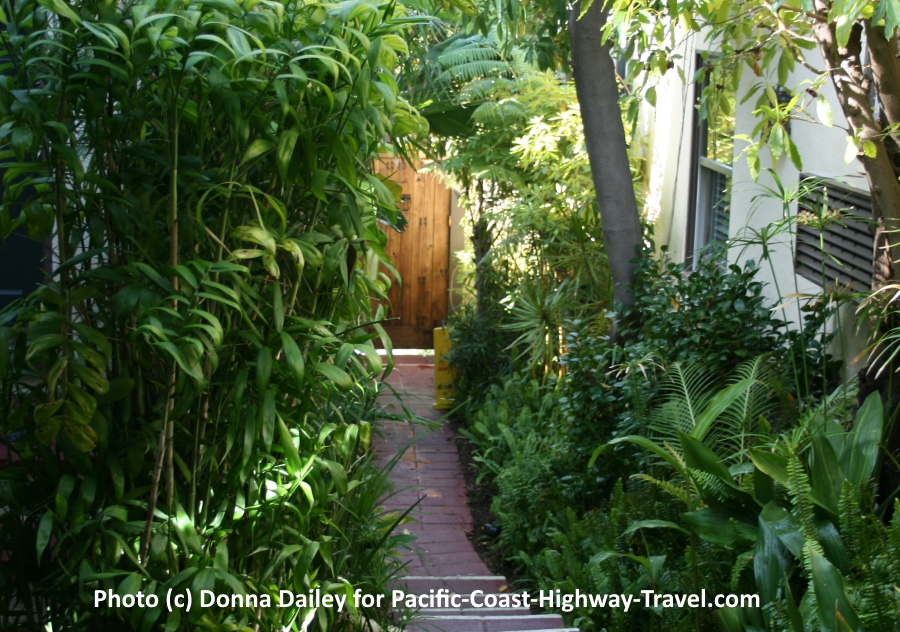 Casa Laguna Gardens
The gardens at Casa Laguna are gorgeous. They're lush and green, the pathways lined with ferns and trees. It's almost like being in a jungle. And where there weren't natural plants there were potted plants, and everywhere bright red flowers stood out against the greens, the bright white walls and the terracotta colour of the tiles. It was hard to believe that just that morning we'd been whale watching in San Diego, nine miles off the coast.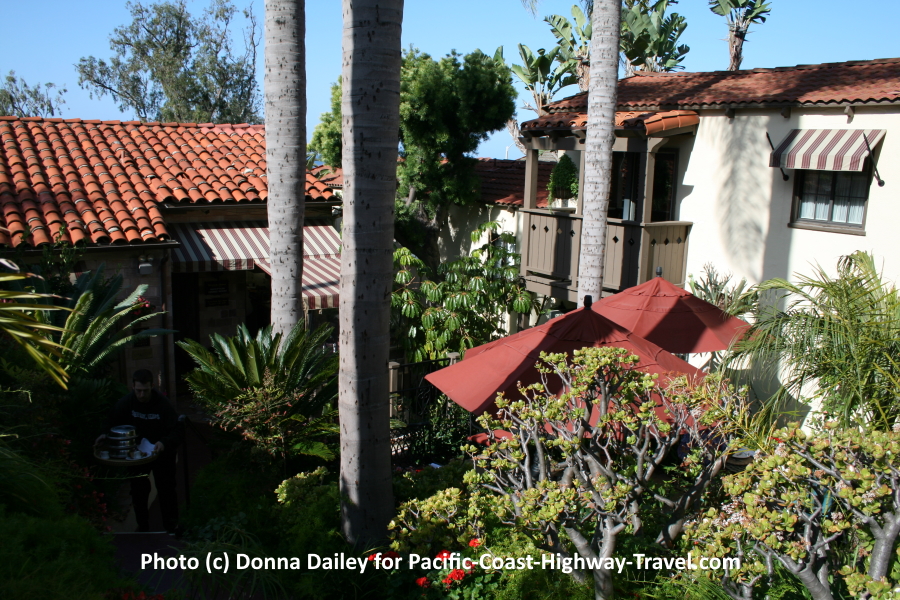 Casa Laguna Hotel and Spa:
Our Room
We had the Laguna Suite, which had a living room and a bedroom, the two separated by a smart and stylish fireplace. It was cosily old-fashioned in style, and all the modern amenities (two TVs, fridge, microwave) were cleverly hidden away to help preserve the old-fashioned feel. We appreciated the whirlpool bath, too.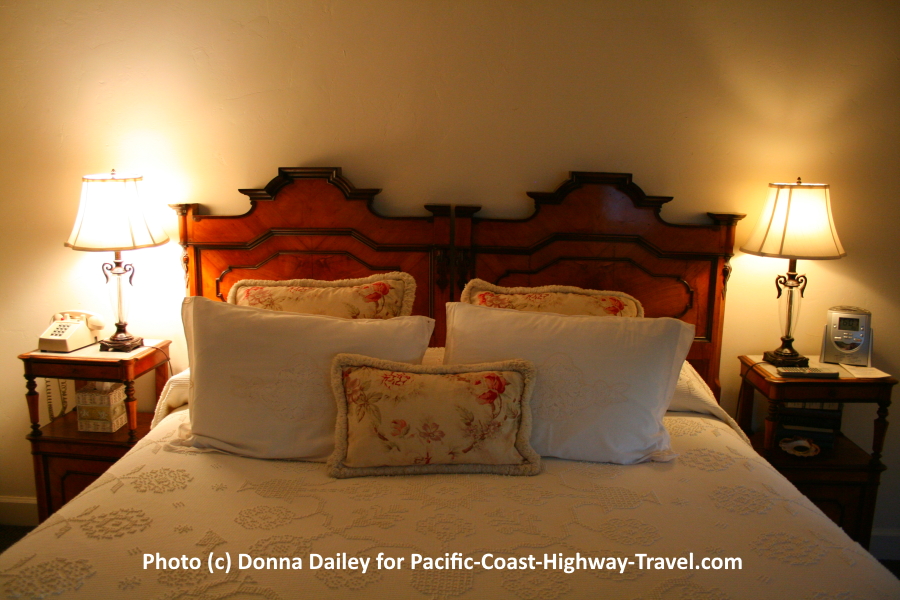 Our Bedroom
For us the room was the perfect place as it overlooked the Pacific Coast Highway. To be honest, we were a little worried about noise from the road, but we needn't have been concerned. In the living room there was little more than the occasional gentle background 'whoosh' of tyres going by, and in the bedroom no noise at all. And most other rooms and suites are set back from the highway.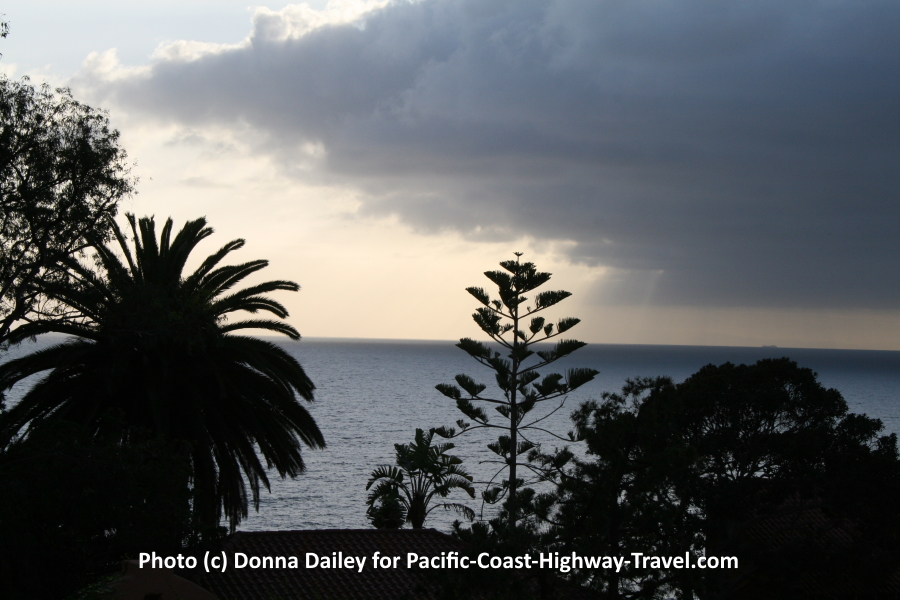 The View As The Sun Goes Down
Casa Laguna Hotel and Spa:
Wining and Dining
The Casa Laguna has no restaurant, but there are a few choices within walking distance, and some will deliver to the Inn if you want to eat in the privacy of your room. Most guests seemed to prefer to drive or book a cab, and we had chance to chat to some of the other guests and read over the menus from local restaurants during the complimentary wine tasting and hors d'oeuvres (5-7pm).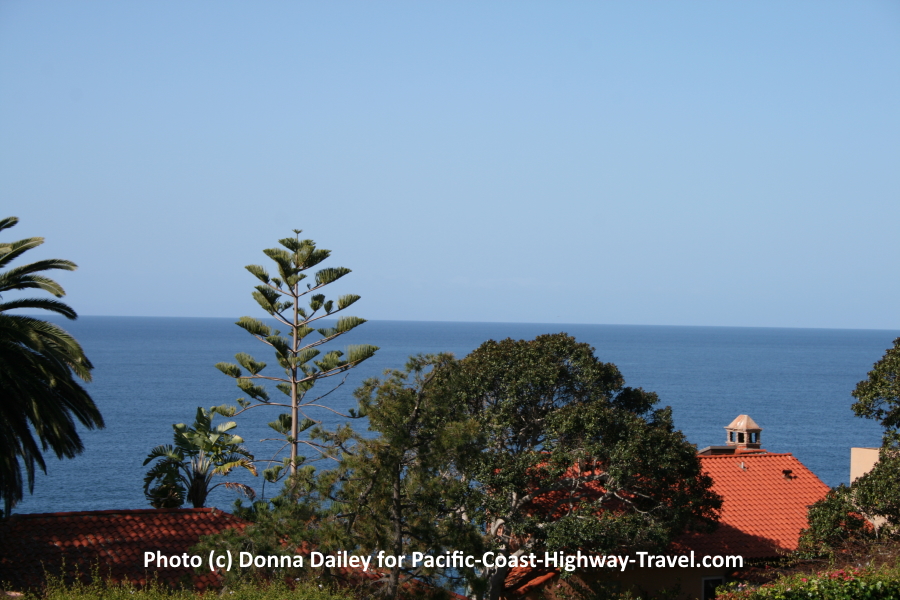 And The View In The Morning
This was no ordinary wine tasting, either. Not only did the wine flow as freely as the conversation, the food provided was generous and excellent, including home-marinated olives, and various patés from one of the nearby restaurants. In fact the hors d'oeuvres were so filling we didn't even bother to eat out, preferring instead to relax in our lovely room as we were only going to be there for one night (the curse of the road trip!)

Breakfast Outdoors
Casa Laguna:
Other Amenities
We took a tour of the inn with one of the friendly staff. He told us that the Inn was first built in the 1920s as a private home, with some artists' studios attached. It had been an artists' retreat for a long time, till it was converted into the beautiful boutique hotel/inn that it is today. There's a lovely private pool with a hot tub and a bell tower which makes a great place to watch the sunset.
There's also a charming, intimate spa room on the lower floor (one couple had booked it for 8pm so it was nicely prepared with romantic burning candles), and a small business centre. There's free wi-fi throughout the inn, and free tea and coffee provided pretty-well all day. You can enjoy it at one of the outdoor tables, looking out on those great gardens, where you can have your breakfast too, if you choose.

Casa Laguna Hotel and Spa:
True Gourmet Breakfasts
We ate breakfast with most of the other guests in the dining room, though you can have it in your room, or outside on the shaded patio. Many places boast a gourmet breakfast when all they provide is a buffet.
At Casa Laguna they really mean it. As well as the usual cereals and pastries, there's a wide choice of cooked dishes prepared by the chef, Joshua Roberts. Some of his recipes for the mouthwatering breakfast dishes like Smoked Salmon Crepe Purse with Cream Cheese Dill Mousse and Fennel Oil (yes, really) are available on the Casa Laguna website.
And if a breakfast like that doesn't set you up for another day's drive along the Pacific Coast Highway, nothing will. Hasta la vista, Casa Laguna!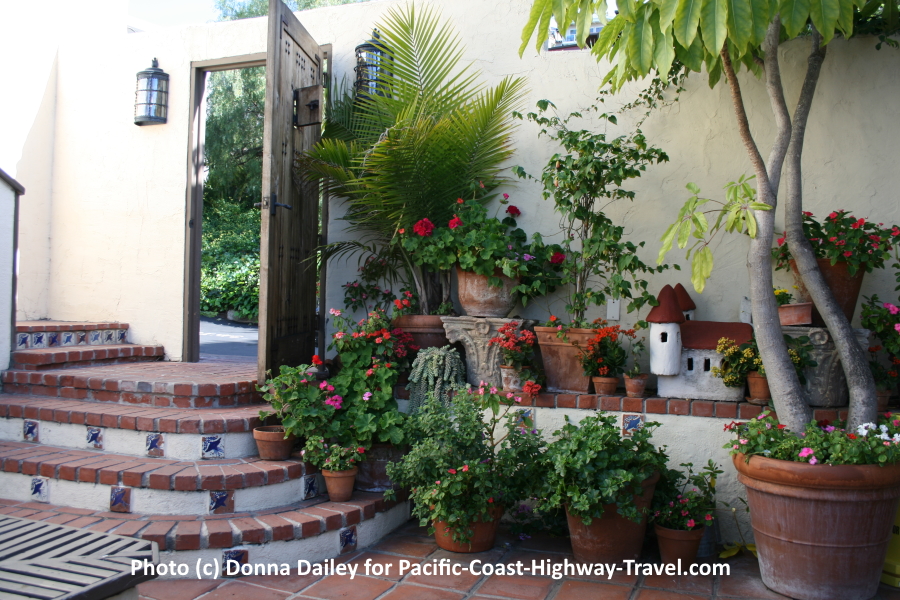 Time To Leave... Sadly
Contact Details

Casa Laguna Inn and Spa
2510 South Coast Highway
Laguna Beach, CA 92651
Tel: 949-494-2996
Freephone: 800-233-0449
Laguna Beach

For more information about Laguna Beach visit the website of Visit Laguna Beach.
Unique Inns
Casa Laguna is a member of Unique Inns. For more details and for online booking information for all the Unique Inns in California, Oregon and Washington, as well as their inns in Idaho, and British Columbia in Canada, visit the Unique Inns website.

---
---
Nov 29, 23 07:10 AM

PCH Travel's intro to the Disneyland Resort, which includes both Disneyland Park and Disney California Adventure Park, just a few miles from the coast highway.

Nov 27, 23 04:20 AM

PCH Travel picks the best time to visit the Olympic Peninsula, with a monthly summary of the weather, plus hotel prices and special events to help plan a visit.

Nov 25, 23 07:03 AM

PCH Travel picks the best time to visit Santa Barbara, with a monthly summary of the weather, plus hotel prices and special events to help plan a visit.