Get Some Fun PCH Gifts Here
San Diego
Whale Watching
San Diego whale watching tours like this from Hornblower Cruises let visitors get up close to see gray whales, dolphins, seals, sea lions, and other wildlife.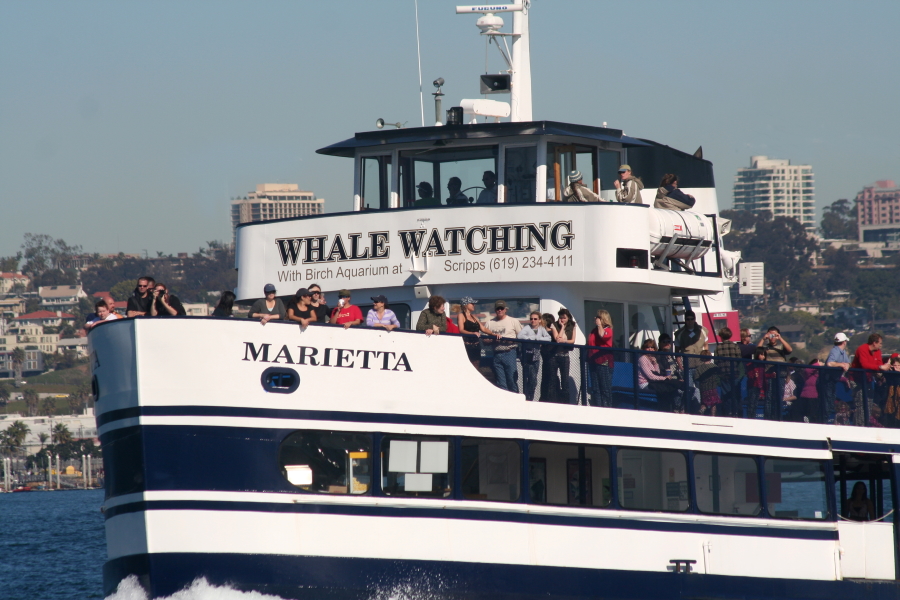 This is roughly from December to March/April, when about 22,000 or so gray whales head south to the warmer waters of Baja California. They stay long enough to give birth to the next generation, then head back again with their young calves to the Arctic in time for the summer.

We were lucky enough to be in San Diego in early March, and although we only had two days there, we definitely wanted to go whale watching. We booked a cruise in advance with Hornblower Cruises, partly because they have volunteers from the San Diego Natural History Museum. They join the cruise to provide free information, which was interesting and helpful as well as passing the time while you wait for the boat to set sail.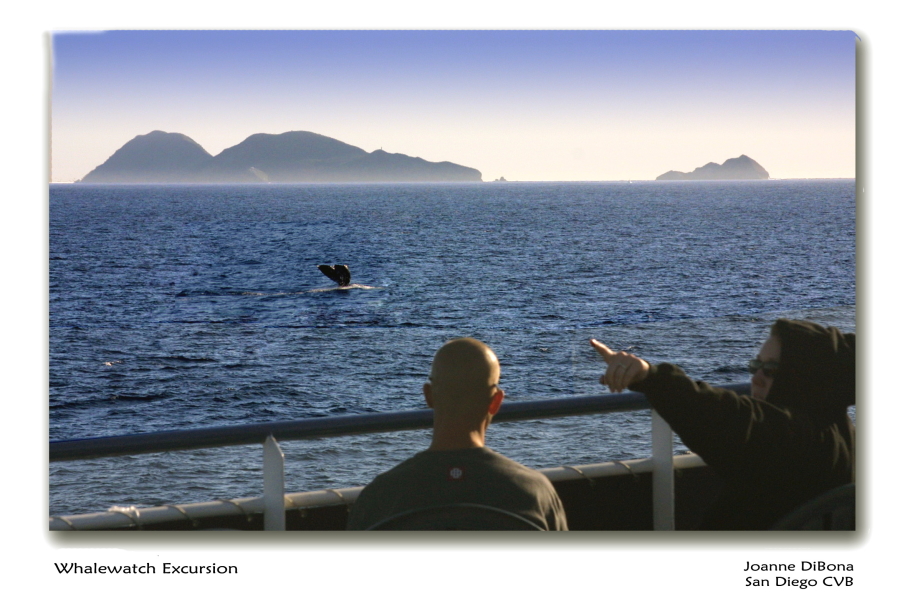 The Eastern Pacific Gray Whale
We're looking for the Eastern Pacific Gray Whale, they tell us, and in its lifetime one whale will travel an average of 600,000 miles, going back and forth each year. It's the longest migration undertaken by any mammal on earth. They spend the summers in the Arctic waters of Alaska, but when the waters turn cold and winter sets in, the whales swim south to the warmer seas and lagoons of Baja California. Then before these waters get too warm for them in the summer, they turn tail and head back to Alaska.
"And right now they're all headed north?" one whale watcher asks.
"If they've read the Gray Whale Manual, yes," the docent jokes.
Before you know it we're sailing, and the Captain tells us we're heading for the 9-Mile Bank. This is the point in the Pacific Ocean where the sea bed suddenly drops away from about 150-200 feet deep to over 3000 feet. On their northbound migration the whales follow this bank, though when they're going southbound they swim closer in to the shore.
Dolphins
Within a few minutes we're seeing seals in the water, a pelican skimming over the waves, and flocks of cormorants. Soon after leaving the harbor, we're surrounded by a huge pod of dolphins, which the Captain estimates to be about 1,000 strong. It's an exciting moment, but will we be lucky enough to find any whales? Nothing in nature is Guaranteed – although Hornblower Cruises do offer their guests another free cruise if no whales are spotted.
After a while, though, it's beginning to look like we're all going to qualify for the free cruise ticket. We've sailed around, and up and down, and the Captain's been talking to fishing boats. One tells us that there's now a whale right back near San Diego Harbor, where we've just come from - darn!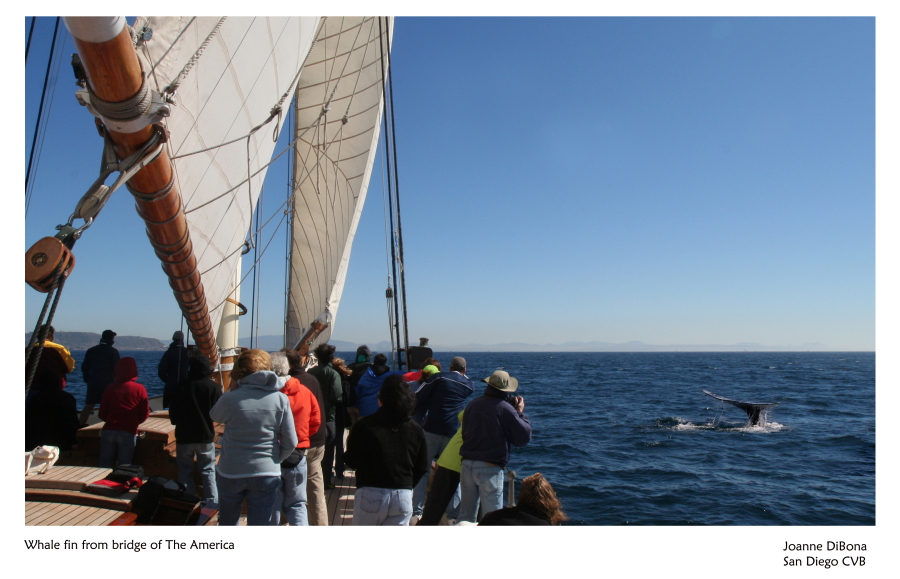 Thar She Blows!
The Captain apologizes and explains that that's the way it goes. He says we've run out of time and he just has to start heading back to the harbor. We're now eleven miles from shore. But then someone spots it – the water-spout that reveals a whale just beneath the surface. Thar she blows! We can see the ripples of the whale's massive body breaking the surface. From time to time we see the tail of a diving whale, and in the end there seem to be at least three whales out there – a typical number for whales traveling together.
The Captain delays our return so we can all watch the whales, which disappear and reappear, spout and dive, and have everyone glued to their binoculars and snapping their cameras like crazy. It's a thrilling few minutes, as we come close to these magnificent creatures, and join them for a while on their annual journey. We feel privileged to have been able to do so, and have no doubt that of all the city's many highlights, San Diego whale watching is something not to be missed. Those few minutes will stay with us for the rest of our lives.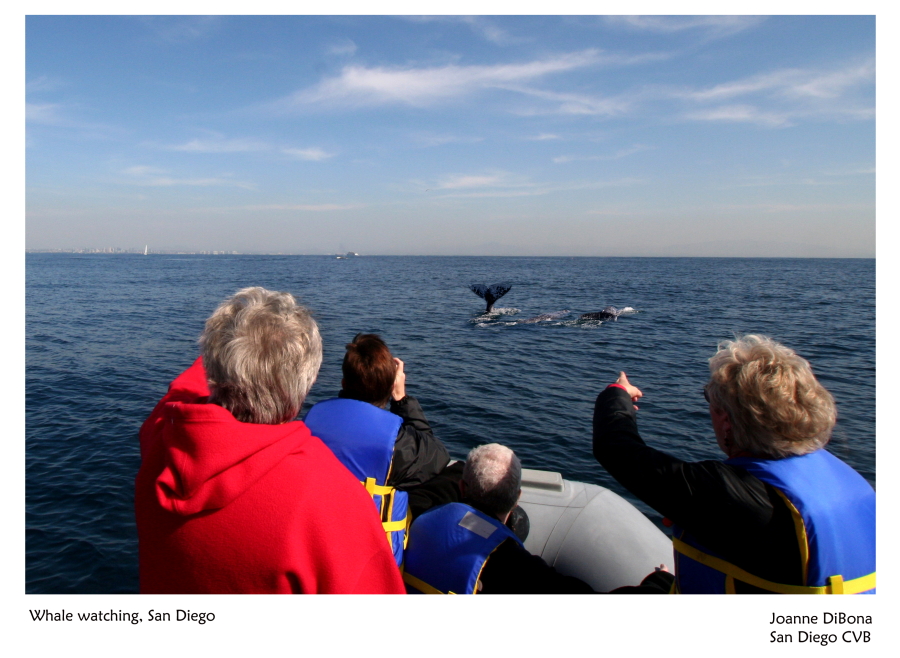 San Diego Whale Watching Tip!
According to our Captain and the docents, the best time to go whale watching in San Diego is usually around the second or third week of January, when numbers are at their peak.
Other California Cruises
Hornblower Cruises also operate San Diego whale watching cruises daily from about December through April, depending on conditions. They also offer other tours from Newport Beach, Marina del Rey, Berkeley, and San Francisco. There are special holiday cruises throughout the year, from New Year's Day to New Year's Eve, wedding cruises, and special dinner cruises including winemaker dinners and moonlight cruises.
Contact Details
To find out more about San Diego whale watching tours
and other cruises, and to book online, visit the
Hornblower Cruises website.

Horblower Cruises
1066 N. Harbor Dr. 
San Diego

Where to Stay in San Diego
---
---
Sep 26, 23 04:18 AM

The Iconic Big Sur Waterfall Everyone Needs to See At Least Once

Sep 24, 23 05:26 AM

Pacific Coast Highway Travel picks the best restaurants in Santa Cruz, choosing the finest gourmet eating places, with both local and international cuisine.

Sep 24, 23 04:17 AM

Pacific Coast Highway Travel visits the Big Basin Redwoods State Park, which is the oldest state park in California.