Whale Watching Coupons
Discount Offer in Newport Beach
Whale watching coupons offering a big discount are available now in Newport Beach for whale watching cruises with Newport Landing Whale Watching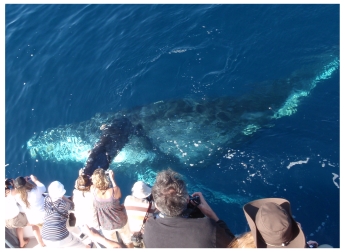 Whale watching can provide stunning close-ups
of humpback whales and other whales and dolphins.
Photo courtesy of Newport Landing Whale Watching.

Coupons offering you $12 off the cost of a $32 whale watching cruise are available through the Newport Landing Whale Watching website. The discount offer of $20 per cruise makes this trip from Newport Beach one of the cheapest whale watching cruises off the California coast. This discount applies weekdays outside of peak times. Click on the image to go to the booking page.

We like the Newport Landing Whale Watching operation as their website has a very comprehensive and useful guide to whale watching in California. They also do an upgrade option to allow you to sit near the Captain and get his view and commentary on the proceedings, but space is limited to a maximum of six people so you need to book ahead.
The company operates whale watching cruises every day of the year, with either three or four cruises a day, depending on the day and the season, including evening cruises. They also offer full-day whale watching trips to Catalina Island, and special trips for groups, companies, and for school groups.

Finding Newport Beach Whale Watching
Newport Beach is just south of Huntington Beach and about a 20- or 30-minute drive south from Long Beach. Note that the company also does whale watching trips by plane from Los Angeles, if you prefer to fly rather than go by boat. Details are on the website.
Newport Beach is about 90 miles north of San Diego. Whether coming from north or south, you'll find yourself taking the 55 Freeway South. You'll find the final directions with parking information here on the Newport Landing Whale Watching website.

Where to Stay in Newport Beach
---
---
Oct 06, 22 03:19 AM

The open road is a motorcyclist's dream, a pursuit of ideals, and a motivation to manifest destiny. The debate for the perfect ride has gone on for decades, bringing riders to new locations to test th…

Oct 06, 22 03:19 AM

No road trip would be complete (or half as fun) without stopping along the way for tasty snacks and decadent feasts. Luckily, scores of hungry travelers have paved the way and created a market for res…

Oct 01, 22 05:46 AM

Big Sur. So, Is it a Big Deal?