The Humpback Whale

and 
Whale-Watching Tours
About one-third of the world's population of humpback whales can be found in the North Pacific Ocean, and whale-watching is a very popular activity along the Pacific Coast from Puget Sound in Washington down to southern California and on into Mexico. This humpback's tail was photographed in Monterey Bay but you can get equally good sightings in many places, either by taking a whale-watching cruise or watching from the shore.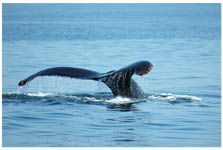 Humpbacks are inquisitive creatures and will often come take a look at any boats in the neighborhood. There are about 70,000 humpbacks in the world, and anything from 10-25,000 of these are in the North Pacific. Other whales are more common, like blue whales and Pacific gray whales, but seeing a humpback breach the water is a sight that will stay with you forever.
If you see humpbacks hitting the water surface with their flukes or their flippers, they're probably fishing. The effect of these slaps (a mature humpback weighs almost 80,000 lbs) is to stun the fish in the vicinity, making for an easy meal for the whale.
Another fishing technique used by groups of humpbacks working together is known as bubble net fishing. The whales swim in circles while blowing bubbles, forming a ring that the fish are reluctant to penetrate. The whales close in and make the circle smaller and smaller, while other whales swim underneath to keep the fish trapped. Then suddenly the whales will break and swim right through the packed schools of fish, mouths open to swallow the rich pickings.
---
---
Feb 07, 18 12:00 PM

Here are the facts and figures about Balboa Park in San Diego, which is bigger than New York's Central Park and contains 19 gardens, 17 museums and 14 restaurants.

Feb 06, 18 05:12 PM

San Simeon is a tiny town of a few hundred people close to Hearst Castle on the California coast midway between San Francisco and Los Angeles.

Feb 06, 18 02:05 PM

Road maps of the Pacific Coast Highway or PCH are essential for anyone planning to drive the trip, and detailed routes are available for free download via these links to the Mile by Mile website.