Whale Watching from
the San Diego Shoreline
With over 70 miles of coastline to offer, it's little wonder that whale watching in San Diego is so popular. At the height of the whale watching season there can be a few hundred whales passing through these waters on a single day. If you're planning a San Diego vacation, be sure to take one of the whale watching cruises, like those offered by Hornblower Cruises.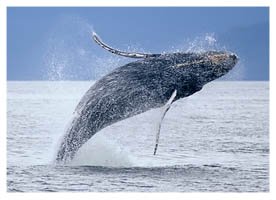 Alternatively you can usually see whales from the shoreline, if you know where to go. 

Best Time for San Diego Whale Watching
From December through March tens of thousands of California gray whales make their migration from the chilly waters of Alaska to the warmer lagoons of Baja California in Mexico. They do this so that the female California grays can give birth to their young in better conditions, and to allow them to grow before making the return journey. The time when the most whales are passing by San Diego is the middle of January.
During migration the whales travel over 5000 miles, the longest distance that any mammal migrates on an annual basis. Many come within a few miles of the San Diego shoreline, and a whale watching trip lets you get right up-close. Ever looked into the eye of a whale? That's how close, if you get lucky. But you don't have to go to sea to watch the whales, as there are some terrific shoreline viewing platforms too.
Whale Watching from the San Diego Shore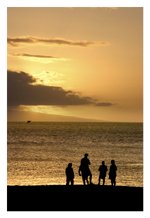 A great place for whale watching from land is at the Cabrillo National Monument. This state park is on the Point Loma peninsula, and has a glass-enclosed observatory where you can watch for the whales throughout the December-March season. There are also interpretative displays.
The Birch Aquarium at Scripps (The Scripps Institution of Oceanography) puts on special exhibitions during the whale watching season. Visitors can see the whales from the aquarium's tide-pool plaza, which overlooks the ocean. It's an especially good place for a family whale watching day out, as there are educational activities for children – and you get to visit the aquarium too!
Read our page about our visit to the Birch Aquarium at Scripps, also known as the La Jolla Aquarium, when we were staying in La Jolla.
---
---
Mar 12, 18 03:07 PM

The Pacific Coast Highway goes right through Laguna Beach, a relaxed artsy beach resort town between Los Angeles and San Diego. Located about 80 miles from San Diego, its attractions include shopping…

Mar 09, 18 06:34 PM

The Pacific Coast Highway goes right through Huntington Beach, otherwise known as Surf City USA and a popular beach resort town between Los Angeles and San Diego. It's about 40 miles from LA and 90-10…

Feb 28, 18 10:24 AM

Lots of people have recently been choosing their Best West Coach Beaches, Best Beaches in the World and Best California Beaches so Pacific Coast Highway Travel has listed the best of the best.