Get Some Fun PCH Gifts Here
Balboa Park in Facts and Figures
Here are the facts and figures about Balboa Park in San Diego, which is bigger than New York's Central Park and contains 19 gardens, 17 museums and 14 restaurants.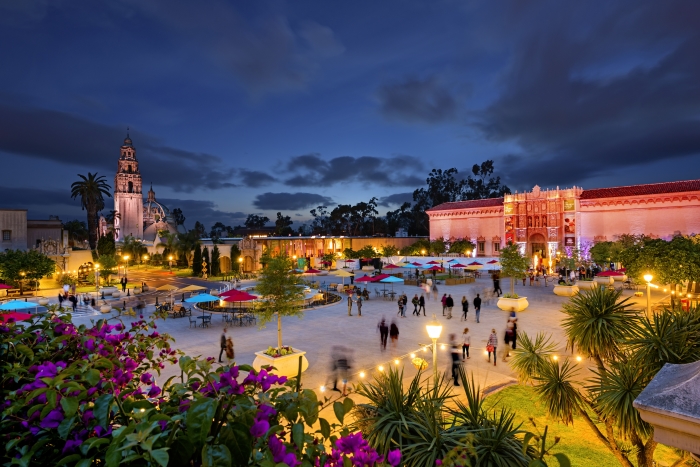 Balboa Park is bigger than New York's Central Park! Central Park covers 832 acres but Balboa Park eclipses that at 1200 acres. In 2018 it celebrated its 150th birthday.
19 unique and diverse gardens including:
The 1935 Old Cactus Garden that contains come of the largest cactus and specimens in the park.
The Botanical Building and Lily pond that is one of the most photographed scenes in Balboa park. The historic building houses plantings including orchid displays, cycads and palms and a scratch-and-sniff garden.
The Zoro Garden is a sunken stone grotto now home to many species of butterfly.  Containing both the larvae and nectar plants needed for to complete the life cycle of the butterflies, the garden also includes miniature indentations built into rocks that collect small pools of water for monarch, sulfur, and swallowtail butterflies that can all be spotted.
The Japanese Friendship Garden is an expression of the relationship between San Diego and its sister city, Yohohama. The garden illustrates two cultures and creates an immersive experience in Japanese culture across a 12-acre plot. Educational programs, exhibits and festivals are often held here.
17 museums including
San Diego Museum of Man is home to a number of interactive diverse exhibits that cover a vast range of human history and culture. Guided tours of the iconic Californian tower are offered daily, with sunset tours offering a picturesque view of the park and beyond.
Centro Cultural de la Raza is a fascinating cultural arts centre dedicated to creating, promoting, preserving and educating visitors about Chicano, Mexican, Indigenous and Latino art and culture. Housed in a former water tower, the museum is exquisitely painted with colourful murals and features rotating exhibits and performances including theatre, dance, music, and film.
San Diego's Air and Space Museum Science holds exhibitions and historic artefacts spanning space and aviation history from all over the world. A working flying replica of Lindbergh's Spirit of St. Louis and the actual Apollo 9 Command Module spacecraft are on display including artefacts from the Wright Brothers, Charles Lindbergh, Amelia Earhart, Neil Armstrong and Buzz Aldrin.
See our page on the San Diego Museum of Art.
14 diverse restaurants including
The Flying Squirrel located at The San Diego Natural History Museum, is a new café that serves brewed-to-order espresso drinks, fresh juices, wine, craft beer, and California casual fare in the comfort in the Museum's four-story, sky-lit atrium.
The Prado is an award-winning, full-service restaurant located in the House of Hospitality. The unique décor blends the historical aspects of the House of Hospitality and whimsical accessories inspired by the Park museum collections.
The Tea pavilion at the Japanese Friendship Garden serves traditional Japanese green tea, herbal and specialty teas as well as sushi, Japanese noodles, rice bowls, miso soup, salads and snacks. Visitors can enjoy the magnificent views from the outdoor courtyard and deck.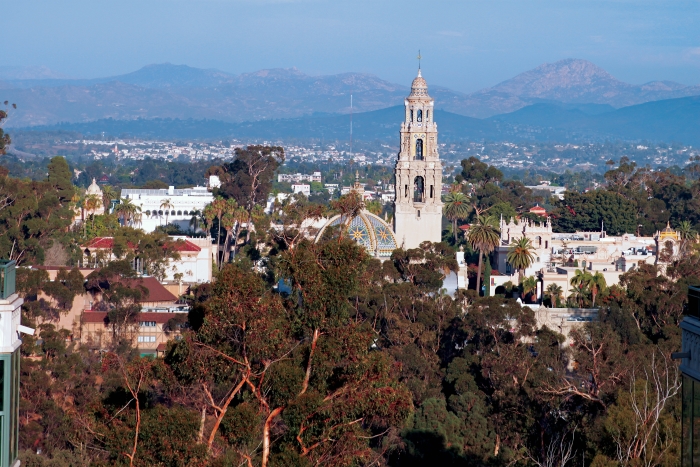 Balboa Park in San Diego, California
Photo Courtesy of Joanne DiBona/SanDiego.org
9 performing arts centres including
Spreckels Organ Pavilion holds free concerts for an hour, every Sunday from 2pm. The unique organ contains more than 5,000 pipes ranging in length from the size of a pencil to 32 feet and is the largest outdoor pipe organ in the world.

Marie Hitchcock Puppet Theatre, founded in 1948, is the longest continuous running puppet theatre in the United States. Puppet performances are presented throughout the year by a variety of troupes, with approximately 45 shows a year and different shows each week.
Balboa Park also offers 6 diverse walking tours exploring history, the gardens, architecture and one golf course. Balboa Park Golf Course is a challenging par 72, however, offers amazing views of San Diego, Balboa Park, Point Loma and the Pacific Ocean.

Further Information
The information above is only a small part of what there is to see and do in Balboa Park. The Balboa Park Visitor Center can provide full up-to-date information, and can be found in the House of Hospitality on the plaza in the very center of the park at 1549 El Prado (tel: 619-239-0512; www.balboapark.org).
---
---
Nov 29, 23 07:10 AM

PCH Travel's intro to the Disneyland Resort, which includes both Disneyland Park and Disney California Adventure Park, just a few miles from the coast highway.

Nov 27, 23 04:20 AM

PCH Travel picks the best time to visit the Olympic Peninsula, with a monthly summary of the weather, plus hotel prices and special events to help plan a visit.

Nov 25, 23 07:03 AM

PCH Travel picks the best time to visit Santa Barbara, with a monthly summary of the weather, plus hotel prices and special events to help plan a visit.