Cheap Flights to San Diego
Cheap Flights
to San Diego
Cheap flights to San Diego with Southwest Airlines, JetBlue, WestJet and other airlines from Los Angeles, San Francisco, and Seattle.

Cheap flights to San Diego International Airport can be found on the many domestic airlines that serve the airport, and the limited number of international airlines. The main airlines serving San Diego International Airport are Southwest Airlines, Delta, and American Airlines.
In addition to Southwest, some of the budget airlines flying into San Diego are JetBlue and WestJet. 

Cheap Flights to San Diego: International
A limited number of international airlines fly direct into San Diego, and these include Aeromexico (from Mexico City and San José del Cabo), Air Canada (Calgary, Toronto, and Vancouver), and WestJet (Calgary). Alaska Airlines also flies between San Diego and San José del Cabo in Mexico, so might be worth checking out for a possible budget air fare.
British Airways flies to San Diego from London Heathrow, and Japan Airlines flies from Tokyo's Narita International Airport..
Cheap Flights to San Diego: Domestic
The best budget fares to San Diego from within the USA are likely to be with Southwest Airlines. Southwest fly from a range of US cities including Albuquerque, Austin, Baltimore, Chicago, Denver, El Paso, Houston, Kansas City, Las Vegas, Nashville, Oakland, Phoenix, Reno/Tahoe, Sacramento, San Antonio, San Francisco, San Jose in California, St. Louis, and Tucson. Alaska also have a flight between Orlando and San Diego.

Flying San Diego-San Francisco
One option for driving the Pacific Coast Highway is to fly in to San Diego or San Francisco, book a one-way car rental airport to airport, and fly back from the other end. However, one-way car rentals are usually more expensive, incurring a drop fee, and it may be cheaper to drive back on the faster Interstate. As well as Southwest Airlines, Virgin America and United also fly between San Diego and San Francisco.
Also check our Cheap Flights to San Francisco page.
Flying San Diego-Seattle
If you want to drive the full length of the west coast and fly back, then both Virgin America and Alaska Airlines have flights between Seattle and San Diego.

Flying San Diego-Los Angeles
In addition to its two main Terminals, San Diego International Airport also has a Commuter Terminal. This is used by several airlines providing commuter flights between San Diego and Los Angeles. These include American Eagle and SkyWest Airlines (on behalf of both Delta and United Express).
International travelers might consider looking for a cheap flight into Los Angeles, and an onward connecting flight to San Diego.
For more information visit our Cheap Flights to Los Angeles page. 
Where to Stay in San Diego
---
San Diego International Airport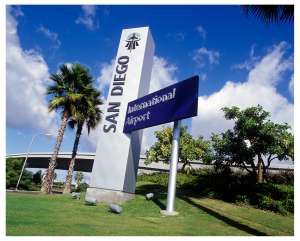 San Diego's main airport is San Diego International Airport (code: SAN; tel: 619/400-2400; website: http://www.san.org), also called Lindbergh Field. It's located only about three miles from downtown San Diego, and there are several shuttle, taxi, and bus services into the city from the airport.
San Diego International Airport has two main terminals, Terminal 1 and Terminal 2, connected by a red shuttle bus.
Most international flights arrive at Terminal 2, though Air Canada uses Terminal 1. Southwest Airlines, probably the best option for cheap flights into San Diego, also uses Terminal 1. Budget flights should also be available on JetBlue, but to a limited number of destinations: New York, Boston, Salt Lake City. Other airlines flying into San Diego to check for cheap flights include Aeromexico, Alaska, Allegiant, Continental, Hawaiian, and United. 
---
---
Oct 06, 22 03:19 AM

The open road is a motorcyclist's dream, a pursuit of ideals, and a motivation to manifest destiny. The debate for the perfect ride has gone on for decades, bringing riders to new locations to test th…

Oct 06, 22 03:19 AM

No road trip would be complete (or half as fun) without stopping along the way for tasty snacks and decadent feasts. Luckily, scores of hungry travelers have paved the way and created a market for res…

Oct 01, 22 05:46 AM

Big Sur. So, Is it a Big Deal?