Get Some Fun PCH Gifts Here
San Diego
Things to Do
Things to do in San Diego include visiting the world famous San Diego Zoo, touring the city's outstanding Wild Animal Park, whale-watching and visiting museums.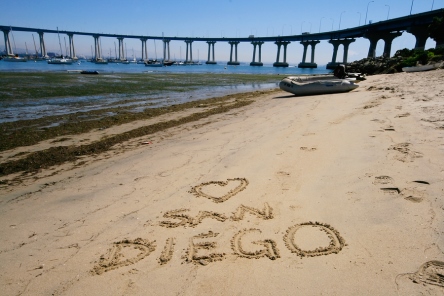 San Diego is one of the most fascinating cities along the entire Pacific Coast Highway, with no shortage of things to do whether you want a family vacation, a romantic getaway or a cultural city break. 

San Diego retains its California west coast charm, has some good beaches, excellent whale watching opportunities, a host of very varied and very enjoyable museums, and some of the best wildlife attractions in the whole United States: SeaWorld San Diego, the San Diego Zoo and the San Diego Zoo Safari Park. 

THE BEST THINGS TO DO IN SAN DIEGO
Balboa Park
Visitor Center, 1549 El Prado. Tel: (619) 239-0512
Undoubtedly one of the finest city parks in the USA with not only its gardens and the world-famous San Diego Zoo, but also museums, theaters, golf, tennis, swimming pools, velodrome and many other recreational facilities. See our separate page devoted to getting the most from visiting Balboa Park.

Gaslamp Quarter
San Diego's downtown nightlife quarter can trace its history back to 1867, when it was founded. In those days and during San Diego's Gold Rush days in the 1870s, the Gaslamp Quarter was notorious for the many dubious pleasures that were available there.
In the 1900s it was known as the Stingaree District, allegedly because it was as easy to get stung here as by a stingray in San Diego Bay. It's not quite so wild and dangerous today, being now a national historic district of old houses, restaurants and nightclubs, and the place to be for Mardi Gras in San Diego.

1492 N. Harbor Drive, Embarcadero
This nautical museum covers six ships, including the 1898 ferryboat Berkeley and the 1863 Star of India tall ship. Some are replicas, and that of the 19th-century revenue cutter, the Californian, takes to sea, mainly at weekends. 

910 N. Harbor Drive, Downtown
One of San Diego's surprising big draws is the fascinating self-guided tour round the USS Midway, the navy's longest-serving aircraft carrier. It saw duty for 47 years from 1945-91, and at 1,001-feet-long it was the largest in the world for the first ten years of its life.
1439 El Prado, Balboa Park
Enchanting permanent collection and visiting exhibitions covering toys, textiles, ceramics, costumes, paintings – anything that can be described as 'folk art', from all over the world. The name of the museum is Japanese for the 'art of all people', and it's a delightful and ever-changing display.
1001 Kettner Blvd, Downtown
This is the downtown San Diego branch of the main Museum of Contemporary Art San Diego – La Jolla, and is housed in what was the old railway station's baggage building. After a recent renovation it now holds rotating shows in its four galleries, and arts events in its new contemporary art space. (And don't forget to visit their other branch in La Jolla.)

Casa de Balboa, 1649 El Prado, Balboa Park
Arguably the best photographic museum in the United States, with a collection that includes great names like Ansel Adams and Henri Cartier-Bresson. Changing exhibitions cover both the history of photography and challenging contemporary works, with a movie theater that shows cinema classics. 
2001 Pan American Plaza, Balboa Park
Dozens of real aircraft and some replicas fill every inch of room here, covering the history of flight from the earliest days through to today's space race, including the Apollo 9 space capsule. It's a popular family favorite, with plenty of hands-on activities.
2080 Pan American Plaza, Balboa Park
The history of cars and motorcycles from the late 19th century right through to today's more famous models. There are also changing exhibitions and live events, so you might want to check the program before planning a visit.
Casa de Balboa, 1649 El Prado, Balboa Park
Contains the largest indoor model railroad in the world, and even if you're not an enthusiast the size of the scale-model tracks and the accuracy of the California and San Diego terrain is mind-blowing.
Casa de Balboa, 1450 El Prado, Balboa Park
San Diego's main art musuem is a shining example of how to make art accessible to people. As well as works by masters like Rubens, Goya, Giotto and El Greco, it has computers that enable you to design your own tour of the collection and make your own prints. There's a lovely outdoor Sculpture Garden, and the permanent collections have particularly strong coverage of European Art, Californian Art and Asian Art. See our comprehensive page on the San Diego Museum of Art.
1350 El Prado, Balboa Park
Housed in the California Building, which has become a symbol of San Diego and featured in the Orson Welles movie Citizen Kane, the Museum of Us features art and crafts from the Native Americans of the Southwestern region, from native peoples in Mexico and Central America, and from South America. 
1788 El Prado, Balboa Park
Over 7.5 million items are held here, from dinosaur models and fossils to live creatures, lectures and large-screen movies.
15500 San Pasqual Valley Road
Allow at least a day to explore these 1800 acres where over 3500 animals live in natural habitats, helping the Park's work to preserve endangered species. From Australian rain forests to the African plains where the Lion Camp is a popular attraction. Don't miss the Kilimanjaro Safari Walk, the Kilimanjaro Safari Walk, the Hidden Jungle and Condor Ridge, which has helped save Californian condors from extinction. In fact, don't miss anything. You're sure to want to return.
2920 Zoo Drive, Balboa Park
The San Diego Zoo is undoubtedly one of the world's greatest zoos, and not be be missed by anyone visiting the city. It covers over 100 acres where about 12,000 animals live in conditions that are as close to natural habitats as possible.
From the steamy Asian rain forest of Tiger River to the icy Polar Bear Plunge, and from the Children's Zoo to the biggest outdoor aviary in the world, San Diego Zoo deserves at least one day of your time, and probably two to do it justice. See our full page on San Diego Zoo.

500 Sea World Drive, Mission Bay
Another of San Diego's full days out for anyone who loves animals, SeaWorld San Diego covers 189 acres and combines entertainment shows, theme park rides and conservation programs like the Manatee Rescue. Arrive early for shows like the spectacular Believe, which features Shamu the Killer Whale, and don't miss the Shark Encounter.
1500 El Prado, Balboa Park
It would be easy to sip this tiny building but you'd be missing the gems inside which include works by masters including El Greco, Rembrandt and Rubens, as well as a fine collection of Russian icons. 
Where to Stay in San Diego
---
---
May 10, 23 09:47 AM

A food and drink expert charts the perfect course from San Francisco to Los Angeles.

Apr 26, 23 10:07 AM

California is home to some of the most diverse and beautiful natural landscapes in the world, making it a haven for outdoor enthusiasts. The state of California offers a wide range of outdoor activiti…

Apr 25, 23 11:08 AM

The latest study by Upgraded Points sets gas cars against electric vehicles to see which vehicle is truly the most economical on five American road trips. Examining the time and fuel costs along iconi…