Get Some Fun PCH Gifts Here
La Jolla
La Jolla in southern California is north of San Diego off the Pacific Coast Highway and has museums, restaurants, hotels, beaches, and the Birch Aquarium.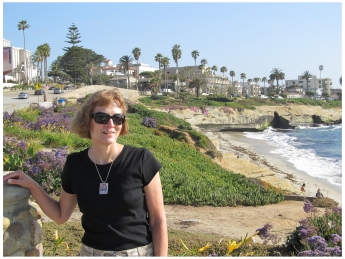 Donna in La Jolla. Photo (c) Mike Gerrard
All Other Photos (c) Donna Dailey
La Jolla is a few miles north of San Diego, off the Pacific Coast Highway, and is definitely one of our favorite PCH destinations. It has great shopping, good restaurants, a range of hotels, beaches, wildlife, the impressive La Jolla Museum of Contemporary Art (an offshoot of the one in San Diego), and the really enjoyable La Jolla Aquarium (officially called the Birch Aquarium at Scripps). It's great for a romantic break, great for families – great for everyone, really.

We love its laid-back feel. We had heard and read that it was a little snooty, and that it had been called the Beverly Hills of San Diego. Well, that certainly wasn't our impression. We loved just walking along the sea front, watching the wildlife.

Sometimes it's the little things you like about the place, and for us it was constantly seeing pelicans flying over. There's just something pleasing about a pelican. It looks odd, for one thing, and they always make us smile. Then you see a flock of them flying over, and you wonder where they're going. Then another flock flies the other way. Is it the same guys going back? Trying to take a photo of them in flight was quite a challenge.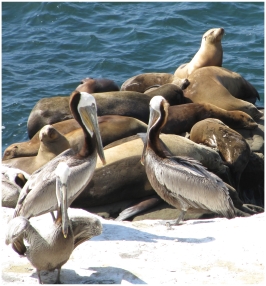 Hanging Out in La Jolla
Getting to La Jolla
From downtown San Diego the quickest way to La Jolla is along I-5, taking Exit 26-A, the West La Jolla Parkway. If there's no traffic it should take you about 25-30 minutes to do the 15-mile drive, but beware the rush-hour traffic. A lot of people commute between La Jolla and San Diego.
From Mission Beach, definitely the most popular beach in San Diego, it's a pleasant 7-mile, 20-minute drive to La Jolla along Mission Boulevard and then La Jolla Boulevard.

From Los Angeles it's about 125 miles to La Jolla, which you should be able to do in less than three hours, though with stops you could make the drive last all day. It's a pleasant trip along the Pacific Coast Highway, passing through places like Huntington Beach, Newport Beach, Laguna Beach, and Dana Point.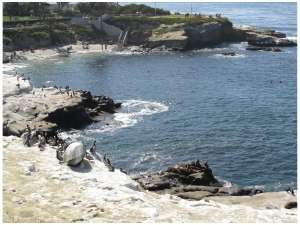 How Long to Spend in La Jolla?
Well, how long have you got? It's a great place to kick back and relax, and you could easily spend several days there. If you're on a tight schedule and planning a Pacific Coast Highway road trip, then we'd recommend 1-2 days here, if you can. We think the Birch Aquarium is a must-see, and that will take a couple of hours.
Even if you're not interested in contemporary art, or you don't fancy the exhibition that's on when you visit, you should try to see the colorful Sculpture Garden at the Museum of Contemporary Art. You'll also need time to walk along the sea front, watch the seals and other wildlife, maybe go to the Sea Caves, and browse in the great shops that La Jolla has. 

Where to Eat in La Jolla
There are several top-end restaurants in La Jolla, including NINE-TEN Restaurant at the Grande Colonial, George's at the Cove, and The Marine Room. But you can eat cheaply too if you're on a budget, and there are lots of fun restaurants and bars serving great food at affordable prices.
When we were there we didn't book ahead but just strolled around till we found somewhere we liked the look of, and liked the sound of the menu. We decided on The Spot (incredibly tasty Duck Reuben and Chorizo Burger).

Where to Stay in La Jolla
There's a wide range of accommodation options to suit all budgets, but we stayed at the Grande Colonial. It's right downtown, and walking distance from most things you would want to see. We can definitely recommend it from personal experience, and you can read all about our visit in our review of the Grande Colonial here.

---
---
Nov 29, 23 07:10 AM

PCH Travel's intro to the Disneyland Resort, which includes both Disneyland Park and Disney California Adventure Park, just a few miles from the coast highway.

Nov 27, 23 04:20 AM

PCH Travel picks the best time to visit the Olympic Peninsula, with a monthly summary of the weather, plus hotel prices and special events to help plan a visit.

Nov 25, 23 07:03 AM

PCH Travel picks the best time to visit Santa Barbara, with a monthly summary of the weather, plus hotel prices and special events to help plan a visit.