Get Some Fun PCH Gifts Here
Encinitas
Encinitas is a beach city in Southern California, famous for surfing, and regularly chosen as one of the best places to live in both California and the USA.
Encinitas is the Spanish for 'Little Oaks', though this city of just over 60,000 people has far more palm trees these days than oak trees. It's a very laid-back kind of a place, typical of these surf towns south of Los Angeles. It's also one of the best - and most expensive - places to live in California, if not the USA.

Where Is Encinitas?
Encinitas is in Southern California, about a 30-minute drive north of San Diego, if you take I-5, or just over an hour if you take the prettier route along the Pacific Coast. If driving from Los Angeles, or from Los Angeles International Airport (LAX) then it's about 90 minutes to two hours south to Encinitas, depending on the traffic.
When to Visit Encinitas?
Encinitas has a mild Mediterranean climate, which means you can visit at any time of the year. Most rain falls from January to March, and with very little rain from April to October.
From November to March the average temperature is 45-50F (about 7-10C). Remember, though, that these are average daily temperatures so it will be cooler than this at night but warmer than this during the day.

Summer temperatures are usually in the high 60s to high 70s (roughly 19-25C), though the record high is 108F (42C) for August, and it has been as high as 90F (32C) even in February. Temperatures can get down below freezing at night in winter, though normally they don't.

Annual Events in Encinitas
Thanks to its mild climate, events happen in Encinitas all-year-round. Some of the highlights include:
April The season really gets going when the annual Spring Street Fair takes place downtown.
May-Sept: Classic Car Cruise Nights take place on the third Thursday of each month, when cars line the Pacific Coast Highway, which goes right through downtown Encinitas.
July: Early July at Moonlight State Beach is the Switchfoot Bro-Am. This free surf competition and music festival includes the world's only Surf Jousting competition.
Sept: On the third Saturday, watch for the Wavecrest Woodie Meet. This is the longest-running get-together in the world of those wooden automobiles so beloved of surfers, the Woodie.
Things to Do in Encinitas

This is located inside the city's 1883 Schoolhouse, and worth seeing for that alone. This one-room schoolhouse was the school for all of the Encinitas children back in those days, with all of eight pupils! There are historical items and photographs, oral histories, and docents who are happy to explain how this once-small community of farmers and fishermen turned into one of the most expensive places to live in the USA.
Don't miss the remarkable sight on nearby 3rd Street, a minute's walk away, of two boathouses. These are boats that have never been to sea but were purpose-built in the 1920s as homes for people.

This museum of contemporary art wants visitors to appreciate not just the art itself but also the creation process. There are changing artists in residence and also a focus on art activities for children.
Old Encinitas
If you're driving the Pacific Coast Highway and you see the green Encinitas sign over the road, pull over. Near here and right on PCH you should see the La Paloma Theatre, which was built in 1928 in Spanish Colonial Revival Style and is still very much in active use today. Wander round here and you'll see plenty of other old buildings in this historic downtown district.
Despite its name this 37-acre garden is in Encinitas, on the east side of I-5. It includes an amazing range of gardens, from desert gardens to a sub-tropical fruit garden to tropical rainforest. In all, there are over 5,000 species of plants, making it one of the best gardens you'll find along the Pacific Coast Highway. It also has the largest interactive children's garden on the entire west coast. 
This history museum opened in 1988 and displays historical artefacts, photographs, stories, and even buildings from Encinitas and the whole San Dieguito area, which also includes Cardiff-by-the-Sea, Del Mar, Leucadia, Olivenhain, Rancho Santa Fe, Solana Beach, and parts of southern Carlsbad and northern San Diego. You'll find it close to the San Diego Botanic Garden.
Surfing Madonna
This mosaic depicting the Virgen de Guadalupe on a surfboard was installed by two artists in 2011 underneath the train bridge on Encinitas Boulevard near its junction with the Pacific Coast Highway. It caused a great deal of controversy at the time as the city council dubbed it graffiti, but there was also a lot of support for it, and it's still there although it's been moved across the street.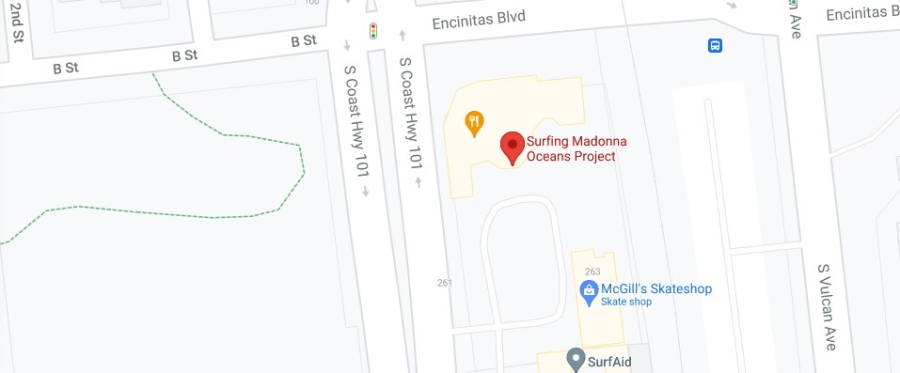 Swami's Beach
Fans of the Beach Boys will want to see Swami's Beach, a famous surfing beach which gets a name-check in the Beach Boys' hit, Surfin' USA. The Pacific Coast Highway goes right by it, and it's just south of the turning for W K St.
Where to Stay in Encinitas
---
---
Sep 26, 23 04:18 AM

The Iconic Big Sur Waterfall Everyone Needs to See At Least Once

Sep 24, 23 05:26 AM

Pacific Coast Highway Travel picks the best restaurants in Santa Cruz, choosing the finest gourmet eating places, with both local and international cuisine.

Sep 24, 23 04:17 AM

Pacific Coast Highway Travel visits the Big Basin Redwoods State Park, which is the oldest state park in California.