Stanford Inn by the Sea

When we arrived at the Stanford Inn by the Sea near Mendocino, we'd no idea what a very special place we'd be staying at.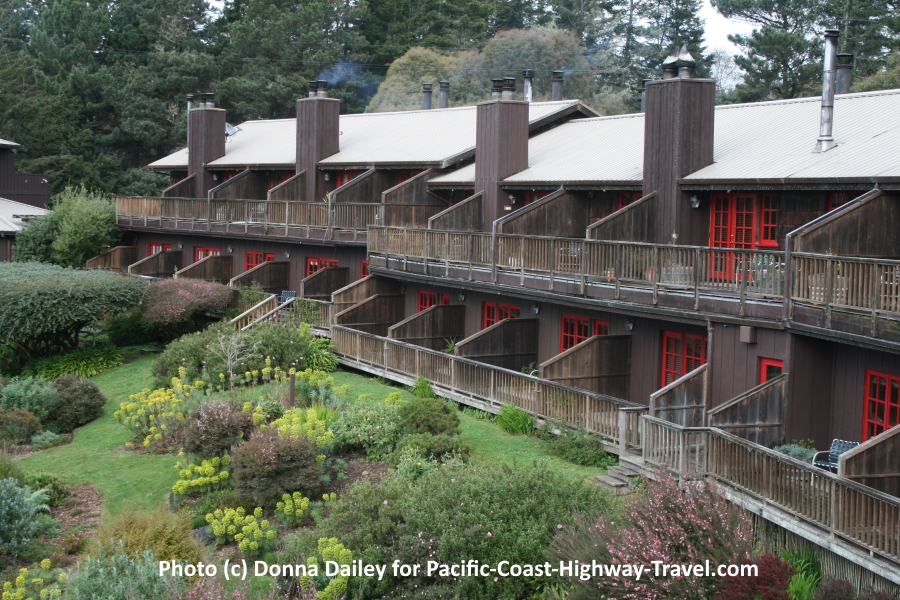 Photos by Donna Dailey
A few days earlier someone had been telling us some of the things we absolutely had to do when driving further north, one of which was dining at Ravens' Restaurant in Mendocino. She said it had some of the finest food she'd ever tasted. We wrote the name down, now knowing then that Ravens' is the restaurant for the Stanford Inn. So at least we knew the food ought to be good.

Our Room
Rooms at the Stanford Inn
The Stanford Inn style is rustic comfort. Rooms have wood-panel walls, real wood-burning fireplaces, eco-friendly toiletries, organic coffee-making facilities, and they all have their own decks. Many have views out to the Pacific Ocean, across the Inn's herb and vegetable gardens.
But rustic doesn't mean basic. Rooms also have wireless internet, HDTVs with DVDs and VCRs, fridges, microwaves, and stereo systems, and ours had one of the biggest and most comfortable beds you could wish for. Room rates also include the exceptional breakfast at Ravens' Restaurant.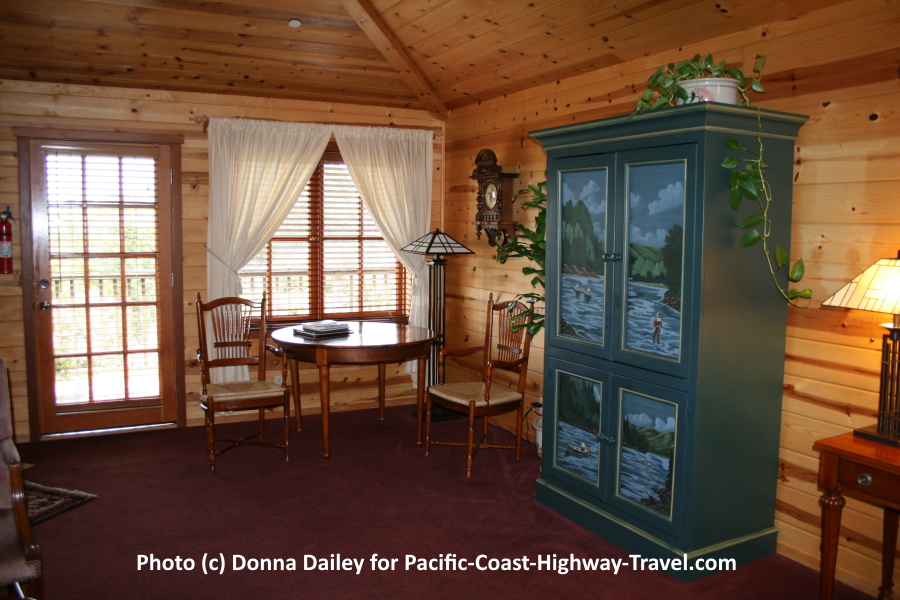 Our Room
Mendocino Eco-Resort
The Stanford Inn describes itself as an eco-resort, which is a claim that everybody under the sun makes these days. Any hotel that asks you to re-use your towels claims it's being eco-friendly. But in the case of the Stanford Inn it is built into the very fabric of the place, and is simply a part of the way of life of the owners, Jeff and Joan Stanford.
We were lucky enough to talk to Jeff, who introduced himself to us in Ravens', and we had a fascinating time talking to him after dinner about his beliefs and his life. He's a passionate man whose passions are reflected in the way everything is done at the Stanford Inn.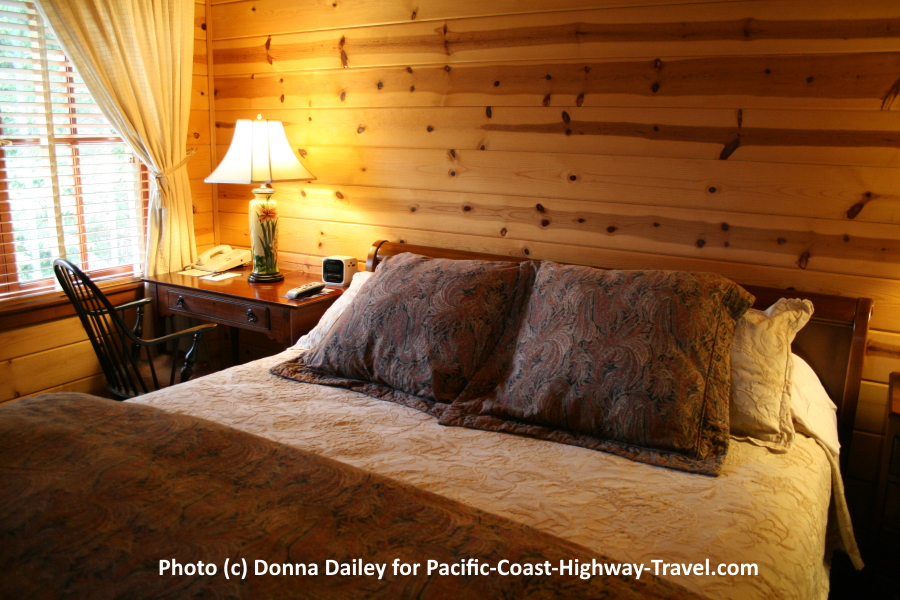 Canoes and Bicycle Hire in Mendocino
Within the grounds of the Stanford Inn is the only privately-owned stretch of the Big River estuary, now known as the Big River State Park. Here you can hire kayaks and redwood outrigger canoes to explore this protected part of the beautiful coast. Bikes are available for hire too, with the Big River Trail just one of the cycling options.

View From Our Room
The Herb and Vegetable Gardens
Other Amenities at the Stanford Inn by the Sea
Yoga classes are available for guests, and there's a range of massage, facials and other treatments that can be booked. Ayurveda Treatments and Acupuncture are also part of the services available, with a hidden-away Massage in the Forest centre in the Inn's grounds. There's also a hot tub and a delightful indoor swimming pool.

Contact Details

The Stanford Inn by the Sea
Coast Highway and Comptche Ukiah Road
Post Office Box 487
Mendocino
California (CA) 95460
Toll Free: 800-331-8884
Phone: 707-937-5615
---
---
Jun 23, 21 05:26 AM

Here is Pacific Coast Highway Travel's pick of the best California beach hotels including beach hotels in Santa Monica, Santa Barbara, and Malibu.

Jun 05, 21 03:27 AM

About 3,000 elegant tern eggs were abandoned at a southern California nesting island after a drone crashed and scared off the birds, a newspaper reported Friday.

Jun 02, 21 03:59 AM

In 1972, California voters mandated the creation of a coastal trail from Oregon all the way to Mexico, but it still isn't complete.