Vagabond's House Inn
Bed and Breakfast
Carmel-by-the-Sea, California
We've spent so long on the road over the years that a place called the Vagabond's House Inn Bed and Breakfast obviously appealed to us. And even though we only spent one night there, it did feel just like home before we left.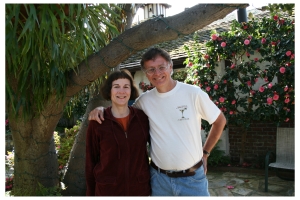 Mike and Donna enjoying
the Vagabond's House Inn Bed and Breakfast
in Carmel-by-the-Sea, California
We'd spent a long day in Monterey, doing a walk around the Old Town, seeing Cannery Row and Fisherman's Wharf (great clam chowder at Abalonetti), and taking hours to see all round the wonderful aquarium, so we checked in a little late and tired. The first thing was that it was easy to find, and the second thing that parking was easy and free too, right on the street outside the Inn (though they also have a small private car park as well). That isn't always the case in compact little Carmel.
The third thing was even better. We knew we were too late for the daily early evening free wine, cheeses and other appetisers (served 4-6pm), but the receptionist had kindly put some away for us. No sooner had we checked in than we were relaxing with a very welcome glass of chilled Californian chardonnay, tucking into some tasty tit-bits, and enjoying a nice chat with the friendly lady behind the desk.
Rooms off a Stone Courtyard
The Vagabond's House Inn was completely delightful. Most of its 13 rooms are off a central stone courtyard that's filled with plants, ferns, flowers, waterfalls, and a big oak tree. Many have their own private entrance, like little cottages. The décor is old-fashioned rustic, and all the rooms have fireplaces and private bathrooms. They also have all the modern stuff like TVs with cable, DVDs, phones, and a big kitchen. There's also a welcoming schooner of sherry in the room, and there was a danger that, once we were in, we might never get out again. However, we decided to save the sherry for a nightcap as we of course wanted to have a drink in Clint Eastwood's Hog's Breath Inn, which is just a short walk away.
There's no dining room at the Vagabond's Inn so next morning the breakfast was delivered to our room, though we could have eaten outside in the courtyard if we'd wanted.
Vagabond's House Inn History
There's plenty to see in the reception area at the Vagabond's House. It's owned by Denny LeVett, who co-owns the Cypress Inn with Doris Day, but here he's added to the casual and very personal atmosphere by putting on display some of his own personal collections. There are books, toys and part of LeVett's collection of Colt-Patterson guns which is the largest in the world.
The Inn was built in the late 1920s and very quickly became popular with artists and writers. One such was Don Blanding, a poet and prose writer who would come to the Inn for months at a time, as he found it such an inspirational place. He wrote a famous poem called "Carmel-by-the-Sea", and another long poem called the "Vagabond's House" – and the owners later named the place after his poem, a nice touch.
A night at the Vagabond's House Inn really refreshed and relaxed us, and we were very sorry when we had to hit the road the next morning and leave. It's the kind of Inn where one night is not enough, and it's definitely high on our list of Pacific Coast Highway places we want to stay at again.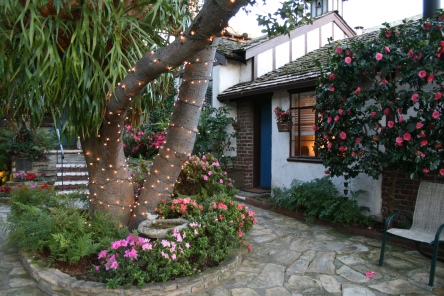 The Vagabond's House Inn in Carmel
Photo (c) Donna Dailey

We're not the only ones who fell in love with the Vagabond's Inn. Click this link to see why hundreds of other visitors have made this one of the top places to stay in Carmel on TripAdvisor.

Unique Inns

The hotel is a member of Unique Inns. For more details and for online booking information for all the Unique Inns in California, Oregon and Washington, as well as their inns in Idaho, and British Columbia in Canada, visit the
Unique Inns website.
---
---
Mar 12, 18 03:07 PM

The Pacific Coast Highway goes right through Laguna Beach, a relaxed artsy beach resort town between Los Angeles and San Diego. Located about 80 miles from San Diego, its attractions include shopping…

Mar 09, 18 06:34 PM

The Pacific Coast Highway goes right through Huntington Beach, otherwise known as Surf City USA and a popular beach resort town between Los Angeles and San Diego. It's about 40 miles from LA and 90-10…

Feb 28, 18 10:24 AM

Lots of people have recently been choosing their Best West Coach Beaches, Best Beaches in the World and Best California Beaches so Pacific Coast Highway Travel has listed the best of the best.