Point Reyes National Seashore
The Point Reyes National Seashore is an hour's drive northwest of San Francisco on the Pacific Coast Highway and is maintained by the National Park Service.
The national seashore is actually a peninsula, the Point Reyes Peninsula, which is separated from the mainland by Tomales Bay. The bay is about 15 miles (24 km) long and was formed because it is part of the San Andreas Fault, which runs through California. 
Where is the Point Reyes National Seashore?
The Point Reyes National Seashore is in Marin County, California, about an hour's drive northwest from San Francisco, across the Golden Gate Bridge and along the Pacific Coast Highway. You go through Stinson Beach and eventually reach the tiny community of Olema, where you'll find the Visitor Center for Point Reyes.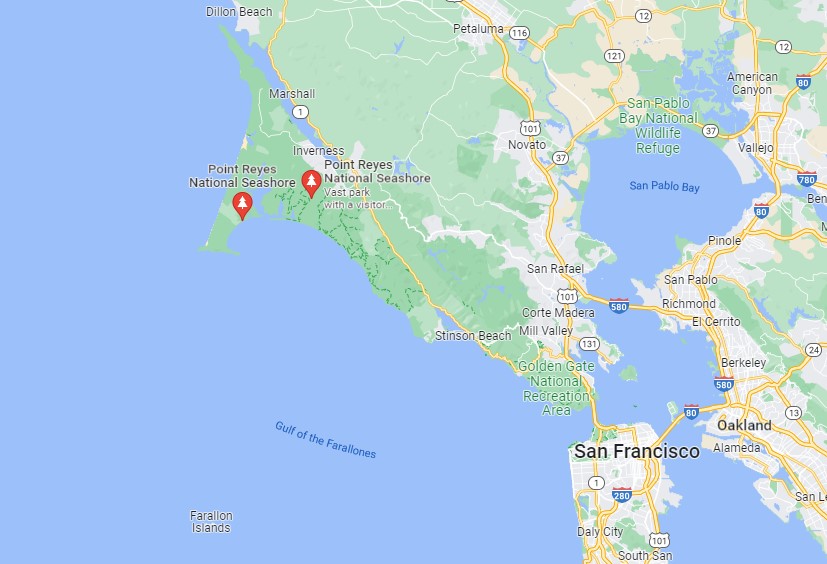 Map (c) Google Maps
How Big is the Point Reyes National Seashore?
The Point Reyes National Seashore covers an area of 71,028 acres, or 111 square miles (287 sq kms). It has 100 miles (161 kms) of shoreline. It was created in 1962 and is designated as both a national seashore and a park preserve, and is maintained by the National Park Service.
What to Do at the Point Reyes National Seashore
The seashore has beaches that have been voted the cleanest in California. There are plenty of trails, so get yourself a good map or get information at the Visitor Center. There are estuaries, headlands with dramatic views, a lighthouse, a lifeboat station, and uplands too – it isn't all at sea level! The highest point is Mount Wittenberg, which is 1,407 feet (429 meters) high.
Kule Loklo
Close to the Visitor Center you can visit Kule Loklo, which is a recreated Coast Miwok village, the Coast Miwok being the indigenous people who originally lived around Point Reyes, in Marin County, and in Sonoma County.
Wildlife at the Point Reyes National Seashore
If you like wildlife you'll love Point Reyes, especially if you're a keen birdwatcher. In all, some 45% of all bird species in the whole of North America have been seen at the Point Reyes National Seashore. At the northern end of the peninsula is a reserve of tule elk, a species of elk that is only found in California. You can also see seals, elephant seals, and see whales offshore when they are migrating.
Best Time to Visit Point Reyes National Seashore
You can visit Point Reyes all year round, but spring is a good time to see the best of the wild flowers. Most rain falls from November to April, with the summers fairly dry. From June to October the average maximum temperature is in the 70s (over 21C), while in winter it can fall to near freezing.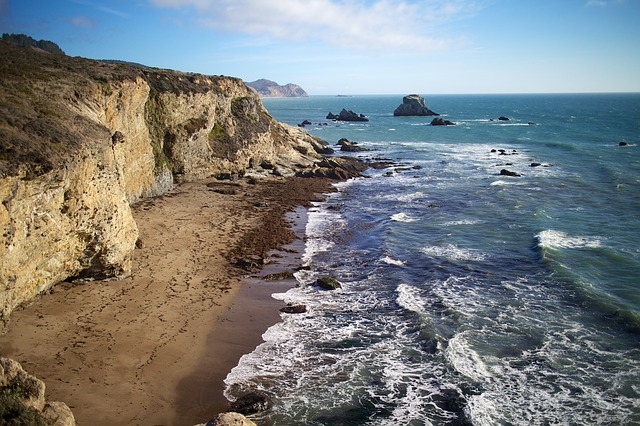 Where to Stay at Point Reyes?
There's accommodation and eating places in Olema, and a few miles further north in the little town of Point Reyes Station, which is the gateway to the peninsula. On the peninsula itself, the town of Inverness also has accommodation and places to eat. There are also four campgrounds in the park which you need to book in advance, and the Hi Point Reyes Hostel.
---
---
Jun 29, 22 03:33 AM

Los Angeles is world-renowned for its beaches, which allow you to trade the hectic atmosphere of the city for the sun, sand and surf. Whether you're looking for a busy beach with a lot of shops, resta…

Jun 22, 22 03:16 AM

Of the 13 routes analyzed, California's Pacific Coast Highway is ranked first overall (6.48), with Natchez Trace Parkway (5.91), Appalachian Trail (5.42), Atlantic Coast (5.38) and Oregon Trail (5.32…

Jun 08, 22 05:46 AM

A perfect day in San Francisco would include Golden Gate Bridge, Alcatraz, Chinatown, Fisherman's Wharf, Haight-Ashbury, and the California Academy of Sciences.