Santa Cruz
Downtown Wine Tastings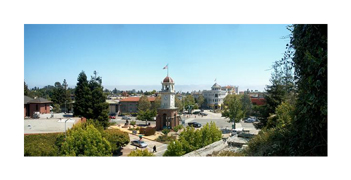 There are plenty of Santa Cruz downtown wine tastings, with no tasting fee. Just off the Pacific Coast Highway are Beauregard Vineyards, Storrs Winery and Pelican Ranch Winery, all with tasting rooms - and free tastings! The wines are so good they know you'll want to buy. Two of them are right off Highway 1, and the third one a short walk away, about three-quarters the way along the Santa Cruz Wharf.

Beauregard Vineyards
Santa Cruz Wharf, Santa Cruz
Tel: 831/425-7777
www.beauregardvineyards.com
Open Thursday-Sunday noon-6pm
You'll have to walk almost to the end of the Santa Cruz Wharf to visit Beauregard Vineyards' tasting room, and the Wharf entrance is at Beach Street and Pacific Avenue. Don't leave the camera in the car as there are great coastal and ocean views from the panoramic windows. In fact you can check it out before visiting as their website has a webcam on it. Sadly no-one has yet invented the taste-cam, so you'll have to go in person to try their Santa Cruz Mountain wines. The Beauregard family has been making wine here for four generations, so have learned their craft well. If you like their world-class pinot noir, chardonnay, cabernet, zinfandel and syrah wines, you can buy them in 20 US states as well as online and in the tasting room.
Pelican Ranch Winery
402 Ingalls Street, Santa Cruz
Tel: 831/426-6911
www.pelicanranch.com
Open Friday-Sunday noon-5pm
Take Swift Street off the Coast Road (Highway 1), west of downtown Santa Cruz, to visit this small, family winery which only opened in 1997. Pelican Ranch specialises in Rhone- and Burgundy-style wines, but with a California freshness about them. Try the pinot noir and the richly-flavored viognier (if they have it), as well as the chardonnays. There's a courtyard here, and Kelly's French Bakery right next door, making the perfect place for lunch or a snack.
Storrs Winery
Old Sash Mill, 303 Potrero Street, Santa Cruz
Tel: 831/458-5030
www.storrswine.com
Open daily noon-5pm
Potrero Street is right off Highway 1 as it goes through downtown Santa Cruz, and here in an old lumber mill Storrs Winery has a tasting room, open every afternoon, all year round. Here you can sample from their range of wines including a Bordeaux-style reds, merlots, zinfandels, riesling and their Mountain Vineyard Collection of chardonnays and pinot noirs. As that name suggests, the winery itself is up in the Santa Cruz Mountains and visitors can only sample wines at this tasting room just off the Pacific Coast Highway.

---
---
Mar 12, 18 03:07 PM

The Pacific Coast Highway goes right through Laguna Beach, a relaxed artsy beach resort town between Los Angeles and San Diego. Located about 80 miles from San Diego, its attractions include shopping…

Mar 09, 18 06:34 PM

The Pacific Coast Highway goes right through Huntington Beach, otherwise known as Surf City USA and a popular beach resort town between Los Angeles and San Diego. It's about 40 miles from LA and 90-10…

Feb 28, 18 10:24 AM

Lots of people have recently been choosing their Best West Coach Beaches, Best Beaches in the World and Best California Beaches so Pacific Coast Highway Travel has listed the best of the best.