Pacific Coast
Wine Trail
The Pacific Coast Wine Trail includes wineries and vineyards along the Pacific Coast Highway in California's Central Coast, including tasting rooms near San Simeon, Cambria, Harmony and Cayucos.
The wine trail was established in January 2013 by several wineries in the northern part of the Central Coast to promote wine tasting there. In California you don't need to head a long way inland to the most famous wine regions in Napa, Sonoma and Paso Robles. There are wineries along the coast in places including Cambria, San Simeon, Harmony and Cayucos.
There are seven wineries along the Pacific Coast Wine Trail, and many of them are family businesses, and have unusual stories to tell. From north to south the wineries are: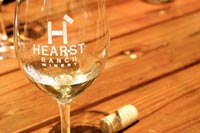 The Hearst Ranch Winery
Hearst Castle is, of course, one of the top stops along the Pacific Coast Highway, but across the road from the entrance to Hearst Castle is the tasting room for the Hearst Ranch Winery. You'll find it inside the historic Sebastian's General Store, itself a place worth seeing, built in 1852. In fact the whole story of the winery goes back to when co-founder Jim Saunders took a tour of Hearst Castle! The winery now makes a wide variety of wines, which you can try including chardonnay, rosé, tempranillo, cabernet franc, malbec, merlot, and cabernet sauvignon. The winery is hoping to open a second tasting room so check their website for the update on this: Hearst Ranch Winery.
Black Hand Cellars
At the north end of Cambria's Main Street, this winery's story starts with a honeymoon through the Russian River Valley wine country. The husband-and-wife team behind Black Hand, Tom and Terrie Banish, decided one day they wanted to open their own vineyard. When it came to choosing a name, they remembered stories Tom's great-grandmother told about how her husband used to make good wine, which was well-liked by the local Black Hand Mafia. They now make syrah, grenache and several other wines.
Moonstone Cellars
Further south on Main Street in Cambria is the tasting room for Moonstone Cellars. The business goes back to 1998 when Todd Clift and his dad, Muril, began making wine as a hobby. The hobby turned into a business and now Moonstone Cellars has won over 200 awards for their hand-crafted wines. The wines range from light whites to full-bodied reds, but always made in small batches. 
Twin Coyotes Winery
Also along Main Street in Cambria is the tasting room for Twin Coyotes. You'll find them at number 2020, as part of The Shops at the Garden Shed. This winery was started by twin brothers and only uses sustainably-farmed grapes. Wines include cabernet sauvignon, merlot, tempranillo and sauvignon blanc, plus a dessert wine.
Stolo Family Winery and Vineyards
Two miles out of Cambria on the Santa Rosa Creek Road, Stolo is a 9-acre vineyard based at a restored late-19th-century farmhouse. The family-run winery has won many awards for its wines, which include chardonnay, pinot noir, syrah, sauvignon blanc, and gewurztraminer. 
Harmony Cellars
Harmony Cellars is five miles south of Cambria in, where else, Harmony (population: 18) is keeping a family tradition alive. It was founded in 1989 by Chuck and Kim Mulligan, and Kim's great-grandfather, Giacomo Barloggio, was making wine in his basement in Harmony way back in the late 19th century. Today they make a range of award-winning reds and whites, and a dessert wine.

Cayucos Cellars
Fourteen miles south of Cambria and in the northern part of Cayucos is the Cayucos Cellars. The company was started in the 1980s when Cayucos native Stuart Selkirk noticed a neighbor with a truck load of grapes and asked him what he was doing with them. Making wine, was the answer, just as his Swiss ancestors had done in the old days. Soon Stuart was making wine too and he's still running the winery with his wife, their two sons and one daughter. Their wines include chardonnay, cabernet sauvignon, pinot noir and syrah.

Visiting the Wineries
Check for opening hours first, on the Pacific Coast Wine Trail website, as hours do vary.
You can download a printable map with addresses and phone numbers:
Pacific Coast Wine Trail Map
So there you have it. Next time you're driving the Pacific Coast Highway be sure to take in the Pacific Coast Wine Trail too!
---
---
Feb 01, 19 04:24 PM

San Clemente in California is a small city on the Pacific Coast Highway midway between San Diego and Los Angeles, noted for its beaches, surfing, and Spanish colonial-style architecture.

Jan 21, 19 05:19 PM

If you're looking for good Gold Beach Oregon lodging check out the Tu Tu Tun Lodge a few miles inland along the Rogue River, not far from the Pacific Coast Highway on the Southern Oregon coast.

Jan 21, 19 04:48 PM

Gold Beach is a small town on the Oregon coast at the mouth of the Rogue River with the Pacific Coast Highway, Highway 101, here called the Oregon Coast Highway, running right through it.