Napa and Sonoma Guidebook
Get Some Fun PCH Gifts Here
Napa and Sonoma Guidebook
The Napa and Sonoma Guidebook to California Wine Country is from the Moon Handbooks' travel guide series with reviews of wineries, vineyards, and wine tastings.

We make no apology for reviewing this Napa and Sonoma guidebook on a website devoted to the Pacific Coast Highway. We know from visitors' emails that the most popular diversion from PCH is to head slightly inland at some point and explore California's wine country.

You can do this in several places, including going to Paso Robles from near Cambria, exploring the Russian River Valley and other parts of Sonoma from Jenner, or heading into Napa and Sonoma from the San Francisco Bay area. It's an easy, irresistible, and very rewarding side trip.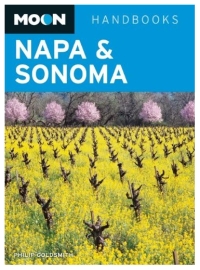 As easy as the trip is (an hour's drive at the most), you soon realize you need a good guidebook to help you plan the visit. Napa Valley itself is quite small, scarcely 30 miles end to end, but when you add in the Northern and Southern Sonoma Valleys you suddenly have a lot of choices to make.
There are several hundred wineries in Napa, and as many again in Sonoma. Fortunately there are also books like this to help you make sense of it all and decide where to begin.

The author begins with a necessary overview, and some trip-planning tips. You might want to organize a tour by varietals, or you might be planning a romantic weekend. You might be on a budget and looking to do some free tastings - the book lists some of these, and also does a good job in tracking down some budget accommodation, which is in short supply in wine country.

Napa and Sonoma Guidebook: Maps
The book does include several maps, including a couple of full-color overview maps at the front, and black-and-white maps of the main towns and areas throughout the book. These show the main wineries, hotels, and restaurants on them, although you should also have the best road map you can find, or a good GPS system, as some of the vineyards can be hard to find when you get onto the back roads.

Wine 101
The author is clearly a wine expert but one of the dangers of this is that experts often forget how to talk to novices. They assume everyone knows as much as they do, but Philip Goldsmith is easy to read and knows he's writing a guide for everyone. At the back of the book is an 18-page 'Wine 101' section, so even if you know nothing about wine you can learn the basics before you go - everything from tasting wine in restaurants and in wineries, to the regulations for shipping wine home.

Napa and Sonoma Guidebook:
A Good Vintage?
The book breaks down into the three main regions - Napa Valley, Southern Sonoma, and Northern Sonoma. Each region then has separate sections on each of the main towns or valleys in it. Each of these starts with an introduction, followed by its wines and its main wineries.
Also described are other attractions in the area, as there are things to do here other than just visit wineries! There are also very helpful write-ups on accommodation and eating places, with accommodation divided into three different price brackets. And the write-ups are lengthy and genuinely useful, which they need to be in wine country when prices are high and you need to be sure you're making a good choice, both of where to stay and where to eat.
In short, this guide of about 330 pages gives comprehensive coverage of Napa and Sonoma, and will definitely help anyone plan the perfect visit to California's wine country.

Napa and Sonoma Guidebook:
The Author
British-born author Philip Goldsmith now lives in San Francisco and has written several other Moon guides to California wine country. These include Moon's Northern California Wine Country, the Moon Spotlight Guides to both Napa Valley and the Sonoma Valley, and now this brand new Napa and Sonoma Moon Handbook. 

Buying this Napa and Sonoma Guidebook
Napa and Sonoma by Philip Goldsmith is published  by Moon Handbooks.

Where to Stay in Napa Valley
---
---
Sep 26, 23 04:18 AM

The Iconic Big Sur Waterfall Everyone Needs to See At Least Once

Sep 24, 23 05:26 AM

Pacific Coast Highway Travel picks the best restaurants in Santa Cruz, choosing the finest gourmet eating places, with both local and international cuisine.

Sep 24, 23 04:17 AM

Pacific Coast Highway Travel visits the Big Basin Redwoods State Park, which is the oldest state park in California.