Napa Bed and Breakfast:


1801 First

Visiting this acclaimed Napa bed and breakfast was part of a birthday treat, a small two-day diversion from our Pacific Coast Highway drive.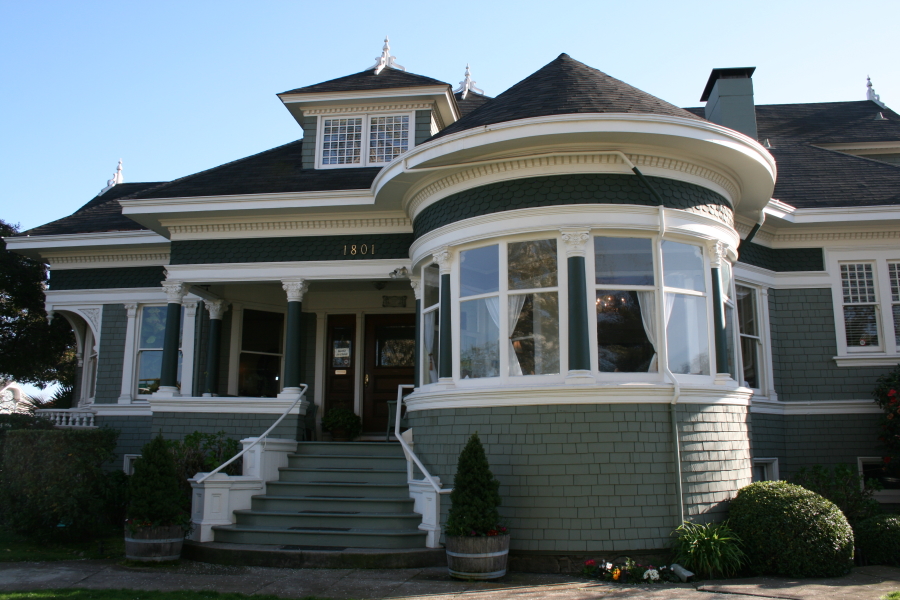 1801 First
All Photos (c) Donna Dailey

After all, it is only 40-50 miles from, say, Bodega Bay to St Helena, and only an hour's drive from San Francisco to Napa city, so we felt justified in making the little side-trip. Lots of visitors to the site also ask about making the Napa trip, so we had to head for wine country – in the interests of research.

After a lovely stay the first night in St Helena at the Wine Country Inn and Gardens, we checked out at the last possible minute because our room was so lovely and we wanted to enjoy it. We visited a few vineyards and arrived at 1801 First in the late afternoon, to a warm and friendly welcome.

Our Room at this Napa Bed and Breakfast
Our room at 1801 First was in fact one of their suites, the Bella Fresia, and it was gorgeous. The bathroom was a big hit, done on cool, clean, modern lines and cleverly designed to make use of one of the house's turrets.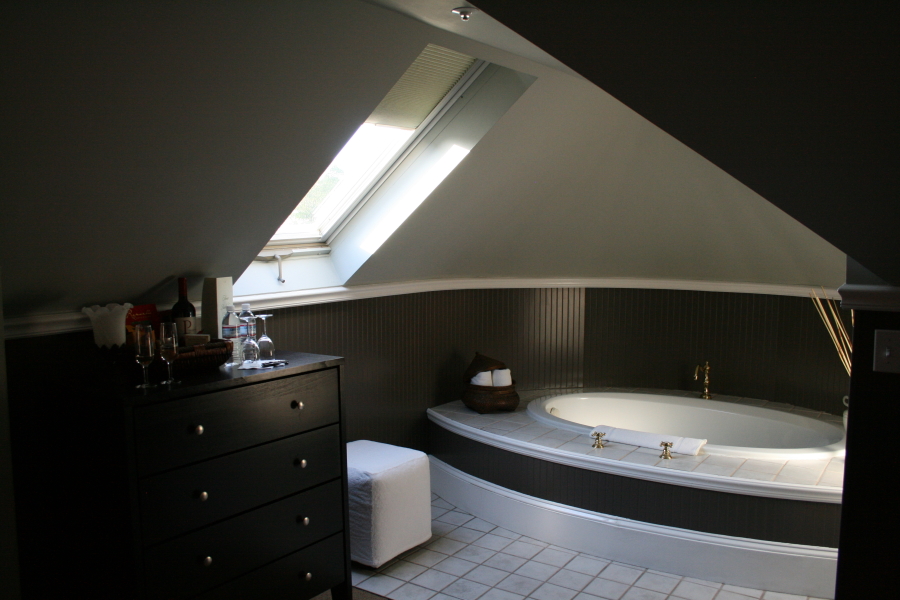 The Bathroom
The room itself had a classical elegance in keeping with the age of the house, which was designed in 1903 by one of Napa's leading architects, William Corlett. The owners have retained that period feel and style, while incorporating modern amenities like high-speed internet, Jacuzzis, and video and CD libraries. We relaxed in the two easy chairs by the window (isn't it annoying when hotels only provide one easy chair in a double room?) till it was time for the evening wine tasting.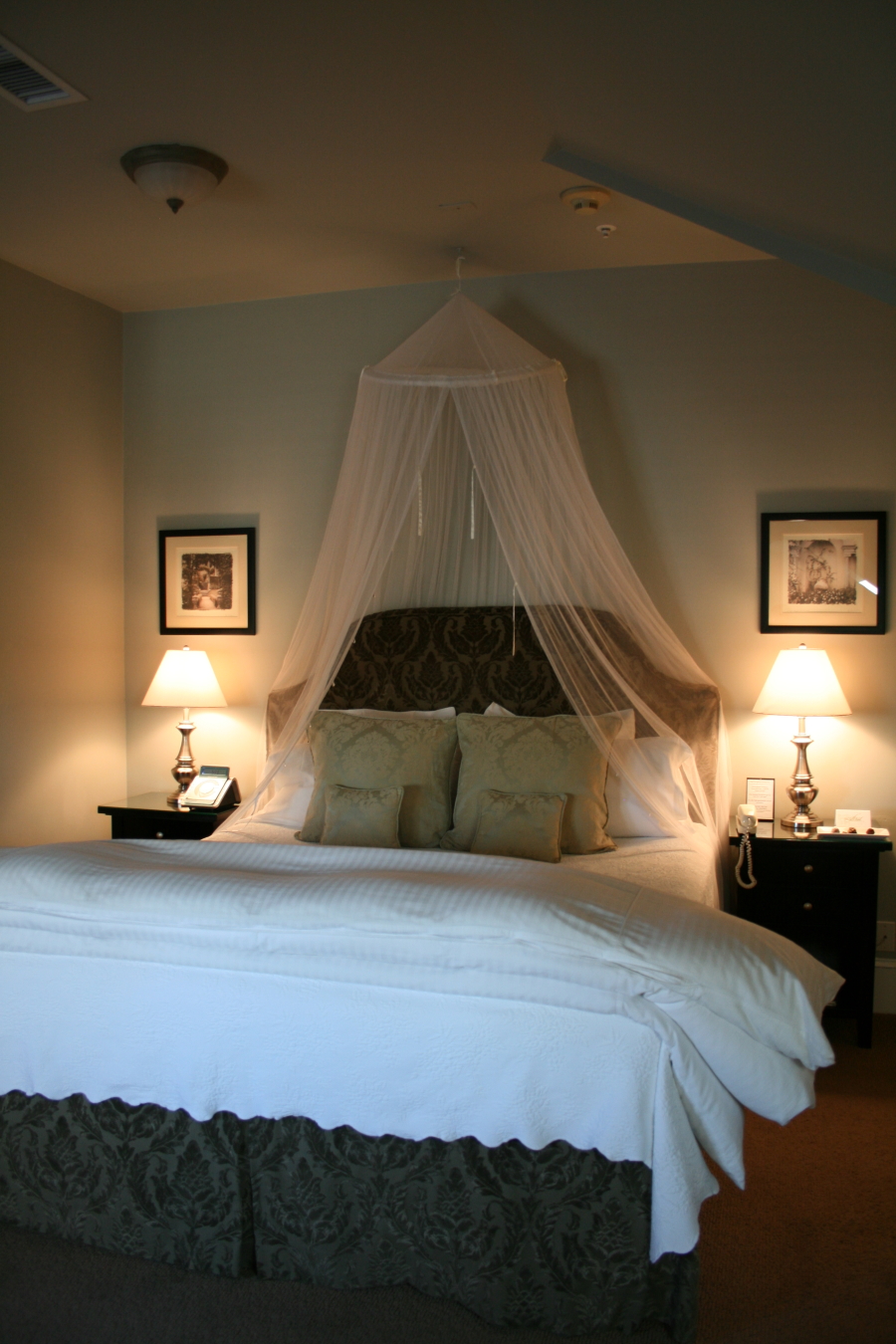 Wine Tasting and Hors d'Oeuvres

1801 First is an intimate inn with just five luxury suites, two cottages in the lovely garden, and the Carriage House for guests who want ultimate privacy. I guess we were lucky that evening as the other guests we chatted to over the complimentary wine and appetizers were all really nice, friendly people. We got on so well we even got an invite to go visit one of the couples in North Carolina.
The wine and the hors d'oeuvres were both top quality, and we compared notes on where people had eaten, and got some recommendations from the hostess. We dined at the Bounty Hunter, which both the hostess and a barman at one of the vineyards had recommended, and we had a great time there. One of the advantages of 1801 First is that it's outside the centre of Napa in a quiet neighborhood, but just a short and easy walk to downtown.
Napa Bed and Breakfast
Well the bed part of the bed and breakfast got a thumbs-up, after a great, comfortable and quiet night's sleep, but what about the breakfast? Wow, now this was seriously good. 1801 First brings in a chef to prepare breakfast, with a changing choice of cooked options. We started off with a muffin and a chocolate croissant, then a bowl of yoghurt with honey and figs, and finally a soufflé of bacon and peppers with pesto. We'll say it again – wow!

Award-Winning Napa Bed and Breakfast

It doesn't surprise us at all that 1801 First made the shortlist for Most Excellent Inn in the USA and Canada in the prestigious Conde Nast Traveler Awards. Only five inns made the short list: one in Canada, two on the east coast, one in Seattle – and 1801 First. So you know it's not just us being biased when we say this is a really special place to stay if you're visiting Napa.
Before we left we read the Visitor's Book, which showed that lots of people had, like us, chosen 1801 First for a birthday break, a special anniversary, a family get-together, or a honeymoon. And no-one was disappointed.

Contact Details
1801 First
1801 First Street
Napa
California (CA) 94559
Toll Free: 800-518-0146
Phone: (707) 224-3739
Fax: (707) 224-3932
---
---
Oct 06, 21 03:29 AM

The Pacific Coast Highway is California's longest state route at 656 miles (1,055 kilometres) and runs along the Pacific Ocean, making it arguably one of the prettiest drives in the United States. Fou…

Oct 06, 21 03:29 AM

United Airlines just made a lot of friends among cycling enthusiasts. The Chicago-based carrier has eliminated its fees for passengers traveling with their bicycles, joining fellow airlines American a…

Sep 30, 21 03:15 AM

Best Tours & Travel's recent reopening saw sellout tours and a continuing recovery in its private charter operations, thanks to nonstop outreach throughout 2020's shutdown months that continues today.