Paso Robles Accommodation
Paso Robles Accommodation
Stay on a Vineyard at the JUST Inn
If looking for Paso Robles accommodation you could stay on a vineyard at the luxury JUST Inn Bed and Breakfast, in the grounds of the JUSTIN winery.

For Paso Robles accommodation that is distinctly different, we decided to stay on a vineyard and booked in at the luxury JUST Inn Bed and Breakfast, in the grounds of the JUSTIN winery. 

It's about 18 miles west of Paso Robles, in the heart of Paso Robles wine country, and if you haven't explored the wineries and vineyards here then you're in for a terrific surprise.

It was about an hour's drive inland from Cambria, where we'd stayed the night before. On a previous visit we'd spent a day driving around the Paso Robles wineries, which is a really good day out if staying on the coast. But this time was going to be even better – we got to stay on the vineyard after doing the tour and tasting!
Vineyard Tour
We just had time to check in to our room, the Sussex Suite, to be bowled over by its style and luxury, only to have to leave it again for the vineyard tour. You can read all about that on our Paso Robles Wine Tours page for the JUST Inn.

Paso Robles Accommodation: The Sussex Suite
Perhaps the inn put us in the Sussex Suite because Mike's from England, but we're sure all four of the suites are equally sumptuous and there isn't a great deal of difference in the prices. The Provence and Tuscany Suites are 600 sq ft, and the Bordeaux is the biggest at 1400 sq ft, being described as a townhouse apartment. It's almost as big as our home in Arizona!
Our Sussex Suite is 1200 sq ft, a lot of it taken up by the vast lounge, with its stone fireplace, plush comfy sofa, armchairs, Oriental rug over parquet flooring, tables, dressers, and a general air of luxurious relaxation. Up some stairs to one side is a small kitchen area separated from the living room by a narrow breakfast bar.

Bedroom and Bathroom
At the top of the short flight of stairs a louvred door opened into the marble and tiled bathroom, which had one of the largest shower heads we've ever seen, almost the size of an umbrella. Across the hallway was the bedroom, its four-poster bed giving it a kind of historic English feel, though the pastel-green walls gave it a much lighter look than you get in most English country houses.

Choosing Your Paso Robles Accommodation
Although none of the four suites will disappoint, they are all different so before booking check the JUST Inn website to see which one suits you best. If you plan on doing some private dining, the Bordeaux Suite has a lovely dining room.
The Sussex is more casual in that respect, with only a small kitchen area. The Provence Suite has the advantage of a balcony overlooking the gardens, while the Tuscany Suite has two balconies with vineyard views.

Dining in Deborah's Room
It's a bit of a drive to the nearest restaurant so our advice is to go for the total indulgence when staying at the JUST Inn Bed and Breakfast, and dine in the inn's rather special Deborah's Room. We rate our dinner there as one of the best meals we've had anywhere in California, and you can read why in our full review of Deborah's Room.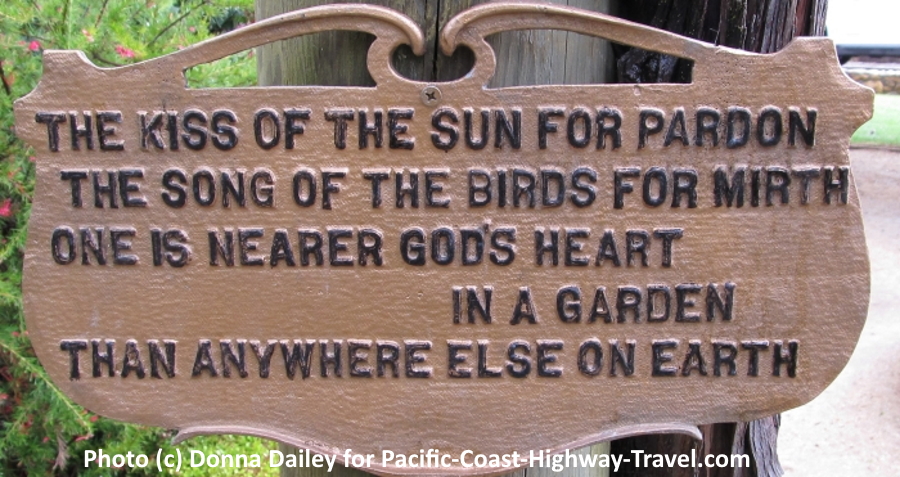 Paso Robles Accommodation
If you're looking for some of the best Paso Robles accommodation around, then why not stay on a vineyard and pamper yourself at the JUST Inn?

Check our YouTube Slide Show of Our Memorable Stay at the JUST Inn,
the Vineyard Tour and Wine Tasting,
and Dinner in the Very Special Deborah's Room.
Photos (c) Donna Dailey and Mike Gerrard
Contact Details

The JUST Inn
11680 Chimney Rock Road
Paso Robles, CA 93446 USA
Tel: 805/238-6932
Toll Free: 800/726-0049
Fax: 805/237-4152
Email: innkeeper@JUSTINwine.com
---
---
Oct 06, 22 03:19 AM

The open road is a motorcyclist's dream, a pursuit of ideals, and a motivation to manifest destiny. The debate for the perfect ride has gone on for decades, bringing riders to new locations to test th…

Oct 06, 22 03:19 AM

No road trip would be complete (or half as fun) without stopping along the way for tasty snacks and decadent feasts. Luckily, scores of hungry travelers have paved the way and created a market for res…

Oct 01, 22 05:46 AM

Big Sur. So, Is it a Big Deal?