Get Some Fun PCH Gifts Here
Deborah's Room Review
One of the Best Restaurants in Paso Robles
Pacific Coast Highway Travel reviews Deborah's Room, the fine dining restaurant at the JUST Inn Bed and Breakfast, one of the best restaurants in Paso Robles.

Any list of the best restaurants in Paso Robles has to include Deborah's Room, so when we recently had the chance to stay at the JUST Inn Bed and Breakfast where it's located, we had to splurge and treat ourselves to dinner there. It's an intimate and highly-acclaimed fine dining experience, we'd read, but was it really one of the best restaurants in Paso Robles? Would it justify the spending spree?

We were so glad we'd booked a table to dine in Deborah's Room for two main reasons. One, it rained torrentially that night and driving to and from dinner somewhere else on wine country back roads would have been miserable. And two, it turned out to be probably the best meal we've ever eaten anywhere in California.
That is some claim, but we stand by it. We've dined at many gourmet restaurants around the USA and in Europe, including some with the ultimate Three Michelin Stars. In our view the quality of the food at Deborah's Room was easily Two Michelin Stars. How do they do it?

Although the restaurant is open to non-residents, there are nights when it only caters to the inn's guests – and the inn only has four rooms. On the midweek night we dined, there was just ourselves and one other guest. Our guess is that on quiet nights like this the kitchen runs at a loss but diners get the kitchen's undivided attention, which is only one reason it ranks as one of the best restaurants in Paso Robles.

Wine Pairings
If we were splurging on the meal we thought we may as well go the whole hog and enjoy the wine pairings too, which was an extra $45 per person to match a different JUSTIN wine to each of the five courses. For $75 you could also try their superior JUSTIN Isosceles Flight. In practice, the waiter was generous with the servings and slipped in an extra wine when we mentioned that we were fans of tempranillo. 

Appetizers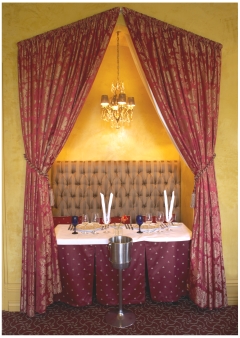 We started with an amuse-bouche which combined scallops, pork belly, petite tangerine, and micro greens – a surprising and wonderful combination of flavours. To go with the freshly-baked bread there were three different types of butter, including an unusual white butter from Canada and a gorgeous thick and creamy butter from Vermont.
The 5-Course Dinner offers three choices for each course, and to begin with Donna had the English Pea Soup with Parmesan Sformato and White Truffle Oil while Mike chose the Sonoma Foie Gras with a Pineapple Upside Down Cake. Both were heavenly. Wine Pairing: 2009 JUSTIN Chardonnay.
From the Sea
We could have had the Butter-Poached Lobster but thought that might be a little rich, with five courses to get through, so Donna chose the Alaskan Halibut with Potato Confit, Yellow Curry, and Wilted Gem Lettuce, while Mike's Loch Duart Salmon with Anasazi Beans, Spinach, Red-Eye Gravy, and Smoked Ikura Roe was as fresh and as tasty as if it had been hauled out of the loch that evening. Wine Pairing: 2009 JUSTIN Viognier

From the Farm
We skipped the Plantation Quail and for the meat course chose a Colorado Lamb Sirloin Chop (Donna) and the C.A.B. 'Natural' Brisket (Mike). The portions were ideal – generous but not too filling, given there was still cheese and dessert to come. In both cases the meat was melt-in-the-mouth perfect, and by now we were definitely in foodie heaven, in a little cocoon while the rain continued to beat down outside. Wine Pairing: 2008 JUSTIN Justification.

Cheese Course
There was only one cheese option, a Black River Gorgonzola, which was served with cress, citrus madelines, and some pink peppercorns. It shows confidence to limit the choice and effectively say: this is one good cheese. And it was. Wine Pairing: 2008 JUSTIN Savan

Something Sweet
As a fan of both eating and making risotto, Mike was keen to discover what the Arborio Rice Pudding with Pistachio, Morello Cherries and Basil was like. Donna was tempted by the Warm Chocolate Cake with Ganache, Caramelized Cocoa Nibs, and an Orange-Vanilla Sherbet. Yet again, after just one mouthful we felt like standing up and applauding the kitchen, so perfect was the blend of tastes and textures. Wine Pairing: a choice of the 2009 JUSTIN Deborah's Delight or the 2008 JUSTIN Obtuse.

One of the Best Restaurants in Paso Robles?
Well, if there's a better fine dining restaurant anywhere in Paso Robles wine country, then please let us know about it for our next visit. We can only repeat what we said above – this is not only one of the best restaurants in Paso Robles, but gave us one of the best meals we've ever had anywhere in California.

Deborah's Room: Contact Details
The JUST Inn
11680 Chimney Rock Road
Paso Robles, CA 93446 USA
Tel: 805/238-6932
Toll Free: 800/726-0049
Fax: 805/237-4152
Email: innkeeper@JUSTINwine.com
NOTE: Since we dined there, Deborah's Room has changed its name to simply The Restaurant at JUSTIN.
---
---
Sep 26, 23 04:18 AM

The Iconic Big Sur Waterfall Everyone Needs to See At Least Once

Sep 24, 23 05:26 AM

Pacific Coast Highway Travel picks the best restaurants in Santa Cruz, choosing the finest gourmet eating places, with both local and international cuisine.

Sep 24, 23 04:17 AM

Pacific Coast Highway Travel visits the Big Basin Redwoods State Park, which is the oldest state park in California.