Santa Barbara Italian Restaurant
Get Some Fun PCH Gifts Here
Santa Barbara Italian Restaurant: Olio e Limone
The Santa Barbara Italian restaurant Olio e Limone serves some of the best Sicilian-Italian food in California, and is well-located downtown.

Is Olio e Limone the best Italian restaurant in Santa Barbara? Well, we were sent there by a local friend who knows pretty well everywhere in town, and the whole experience was a knock-out. We loved it!

Sometimes you look through the window of a restaurant and you wish you were in there because everyone is clearly having a great time. That was us when we arrived at Olio e Limone, except we had (wisely, as it turned out) booked a table, even though it was a quiet Thursday night in early March.

Inside it was definitely not quiet. People were chatting and laughing, and there was a great sense of that Italian fun you get when food is involved. It was still quite a smart place, though, with thick white tablecloths, immaculate table settings, a lovely tiled floor, walls in relaxing shades of sage and ivory, and one striking feature – the wine cellar behind one large glass wall.

Even though the room was full and buzzing, you could still have a romantic dinner here as the tables aren't crammed too close together. The service was perfect – attentive without being over-bearing. We never once had to ask for anything: our waiters certainly knew their job. When we sat down there was already a plate of delicious marinated olives on the table, some fiery with chili pepper and lemon juice. The waiter quickly brought us some bread, with a bottle of their own olive oil for dipping.

The food here is Italian, with a strong emphasis on Sicily. The daily specials were tempting: pumpkin ravioli, and several fish specials such as sea bass, swordfish, and salmon over ratatouille. In the end we opted for one special (sea bass) and one of their signature dishes. My eggplant soufflé was superb, with a hot goats cheese in the center and a terrific tomato and basil sauce. The whole dish was topped with a huge and very tasty basil leaf. Definitely 10/10 for presentation.

It was hard to choose a wine as the wine list is so long, and its mix of Italian and Californian wines has won it the sought-after Award for Excellence from Wine Spectator magazine every year since 2002. With the waiter's help, though, we settled on a light and refreshing pinot grigio, and although the list is impressive it is not expensive. Several wines are available by the glass, too.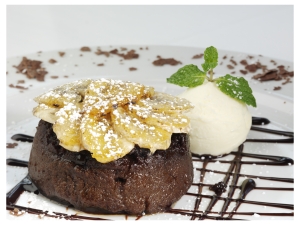 Chocolate and Banana Bread and Butter Pudding
The star turn was undeniably dessert – not a surprise for an Italian place. Donna's tiramisu was the best we've ever tasted outside of Italy, and Mike, an aficionado of bread and butter pudding, thought he'd died and gone to heaven with the first mouthful of their signature dessert: chocolate and banana bread and butter pudding.

So is Olio e Limone the best Italian restaurant in Santa Barbara? Well, we haven't eaten in them all so we can't say for sure, but if there's a better one, please let us know.

More Information

Olio e Limone
11 West Victoria Suite 17
Santa Barbara, CA 93101
Tel: (805) 899 2699
Fax: (866) 615 3102
Where to Stay in Santa Barbara
---
---
Sep 26, 23 04:18 AM

The Iconic Big Sur Waterfall Everyone Needs to See At Least Once

Sep 24, 23 05:26 AM

Pacific Coast Highway Travel picks the best restaurants in Santa Cruz, choosing the finest gourmet eating places, with both local and international cuisine.

Sep 24, 23 04:17 AM

Pacific Coast Highway Travel visits the Big Basin Redwoods State Park, which is the oldest state park in California.