Santa Barbara Beachfront Hotel
Get Some Fun PCH Gifts Here
Santa Barbara
Beachfront Hotel

The Oceana Santa Barbara beachfront hotel has a perfect seafront location, close to Stearns Wharf and State Street, and whale watching cruises.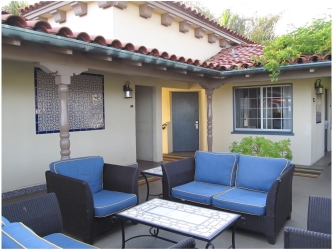 Outdoor Guest Lounge at the Oceana
All Photos (c) Donna Dailey

Since our visit the hotel has been renamed the Hotel Milo, and so other aspects may have changed too.

What could be better than a Santa Barbara beachfront hotel? Walking out every morning and seeing the sea, a short stroll from Stearn's Wharf, and also close to the harbor where the whale watching cruises leave from? 

Well, it was perfect once we'd managed to find our way in! This is where the intrepid travel writers and road trip experts turn into bumbling fools, driving past the Oceana on the beachfront in Santa Barbara and around the block twice before we spotted the entrance to the parking area and reception! Well, the hotel does sprawl along the seafront, and the entrance is narrow. That's our excuse, anyway.

View of Beach and Stearn's Wharf from the Oceana, Santa Barbara
Santa Barbara Beachfront Hotel: Location
The Oceana is in the perfect Santa Barbara beachfront location. It's right on the seafront, across from the beach, and a few minutes' walk from both the bottom of the town's main street, State Street, and the entrance to Stearn's Wharf. Just as helpful to us, it was the same distance in the other direction to the harbor, where we'd booked a whale watching cruise with Condor Express.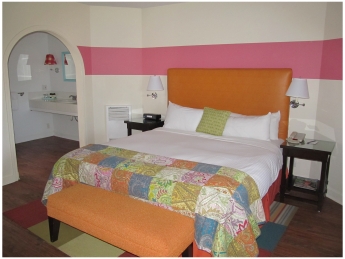 Our Room
Our Room at the Oceana
After a quick and very friendly check-in, we went up to our first-floor room, which had a partial sea view. The Oceana was unusual, in that it seemed a cross between an old Spanish mission and a simple motel that had been stylishly modernised. It certainly had great charm, and a very distinctive character.
Not far from our room was an outside lounge area with bright blue easy chairs where guests could relax. Down below was an even larger relaxing lounge area, and we could see the stacks of bikes that guests were free to borrow for up to two hours. There was also a large garden area, with more rooms across the far side, making them even closer to Stearn's Wharf.

Our room was small but it was bright and colorful, and comfortable, and it was one of the hotel's basic rooms. There was a multi-colored comforter on the bed, a bright pink stripe along one wall, an arty green column painted on the opposite wall, and an archway through to the bathroom. There was also a small business desk in one corner (with free wifi, hurray!) In fact the whole hotel was colorful and cheerful, with white walls, those bright blue easy chairs dotted around, bright blue doors to the rooms, and the typical Santa Barbara red roof tiles. 

Santa Barbara Beachfront Hotel: Facilities
As well as bike rental and the outdoor lounge areas (which were very well-used by hotel guests socialising), there were two outdoor heated pools, a Jacuzzi, and a 24-hour fitness center.
We had only two criticisms of the Oceana, though neither would stop us staying there again. One is the nightly charge for car parking, when there is limited parking in the streets around. Even when paying the fee, we had to park quite a way from our room. If you're going to charge for parking, you should at least make sure there is plenty of parking available.
The second complaint was breakfast. What was there was good, but the breakfast bistro was far too small. On both mornings we were there, some guests walked in and couldn't find anywhere to sit. Also, once the food was gone, it was gone. If the pastries were finished 30 minutes before breakfast was over, then they weren't replenished despite polite requests. Later arrivals simply didn't get any.
That said, the Oceana was an excellent hotel with its perfect Santa Barbara beachfront location. Get rid of the petty cost-cutting at breakfast, and we wouldn't even mind the parking charge.
Contact Details

The Oceana
202 W. Cabrillo Boulevard
Santa Barbara, CA 93101
Tel: 805/965-4577
Freephone: 800/965 9776

Where to Stay in Santa Barbara
---
---
Sep 26, 23 04:18 AM

The Iconic Big Sur Waterfall Everyone Needs to See At Least Once

Sep 24, 23 05:26 AM

Pacific Coast Highway Travel picks the best restaurants in Santa Cruz, choosing the finest gourmet eating places, with both local and international cuisine.

Sep 24, 23 04:17 AM

Pacific Coast Highway Travel visits the Big Basin Redwoods State Park, which is the oldest state park in California.