Santa Barbara
Historical Museum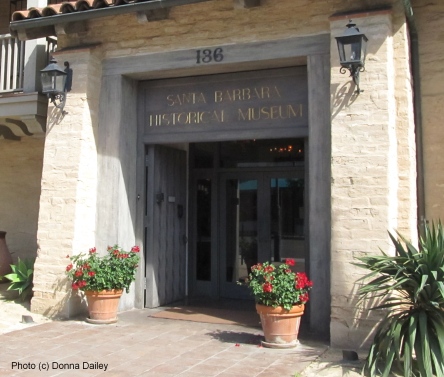 There are plenty of things to do in Santa Barbara but although we've been there several times we'd never got round to visiting the Santa Barbara Historical Museum. On our last Pacific Coast Highway drive we decided to put that right, and were delighted that we did. It's a lovely and well-designed museum, with lots of fun and fascinating displays that tell the history of the city in a very entertaining manner.
Changing Exhibitions
As well as its permanent displays, the Santa Barbara Historical Museum also has several changing exhibitions a year, which last a few months at a time. When we were there it was a really enjoyable exhibition about the Flying A, which was a silent motion picture studio based in Santa Barbara about 100 years ago. Not all movies were made in Hollywood, and Santa Barbara also offered a great climate and locations. 
The huge first room is filled with old movie cameras, film stills, movie posters like The Girl Who Dared which has a snatch of its dialogue on the poster: 'You! Cur! Insulted Me!' Other posters included The Secret of the Submarine, The Mad Millionaire, and a lovely one called Damaged Goods: A Vital Drama of Moral Uplift in Seven Awe-Inspiring Parts. 
The Story of the City of Santa Barbara
We then went through into an even larger room which tells 'The Story of Santa Barbara'. Here there are displays on the Native Americans of this area, the Chumash people, and on the arrival of the Spanish explorers. The Franciscans first arrived in Santa Barbara in 1782, and one model of a monk is wearing the oldest Franciscan habit know in California. (On one of our visits to Santa Barbara we stayed at a lovely hotel, The Franciscan Inn.)
And who was Santa Barbara? That story is told too, and here's where you can read a little about her: http://en.wikipedia.org/wiki/Saint_Barbara. The city was actually named after the impressive Mission Santa Barbara (below), which had been named after the saint when it was founded in 1786.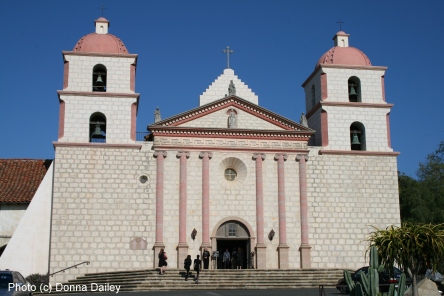 19th-Century Santa Barbara
Some of the most interesting stuff is from the 19th century, when Santa Barbara was clearly a lively place to live. In 1848 Gold Fever arrived, and one sign in a display case alongside a set of pocket scales and a pair of handcuffs says "QUONG ON CHONG CO. GOLD DUST BOUGHT". Then in 1850, California became a state.
The Japanese then came and worked in agriculture, the Italians came and soon dominated the fresh fish industry. There's a beautiful golden Tong shrine, brought from China in 1898 for the Chee Kung Tong, who were the Chinese freemasons. 
In 1887 the first train arrived in Santa Barbara from Los Angeles. If you wanted to travel on to San Francisco, you had to get off in Santa Barbara and travel over the mountains by stagecoach to catch the connecting train to take you to San Francisco. There was no Pacific Coast Highway then!
LOCATION MAP
Click on the View Larger Map option to find directions to the museum
View Larger Map
---
---
Mar 12, 18 03:07 PM

The Pacific Coast Highway goes right through Laguna Beach, a relaxed artsy beach resort town between Los Angeles and San Diego. Located about 80 miles from San Diego, its attractions include shopping…

Mar 09, 18 06:34 PM

The Pacific Coast Highway goes right through Huntington Beach, otherwise known as Surf City USA and a popular beach resort town between Los Angeles and San Diego. It's about 40 miles from LA and 90-10…

Feb 28, 18 10:24 AM

Lots of people have recently been choosing their Best West Coach Beaches, Best Beaches in the World and Best California Beaches so Pacific Coast Highway Travel has listed the best of the best.