Lighthouse Inn
at Point Cabrillo
The Lighthouse Inn at Point Cabrillo is a romantic, historic guesthouse on the Mendocino California coast, on the Pacific Coast Highway.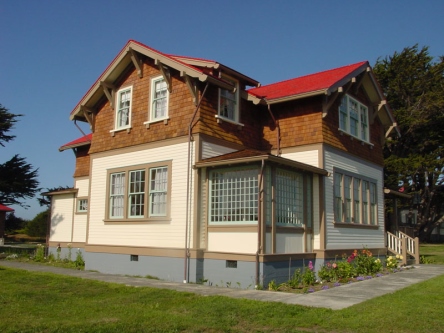 The Lighthouse Inn at Point Cabrillo
The Lighthouse Inn at Point Cabrillo near Mendocino on the California coast is converted from the original 1909 Head Lightkeeper's House. It is now a romantic and historic inn, with nature trails around, and provides four period rooms in the Lightkeeper's House, and two private cottages nearby. 

The lighthouse is still in operation and each evening there is a free guided tour of the light with the current lightkeeper to see the working fresnel lens.

The Lightkeeper's Room has views over the ocean, the Nature Reserve, and the Mendocino headlands. In the morning you might open the curtains and see deer grazing outside. The Pacific View Room also has views of the California coast, and of 100-year-old Monterrey Cypresses.
The Headlands Room is one for the wildlife watchers, hoping to see deer, kites, and harriers, while the Lighthouse Room is the best for views of the ocean, sea lions, and for whale watching in season. It also looks out at the lighthouse – blackout shades provided!

Two large, private cottages are close to the house, fully handicapped accessible, with patios and more stunning views of this part of the beautiful California coast.

Facilities
Apart from the wonderful views and location, and the private night-time tour of the lighthouse, guests enjoy a gourmet 5-course breakfast, complimentary wine and hors d'ouvres each afternoon, wireless internet access, and 300 acres of grounds to explore.

All In A Good Cause
All profits from the inn and the public donations they also receive are invested in the restoration, reconstruction, maintenance, educational programs, and operational management of the light station. So you can have a comfortable stay, sure in the knowledge that you're helping with the upkeep and preservation of this peaceful part of the California coast. 
Contact Details
Lighthouse Inn
45300 Lighthouse Road
PO Box 641, Mendocino, California 95460
Phone: (707) 937-6124 or Toll Free (866) 937-6124

Where to Stay in Mendocino
---
---
Jan 30, 23 04:51 PM

Touring Alcatraz, the former island prison, is one of the best things to do in San Francisco and attracts over 1.5 million visitors a year.

Jan 26, 23 12:20 PM

The Tuesday closure was caused by flooding and prompted safety officials to shut down both sides of the highway in Huntington Beach.

Jan 23, 23 06:19 PM

San Diego Zoo is in Balboa Park, San Diego, California has been called the best zoo in the world and is the most visited zoo in the United States.