Monterey Inn:


The Mariposa Inn and Suites

Our arrival at this Monterey inn, the Mariposa Inn and Suites, shows that you really can't judge a book by its cover. It was close to the Pacific Coast Highway and easy to find, but on pulling in we weren't so sure. It isn't exactly immediately appealing, looking more like an old apartment block than a hotel, but inside it couldn't have been more different. It proved to be a delightful place to stay.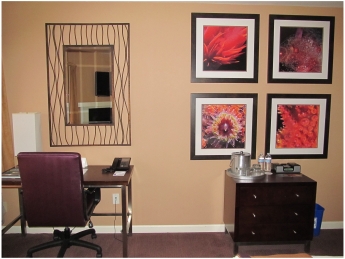 Our Colorful Room at the Mariposa Inn and Suites
All Photos (c) Donna Dailey

Michelle in reception was immediately welcoming. We didn't want to drive any more so asked about eating options we could walk to. We liked the way she said, 'I don't normally recommend restaurants in shopping malls but the Lalla Grill is an exception. It's very very good.' And it certainly was, and just a short walk away in the Del Monte Shopping Center. Michelle had already made us feel at home, and our room was lovely.

Monterey Inn: Accommodation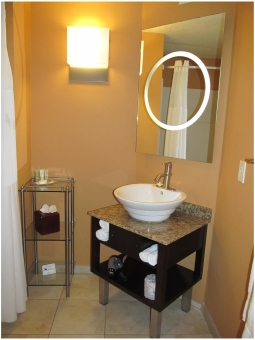 The room, number 210, was a real surprise, with a huge balcony which had a table and umbrella and four chairs. Inside was a small separate TV lounge, just inside the door, where there was a sofa and the coffee-making facilities. A short corridor led past the bathroom to the bedroom where the décor was surprisingly modern. The walls were covered with striking colorful photos of sea creatures, and the whole suite had a marine theme - jellyfish, corals, starfish and unidentifiable creatures filled large photo frames. It was all very fitting as we'd partly come to see the new Jellyfish attraction at the Monterey Bay Aquarium: The Jellies Experience.
In one corner was an easy-to-light fire, which we used for a while as it was a chilly day. A flatscreen TV was set into the wall above the fireplace and on the mantelpiece next to it was a vase of flowers - all very tasteful and restful. The flowers were artificial but they were still pretty. The bedside tables were made of wood in a funky Z-shape, and the light fittings were stylishly and cleverly set into the wall. It was all a great and pleasant surprise after that first impression.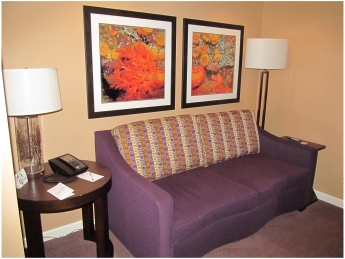 Disappointing Breakfast
The one slight let-down was the breakfast. The breakfast room was small and very bright, like a cafeteria. The orange juice didn't taste much like orange juice, and the usual suspects for a motel-style breakfast on the road (muffins, pastries, cereals, toast, coffee) were just a little ordinary. It was certainly decent enough, and as good as you get in many places on the road, but the rest of this lovely surprise of a hotel maybe made us expect something better.
It was a fairly samall thing, and certainly wouldn't stop us from staying there again as it was otherwise perfect accommodation.
Monterey Inn near Pacific Coast Highway
For anyone driving the Pacific Coast Highway, the Mariposa Inn's location couldn't be better. Whether driving north or south, take the Soledad exit and the inn is close to the junction of Munras and Soledad. By following the simple directions on the hotel's website, we went straight to it and there was plenty of parking all the time we were there in a covered private parking garage. It's about a 5-minute drive or a 30-minute walk to Fisherman's Wharf, so not in the middle of Monterey's attractions, but perfect for the overnight PCH stop.

---
---
Feb 01, 19 04:24 PM

San Clemente in California is a small city on the Pacific Coast Highway midway between San Diego and Los Angeles, noted for its beaches, surfing, and Spanish colonial-style architecture.

Jan 21, 19 05:19 PM

If you're looking for good Gold Beach Oregon lodging check out the Tu Tu Tun Lodge a few miles inland along the Rogue River, not far from the Pacific Coast Highway on the Southern Oregon coast.

Jan 21, 19 04:48 PM

Gold Beach is a small town on the Oregon coast at the mouth of the Rogue River with the Pacific Coast Highway, Highway 101, here called the Oregon Coast Highway, running right through it.