The Jellies Experience
Jellyfish Exhibition
At the Monterey Bay Aquarium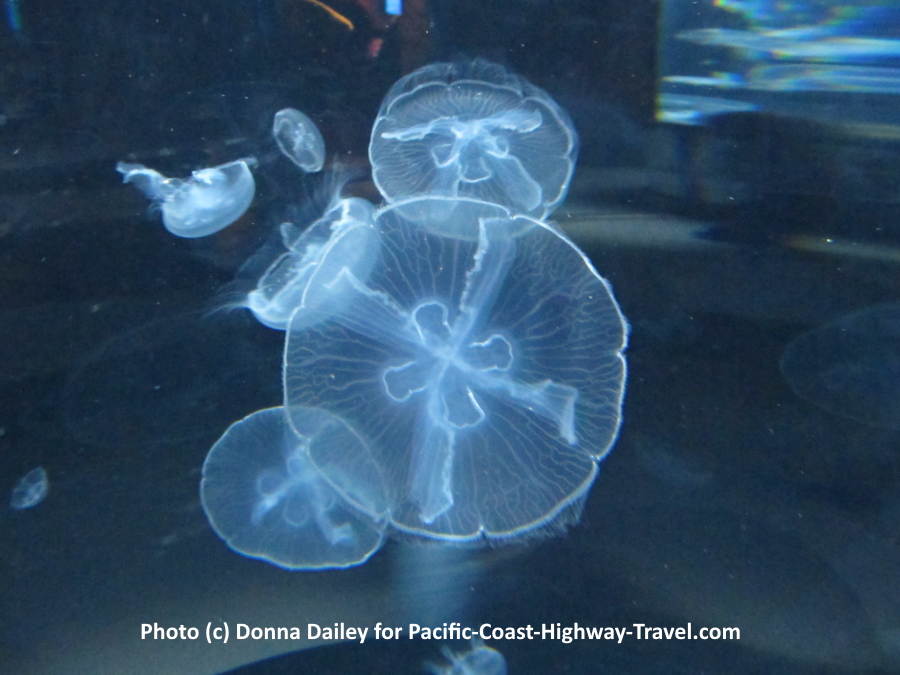 All Photos (c) Donna Dailey
On one of our visits to Monterey, the Jellies Experience had recently opened at the Monterey Bay Aquarium. This was their newest attraction, and even though we'd been to the aquarium before, we were happy to go again to find out what the Jellies Experience was all about. And, of course, to enjoy some of our other favorites, like feeding time with the otters, the Kelp Forest, and the delightful seahorses and sea dragons.

Entering the Jellies Experience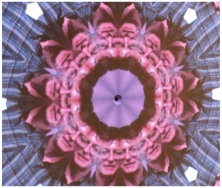 We were curious about this latest new exhibition, partly because we wondered how they could make a whole exhibition, just about jellyfish. Sure, they are fascinating creatures, unless you happen to brush up against one in the sea, but would an entire exhibition, just about jellyfish, really be that interesting?

We needn't have worried as the fun starts as soon as you enter. Beyond some tanks filled with pulsating and ghostly jellyfish stands a strange psychedelic-looking object. Get closer and you realise it's something out of the Hall of Mirrors, reflecting your body and face in all kinds of distorted ways. The kids really loved this one.
The Jellies Experience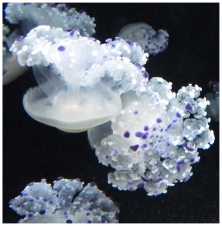 With the jellyfish themselves, the tanks and other displays are very imaginatively done, using low lighting to bring out the beauty of these rather surreal creatures. We had no idea there were so many different kinds, and different colors – blue jellyfish, purple-spotted jellyfish, brown ones, ghostly-white ones, jellyfish smaller than a dime, some even as small as pin-heads while others are as big as dinner-plates. Some of them have hundreds of very short tentacles while others have long streamers trailing behind or below them. 

The Summer of Love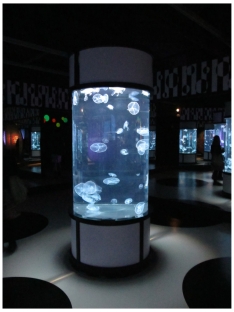 We won't spoil the surprise but there's lots of background music in the exhibition, and some displays which bring back the feel of the Summer of Love with rainbow colors and suitable music.

Since we visited, the aquarium has now added another display to the Jellies Experience, showing crown jellyfish. These are purple creatures, with a kind of crown on top that has spikes sticking out from it. The fascinating story of how they were brought in, raised, and how they needed some help from bubble-wrap, is told on this page of the Monterey Bay Aquarium website.

All in all, the Jellyfish Experience is an enchanting display, that is creative, educational, and a lot of fun. It's yet another reason why the aquarium is definitely one of the top sights on the Pacific Coast Highway.
---
---
Oct 06, 21 03:29 AM

The Pacific Coast Highway is California's longest state route at 656 miles (1,055 kilometres) and runs along the Pacific Ocean, making it arguably one of the prettiest drives in the United States. Fou…

Oct 06, 21 03:29 AM

United Airlines just made a lot of friends among cycling enthusiasts. The Chicago-based carrier has eliminated its fees for passengers traveling with their bicycles, joining fellow airlines American a…

Sep 30, 21 03:15 AM

Best Tours & Travel's recent reopening saw sellout tours and a continuing recovery in its private charter operations, thanks to nonstop outreach throughout 2020's shutdown months that continues today.