Point Lobos State Reserve
Get Some Fun PCH Gifts Here
Point Lobos
State Reserve
A walk around the Point Lobos State Reserve near Monterey and Carmel provides lots of photo opportunities, especially of the Harbor Seal Birthing Area.

All Photos (c) Donna Dailey and Mike Gerrard
We asked someone in Monterey for some hiking ideas while we were there. 'Point Lobos State Reserve,' he said. 'I always send people there and they always love it.' So, on our way out of Monterey on our last Pacific Coast Highway drive, we slowed down a few miles south of Carmel, and pulled in.
Parking Tip
There's a fee to park at the Reserve but the lady at the window suggested we save the money and park on the roadside as they prefer people to arrive on foot. She even loaned us a map!
Our Walk in Point Lobos State Reserve
We took the Carmelo Meadows Trail, which led us just a short way through woodland to reach the seashore. And there right below us on the sand, the incoming tide just starting to lick around them, were a mother harbor seal and her pup.
Watch the YouTube video we produced from watching the harbor seals and their pups at Point Lobos.
When to Visit Point Lobos State Reserve
To see the harbor seal mothers with their pups, visit Point Lobos between about mid-April and the end of May

Whaler's Cabin
We walked a while and then on our left was the Whaler's Cabin, now a tiny but fascinating museum. The cabin was built in 1851 by Chinese fishermen and is now on the Register of Historic Places. The Chinese fishermen and their families sailed directly here to Point Lobos all the way from China in junks. It became the first Chinese fishing settlement in California, and they lived here for almost 30 years.

Harbor Seal Birthing Area
Just across from the museum was a little sheltered beach with a small crowd of people gathered above it, and a docent who had a telescope on a tripod trained on the beach. The reason was that harbor seals come ashore here to have their pups. Down below us were a dozen or more of them, many with pups, a few without, not yet having given birth. 

Lucky Timing
It was a total delight for us, and just lucky timing, as we'd no idea we would stumble upon this wonderful scene. The seals are only here for about 6 weeks, from roughly mid-April onwards. The docent told us that they used to say that April 15th was the official start of the birth season but because of the climate changes they're now starting a little sooner.
Teaching a Seal to Swim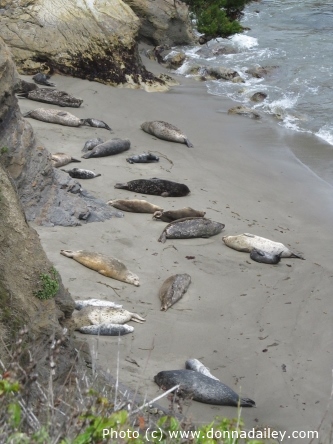 He told us he'd seen some of the pups being born, but you had to be quick as it was all over in about half a minute. They're usually born about 5-6am, and the mother then tears the sack and takes the pup out to sea to teach it to swim and to breathe out of the water and not under the water. The mothers swim underneath the pups to bob them into the water and out again once or twice, so they learn not to breathe underwater.
They stay out a few hours and then come back onto the beach again, where they are perfectly safe. We saw some coming ashore and the docent pointed out one of the day-old pups. Who knew that a baby seal can't swim and has to have lessons from mom?
A sign said 'QUIET PLEASE! Harbor seal birthing area'. The seals themselves were ignoring the notice, the pups constantly calling.
Taking the North Shore Trail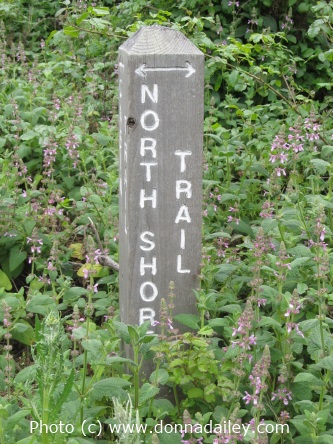 We eventually tore ourselves away from the birthing area  and walked through the small car park to find the start of the North Shore Trail, which the kindly docent had directed us to. Here it's misty and the surf is crashing against the beaches, the rocks, and the cliffs. We walk through the misty woods, as if in a fairy tale, and we find another harbor seal birthing area, but this time it is only the two of us looking down on a dozen or so seals with their pups.
Point Lobos Photos
Further on a brown lizard runs across the path in front of us, we spend some time watching a hawk in the sky, and try to take photos of a large orange butterfly that dazzles us on this dull day. After a while a side trail led out to a large rocky outcrop where dozens of cormorants sat, looking rather miserable in the mist and the cold wind.
We eventually emerge at another small parking area, and take the short but lovely Cypress Grove Trail, which loops back to the car park. From here it's only a short walk back to our car, taking an inland trail. We continue our Pacific Coast Highway journey feeling elated and fortunate that we were in the right place at the right time. It had been yet another PCH magic moment.

---
---
Nov 29, 23 07:10 AM

PCH Travel's intro to the Disneyland Resort, which includes both Disneyland Park and Disney California Adventure Park, just a few miles from the coast highway.

Nov 27, 23 04:20 AM

PCH Travel picks the best time to visit the Olympic Peninsula, with a monthly summary of the weather, plus hotel prices and special events to help plan a visit.

Nov 25, 23 07:03 AM

PCH Travel picks the best time to visit Santa Barbara, with a monthly summary of the weather, plus hotel prices and special events to help plan a visit.