Best Things to Do in Carmel
Best Things to Do in Carmel
The best things to do in Carmel, California, just off the Pacific Coast Highway, include visiting Carmel Mission, enjoying the beaches, seeing Point Lobos State Reserve, making the 17-Mile Drive, surfing, and visiting Tor House, which was built by the poet Robinson Jeffers.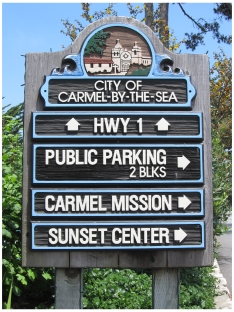 17-Mile Drive
The 17-Mile Drive is a circular route that links Carmel with neighboring Pacific Grove and Monterey. Strictly speaking it only goes to Pacific Grove, along winding roads and past some lovely coastal scenery, but from Carmel it brings you out almost at the Monterey Bay Aquarium. It's a far nicer way to get to Monterey, but there is a toll for using what is a private road. Cyclists go for free, but motorcycles are not allowed. See our separate page on the 17-Mile Drive.

Carmel Beach City Park
This is Carmel's understandably popular main beach is a short walk from downtown and is always busy. You'll need to get there early, or be lucky, to have any hope of finding a parking spot in the small car park. Families love the silver sands, surfers like the waves, and everyone likes the views and the sunsets.

Carmel River State Beach
This beautiful white-sand beach backed by dunes is to the south of the Carmel Beach City Park. It tends to be slightly less crowded, and has the added attraction of a bird sanctuary next to it where pelicans, cormorants, kingfishers, hawks, and lots of shoreline waders can be seen.

Mike and Donna and the Lone Cypress
on Carmel's 17-Mile Drive 

The Carmel Mission is one of the biggest in California, and has the name to go with it: the Mission San Carlos Boromeo del Rio Carmelo. It was founded in 1771 by Father Junipero Serra, who is buried here. It was the second of the 21 California missions he built and became Father Serra's headquarters.
The Mission is also the last resting place of over 3000 Native Americans, and their graves are decorated with seashells, a moving sight. There are guided tours of the Mission or you can just wander round by yourself and look at the 1793 stone church, California's first college library, Father Serra's simple bedroom, the historic kitchen, and the beautiful flower gardens.

A few miles south of Carmel on Highway 1 is this 350-acre reserve, reminding us that most of the Pacific Coast belongs not to celebrities and tourists but to the wildlife that lives there. But being so close to Carmel this beautiful place also gets busy, so plan to get there early in the day, or leave it till later when some of the crowds have gone home. It stays open till a half-hour after sunset, and late on a hot day is also a good time to see the wildlife getting active again.
There are various trails through the reserve, including the Sea Lion Point Trail – guess what you might see there. There are also seals, sea otters, deer, wild flowers, dramatic cliffs, abundant bird life, and it's also a good place for whale watching at the right time of year. You'll also want to allow time to take the Cypress Grove Trail and see the impressive Monterey Cypress forest.
Qualified scuba divers should know that there is also a 750-acre underwater marine park for them to explore. Hey, there's a lot to see – be there at 9am when they open and if you're a real nature-lover you may still be there to watch the sunset.
See our separate page about our own visit to the Point Lobos State Reserve.
Tor House is one of the most interesting of Carmel's historic homes, and was built in 1918-19 by the poet Robinson Jeffers. It's certainly in an inspiring spot, with lovely gardens and overlooking the sea. You don't need to know anything about Robinson Jeffers to appreciate a visit, though you'll know all about him by the end of it. He built the 40-foot Hawk Tower, whose walls are set with stones from the Carmel coastline and from around the world.
The docents will point out the stone from the Great Wall of China. If you want to see the house check the website and make a booking, as it's by guided tour only, with only six people at a time, and only once an hour on Fridays and Saturdays. 

---
---
Oct 06, 21 03:29 AM

The Pacific Coast Highway is California's longest state route at 656 miles (1,055 kilometres) and runs along the Pacific Ocean, making it arguably one of the prettiest drives in the United States. Fou…

Oct 06, 21 03:29 AM

United Airlines just made a lot of friends among cycling enthusiasts. The Chicago-based carrier has eliminated its fees for passengers traveling with their bicycles, joining fellow airlines American a…

Sep 30, 21 03:15 AM

Best Tours & Travel's recent reopening saw sellout tours and a continuing recovery in its private charter operations, thanks to nonstop outreach throughout 2020's shutdown months that continues today.