Carmel-by-the-Sea Inn
The Lamp Lighter Inn in Carmel
If you're looking for a Carmel-by-the-Sea inn that's actually by the sea then you won't find one unless you stay outside of town. And who would want to do that, when Carmel is such a beautiful little place? It's one of our favorites along the Pacific Coast Highway for walking round, checking out its galleries and great shopping during the day, and strolling the streets at night trying to decide which of its many excellent restaurants to eat in. Our stays there have always been totally relaxing, which isn't always the case when you're staying downtown. Carmel is the exception – you have to stay downtown.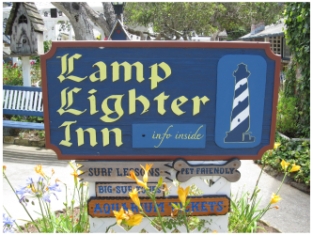 The nearest inn to the ocean in downtown Carmel is a few blocks from Carmel Beach, the wonderful Lamp Lighter Inn. Our visit got off to the perfect start – plenty of places to park, right outside. The inn does have its own private car park too, but there are no parking restrictions on the street outside, and there were always spaces.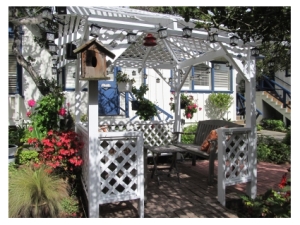 It took us a while to check in as we spent some time admiring the place first. You walk off the street into what seems like a little park, with lots of plants and trees, benches and umbrellas, surrounded by the bright white cottages that contain the rooms. We could hear some gentle guitar music playing softly, and eventually we tracked it down to a speaker cleverly concealed inside a bird house.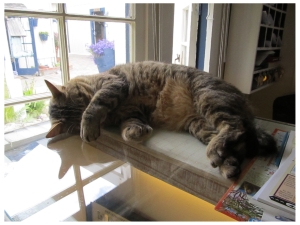 We were feeling relaxed before we even got to the little reception room, where the inn's cat Shadow was waiting to check us in.
It's a sign of how charming the inn is that all the time we were there, we would see passers-by on the street stop to take photos of it. And one day when we returned to the Lamp Lighter a couple standing outside admiring it said: 'You guys staying there?' We said we were. 'It looks beautiful. Next time we come back, we want to stay there.' And they took a few more photos and wandered on up the street.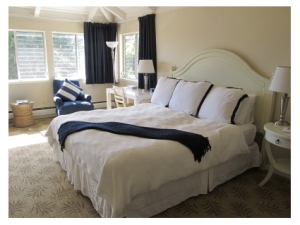 Our Room at the Lamp Lighter Inn
We were in the Sea Otter room (above), which was bright and cheerful, with lots of light streaming in through the windows. You could even see how close the inn is to the ocean, through the trees and across a few rooftops.
The room decor continues the blue and white theme from the buildings outside but in a slightly more subdued way. There was a small white desk, a couple of blue easy chairs, a fireplace, lots of storage chests and wardrobes, bright paintings on the walls, greenery to look at through the windows, and a welcoming decanter of sherry.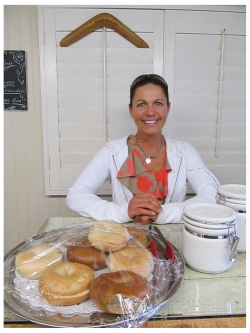 Peggy
Wine and Appetizers
Not that we needed the sherry, as we went downstairs where the afternoon wine and appetizers were being served. Here we met some of the other guests, and the person who really made the Lamp Lighter special: Peggy. Peggy, we learned, was the Manager's sister, and she comes in each morning to get breakfast, and in the afternoon to do the wine and cheese.
Peggy's a star, no question. She's lovely, kind, gets on well with everyone. She made us and some other new guests feel at home, while welcoming back some returning guests. She remembered the names of their dogs, made a fuss of them, and found time to play with a couple of little Australian girls who were staying for a few days.
At breakfast Peggy would ask people what they liked and try to get some for the next day. If people were sitting outside in the afternoon she would start the wine and cheese early, and always made sure everyone was happy. If there was one word that summed up the Lamp Lighter's approach for us, then Peggy was part of that feeling, and the word was 'generosity'.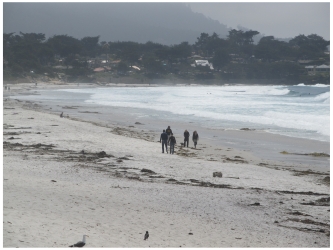 Carmel Beach
Lamp Lighter Location and Services
The Lamp Lighter had the perfect Carmel location. Turn left out of the entrance and in 5 minutes you're on Carmel Beach, three blocks down – and in Carmel the blocks are very small. Turn right and you're immediately in the main downtown shopping and dining area.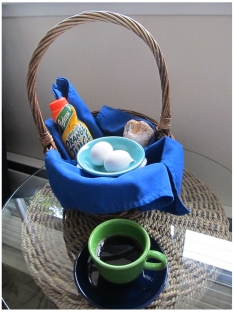 The inn is pet-friendly and family-friendly. A light breakfast is brought to your room each morning, as there's no dining room, but Peggy sets up stall in a small cabin off the patio and coffee, muffins and other goodies are all available too. You can also have your breakfast on the patio tables and benches, if the weather's fine.
According to the website, the wine and cheese reception is only on certain days, but when we stayed they were experimenting with having it every day, and with Peggy in charge it always lasted longer than the official timings said. The Lamp Lighter was a delightfully informal place.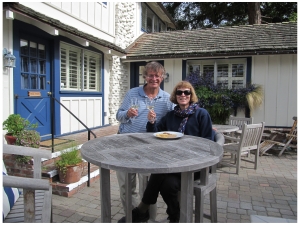 Mike and Donna at the Lamp Lighter Inn
The Last Word on this Carmel Inn
Apart from the passers-by who took photos of the Lamp Lighter, and wished they were staying there, we remember the two Australian girls who were staying. When it was time for them to check out, they were both in tears. 'We don't want to leave,' they cried. And we knew exactly how they felt.
Contact Details

The Lamp Lighter Inn
S.E. Corner of Ocean Avenue & Camino Real
(P.O. Box AF)
Carmel-By-The-Sea, California 93921 
Tel: 831-624-7372
Toll-free: 888-375-0770
Email: innkeeper@carmellamplighter.com
All photos (c) Donna Dailey
except photo of Mike and Donna at the Lamp Lighter Inn
which was, of course, taken by Peggy

The manager of the inn, Bobby, kindly took us on the 17-Mile Drive which goes from near Carmel to Pacific Grove.
---
---
Oct 06, 21 03:29 AM

The Pacific Coast Highway is California's longest state route at 656 miles (1,055 kilometres) and runs along the Pacific Ocean, making it arguably one of the prettiest drives in the United States. Fou…

Oct 06, 21 03:29 AM

United Airlines just made a lot of friends among cycling enthusiasts. The Chicago-based carrier has eliminated its fees for passengers traveling with their bicycles, joining fellow airlines American a…

Sep 30, 21 03:15 AM

Best Tours & Travel's recent reopening saw sellout tours and a continuing recovery in its private charter operations, thanks to nonstop outreach throughout 2020's shutdown months that continues today.