Los Angeles Airport Hotels
Get Some Fun PCH Gifts Here
Los Angeles Airport Hotels
Los Angeles Airport hotels include top names like Hilton, Radisson, Marriott, Embassy Suites, Crowne Plaza and others, all of them within a mile or so of LAX, all with airport shuttles, and one hotel is even within walking distance.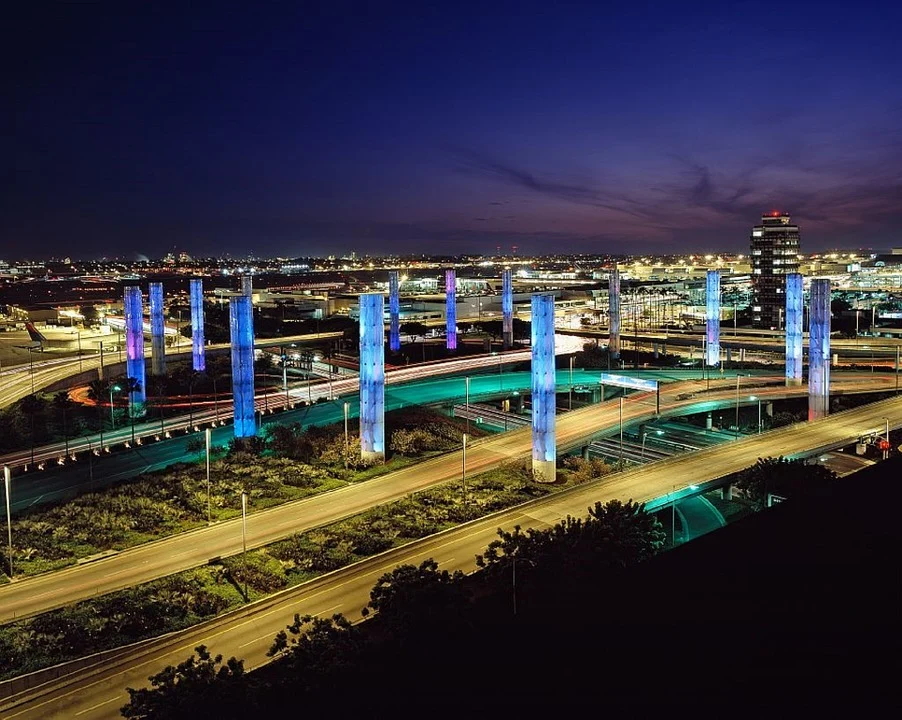 Los Angeles Airport
If you have an early flight or are arriving late at night, and knowing how bad LA traffic can be, choosing a hotel near Los Angeles Airport is a very sensible idea. They include some of the top hotels in the city, catering to the many business and leisure travelers who fly in and out of one of the busiest airports in the United States.
Here are some of the choices open to you, if LA is the start or end of your trip along the Pacific Coast Highway.

Los Angeles Airport Hotels
Crowne Plaza Hotel Los Angeles International Airport
5985 W. Century Blvd
The Crowne Plaza is only about a 3-minute drive to LAX, and it has 613 rooms and a generous 600 parking places to go with them. Dining choices include the Brasserie Restaurant and the more casual Brasserie Lounge, which has live jazz on Wednesday nights.
Embassy Suites LAX North
9801 Airport Blvd
There are Embassy Suites North and South, both of them a mile or less from the airport terminals, a 3-minute drive at the most. Two-room Suites are standard, and there's a manager's reception every night, useful if you're traveling alone and fancy some company. A cooked-to-order breakfast is complimentary, as is the 24-hour airport shuttle.
Hilton Los Angeles Airport
5711 W. Century Boulevard
The Hilton at LAX is one of the biggest airport hotels in the world, with 1,234 rooms. There's also a free 24-hour shuttle to the airport, which is just a quarter-mile away. There's an outdoor pool, four whirlpool spas and a 24-hour fitness centre, and the hotel works at attracting international visitors by employing a large multilingual staff.
Holiday Inn LAX
9901 La Cienega Blvd
The Holiday Inn is about a mile from the terminals, with free 24-hour shuttle service. It's one of the more affordable options, but still has an outdoor pool and a health and fitness center. There are 405 rooms and 2 suites, and kids eat free at the Landings Restaurant, so a good family choice.
Marriott Los Angeles Airport
5855 W Century Blvd
The Marriott is only two blocks from the airport terminals, a short hop in its free shuttle service. There are 985 rooms, all benefiting from a recent $22 million renovation project. It's a fully non-smoking hotel, and has four dining options.
La Quinta Inn & Suites LAX
5249 West Century Blvd
A $7.5 million renovation has provided free wireless internet in all rooms, and there's a complimentary breakfast and a very reasonable car parking charge for registered guests, much less than most hotels round here charge (always something to check alongside the room rate quoted). Outdoor pool, fitness center and free 24-hour shuttle.
Radisson Hotel at Los Angeles Airport
6225 W Century Blvd
The Radisson Hotel at Los Angeles Airport is the closest hotel of all to LAX – close enough to walk, if you don't have heavy luggage. It has 580 rooms and all follow Radisson's excellent policy of providing free high-speed internet. That always gets extra brownie points in our book. There's an Olympic-size heated swimming pool too.
Renaissance Montura Hotel LAX
9620 Airport Blvd
The Renaissance Montura is one of the city's finest hotels, which also just happens to be close to the airport. It's smaller than most with only 441 rooms, but it also has 58 suites and two Concierge floors offering the extra touch of luxury. It has a 24-hour fitness center too, along with a spa and an outdoor swimming pool.
Sheraton Gateway LAX
6101 West Century Blvd
802 rooms and suites, all non-smoking, and with a heated outdoor pool, fitness center and free shuttle service. Dining options are Starbucks, 'The Bar' cocktail lounge, the California-cuisine Brasserie Restaurant and Shula's 347 steak house.
Westin Los Angeles Airport
5400 W. Century Blvd
The Westin is four blocks from Los Angeles Airport and all 740 rooms have a large desk as standard. Amenities include a health club, sauna, and heated pool. Dining is a choice of really casual at Starbucks, the Lobby Court with jazz Wednesdays, and the fine California cuisine at the Charisma restaurant.
Search LAX Hotels
---
---
Sep 26, 23 04:18 AM

The Iconic Big Sur Waterfall Everyone Needs to See At Least Once

Sep 24, 23 05:26 AM

Pacific Coast Highway Travel picks the best restaurants in Santa Cruz, choosing the finest gourmet eating places, with both local and international cuisine.

Sep 24, 23 04:17 AM

Pacific Coast Highway Travel visits the Big Basin Redwoods State Park, which is the oldest state park in California.