Santa Monica Pier
Santa Monica Pier is just off the Pacific Coast Highway in Santa Monica near Los Angeles, with an amusement park, an aquarium, and many other attractions.
It's hard to miss the pier, which can be seen from many places along the Santa Monica waterfront, and from the city's beaches. The pier's solar-powered Ferris wheel is very prominent, especially when it's lit up at night.
Where is Santa Monica Pier?
Santa Monica Pier is at the very western end of Interstate-10, where it merges with Highway-1, the Pacific Coast Highway. The eastern end of I-10 is in Florida, almost 2,500 miles away, making it the fourth-longest interstate in the USA.
If you're on foot, you'll find the pier by walking southwest along Colorado Avenue, which takes you to the pier's entrance, also impossible to miss with its huge blue and white archway sign.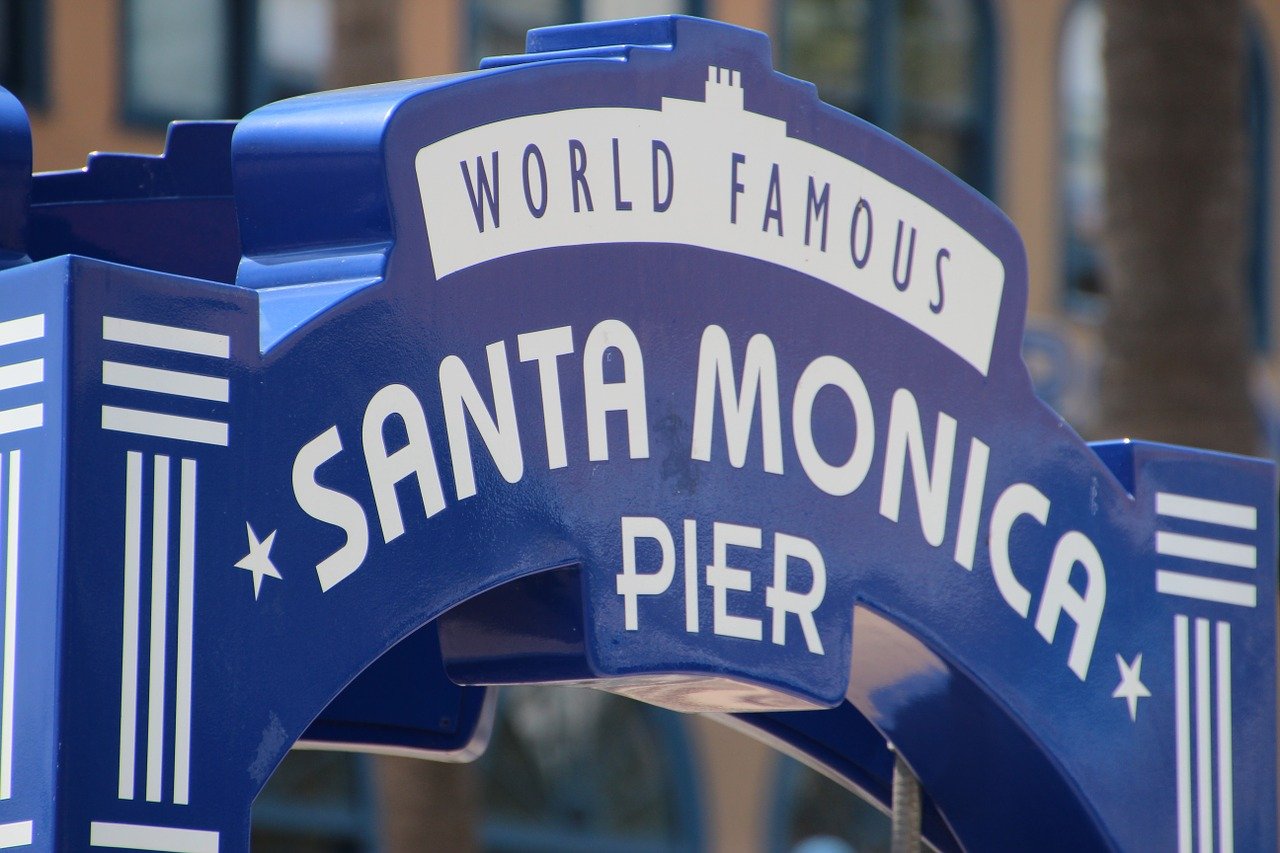 What to Do on Santa Monica Pier
There's plenty to do on Santa Monica Pier, or you can just stroll along it and get some great views over the beaches, over the ocean, and back towards the city. There's an amusement park, an aquarium, lots of souvenir shops, a video games arcade, and plenty of eating options too.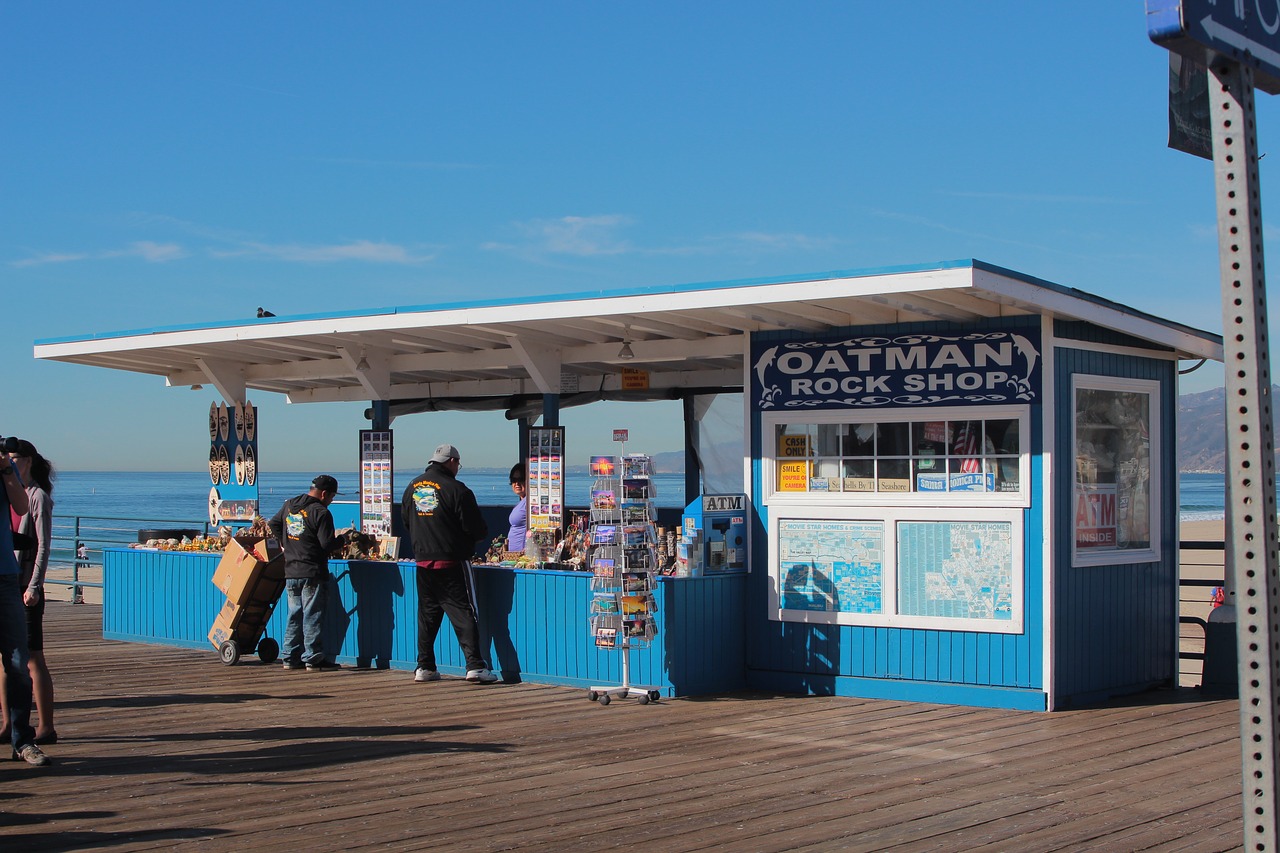 Heal the Bay Aquarium
One of the first attractions you see after entering the pier is the Heal the Bay Aquarium, which is actually located under the pier. This private non-profit organization focuses on Santa Monica Bay, with the aquarium being just one of the things they do, to help make the public more aware of the bay's environment and especially the creatures who live there.
The aquarium has over 100 species on display, with hands-on activities like touch tanks, and daily educational sessions. The aquarium shop also has a cool range of eco-friendly gifts.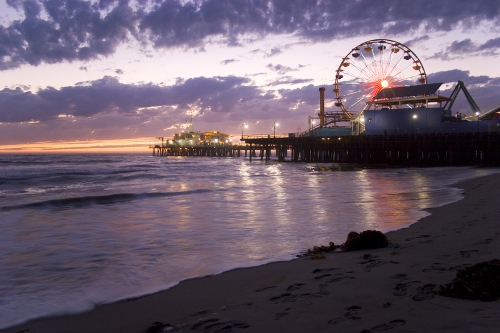 Pacific Park Amusement Park
Pacific Park is one of Santa Monica's icons, the only amusement park along the whole west coast to be located on a pier. Admission is free and although there are only 12 rides, it's a fun place that you won't want to miss.
If you only do one thing, take a trip on the Ferris wheel for the views as you go round. It's the only solar-powered Ferris wheel in the world. There's also a roller-coaster, some other thrill rides (though don't expect Disneyland standards), and plenty of great rides for younger kids.

Dining on Santa Monica Pier
There's no shortage of places to eat along Santa Monica Pier. Dining options include places like Bubba the Shrimp, hot dog stands, burger bars, and cafés, and with a place to eat right at the end of the pier, close to where the fishermen hang out.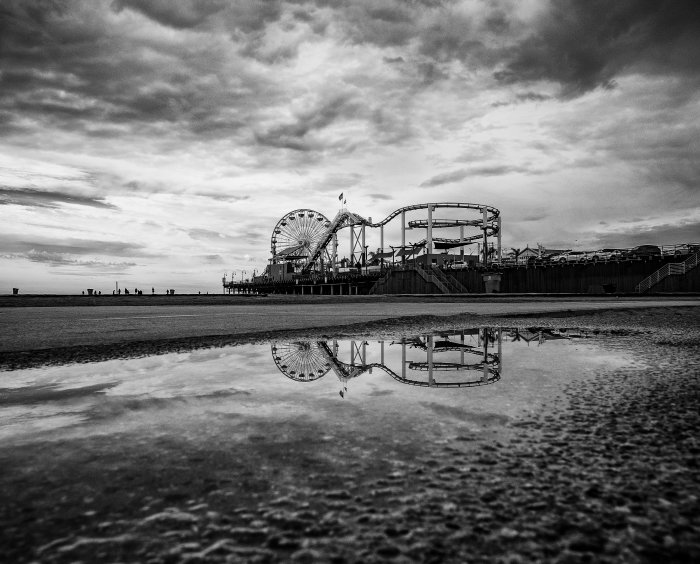 Santa Monica Pier History
Santa Monica Pier was built in 1909 and had a rather unglamorous start as its purpose was to carry sewer pipes out to sea and away from the beaches. A few years later a second pier, the Pleasure Pier, was built alongside the first pier. This did have some attractions on it, and gradually the sewer pipes were relocated and the two piers merged to become one big pier.
During the 1930s, after the Great Depression, the pier was no longer a commercial proposition and most of its assets were sold off. It was put to use as a ferry terminal. It wasn't until 1996 that the pier in its present form re-opened.
Movie Stardom!
The pier has featured in many movies and TV series, thanks to its proximity to the TV and movie studios in Hollywood. It's only a 30-minute drive and the studios can find themselves beach and ocean locations, with the pier as a backdrop or featuring in the storyline.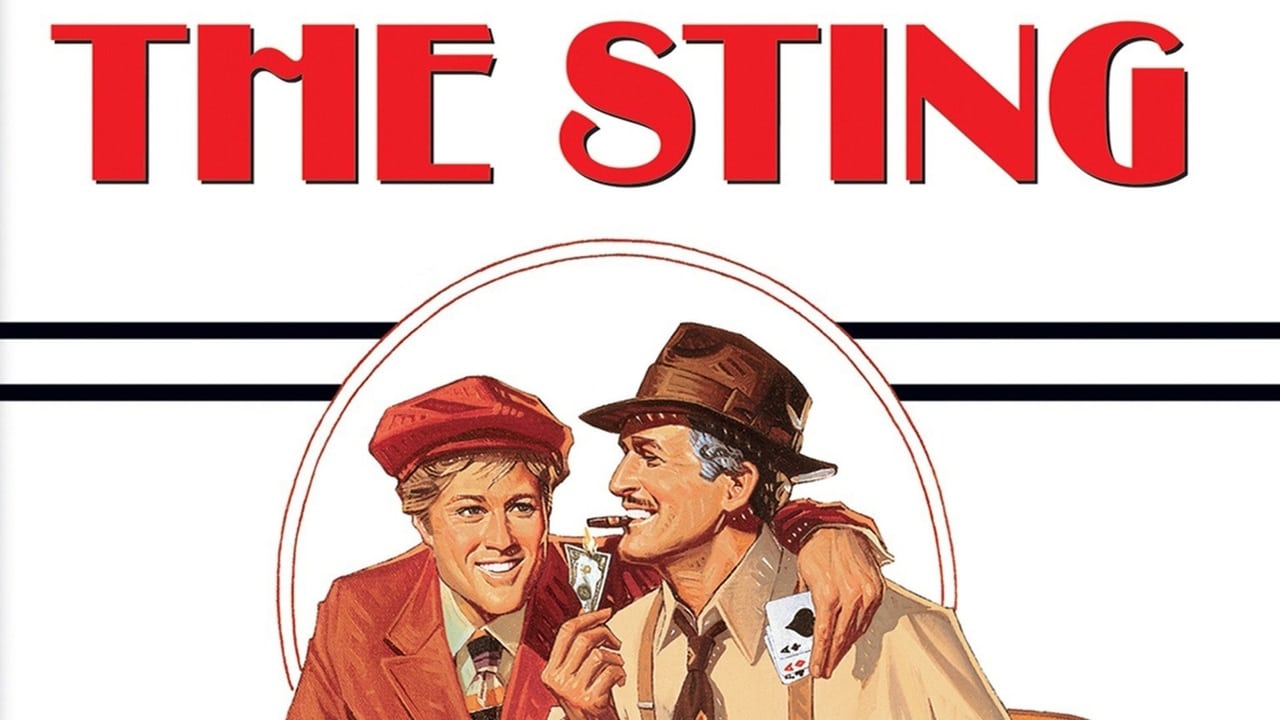 Films and TV shows in which you can see the pier include The Sting, Mighty Joe Young, They Shoot Horses, Don't They?, Forrest Gump, Inside Daisy Clover, Columbo, The Rockford Files, Charlie's Angels, Grey's Anatomy, Californication, and even South Park.

Where to Stay in Santa Monica
---
---
Oct 06, 21 03:29 AM

The Pacific Coast Highway is California's longest state route at 656 miles (1,055 kilometres) and runs along the Pacific Ocean, making it arguably one of the prettiest drives in the United States. Fou…

Oct 06, 21 03:29 AM

United Airlines just made a lot of friends among cycling enthusiasts. The Chicago-based carrier has eliminated its fees for passengers traveling with their bicycles, joining fellow airlines American a…

Sep 30, 21 03:15 AM

Best Tours & Travel's recent reopening saw sellout tours and a continuing recovery in its private charter operations, thanks to nonstop outreach throughout 2020's shutdown months that continues today.