Dana Point
The Start of the Pacific Coast Highway
Dana Point in southern California is the official start, or end, of the Pacific Coast Highway. The PCH starts at exit 79 from I-5, where California State Route 1 begins. The highway then takes you through part of Dana Point and then north along the coast towards Laguna Beach and the other California beach towns beyond.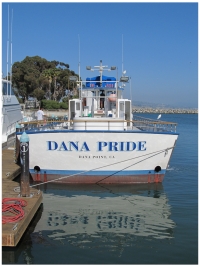 Photo (c) Donna Dailey
There's much more to Dana Point than just being the start of the road trip, however, and it's well worth a night or two of anyone's time. It's probably best-known for its whale watching trips, and in particular its Festival of Whales. 

Dana Point Whale Watching Festival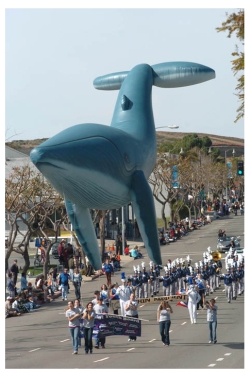 The annual Festival of Whales takes place at Dana Point usually over two weekends in early/mid-March. It's a great time to visit, but book your accommodation ahead. There are parades with huge inflatable whales, octopuses and other sea creatures that kids will love. There are races, lectures, hot rods on display, music, hikes, walking tours, art, movies, pancake breakfasts, BBQs, sand sculpting, rubber ducky races, and a whole lot more including, of course, lots of whale watching trips.
The Festival also coincides with Dana Point Restaurant Week, when there are some bargain and special meals to be had in the town's eating places. If you're coming in for the day from outside the town then there's a regular shuttle service so you don't have to get caught up in downtown traffic, and you can park and ride all day for free.
Whale Watching Trips
One of the Dana Point experiences you must on no account miss is a whale watching cruise with Dana Wharf Sportfishing and Whale Watching. Prime season for grey whales is from about November to April, though it can vary a little from year to year depending on the conditions. Then from May to October, the blue whales start to be seen, making whale watching a year-round attraction at Dana Point. Read the account of our Dana Point Whale Watching trip, on a sunset cruise.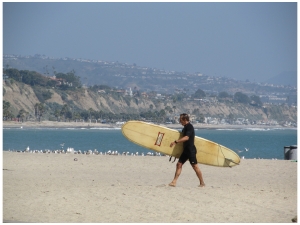 Photo (c) Donna Dailey
Doheny State Beach
To the south side of the harbor is Doheny State Beach, the first part of a long stretch which goes all the way to San Clemente. It's a very popular beach, with a campsite behind it that usually needs to be booked well in advance. It is consistently voted the Best Camping Site in the whole of Orange County, year after year. The beach does also normally have a very good Visitor Center, but at the time of writing it is closed for renovations, with no note of when it might re-open. It's also a great location for anglers, and is considered one of the best surfing beaches in Southern California.

Where to Stay at Dana Point
We stayed at the Doubletree Suites by Hilton, overlooking Doheny State Beach, and we can highly recommend it.

---
---
Mar 12, 18 03:07 PM

The Pacific Coast Highway goes right through Laguna Beach, a relaxed artsy beach resort town between Los Angeles and San Diego. Located about 80 miles from San Diego, its attractions include shopping…

Mar 09, 18 06:34 PM

The Pacific Coast Highway goes right through Huntington Beach, otherwise known as Surf City USA and a popular beach resort town between Los Angeles and San Diego. It's about 40 miles from LA and 90-10…

Feb 28, 18 10:24 AM

Lots of people have recently been choosing their Best West Coach Beaches, Best Beaches in the World and Best California Beaches so Pacific Coast Highway Travel has listed the best of the best.