Get Some Fun PCH Gifts Here
Pismo Beach
Pismo Beach is a small beach town on California's Central Coast, a resort famous for surfing and clams.

Photo Courtesy of Pismo Beach Conference and Visitors Bureau
Everybody loves Pismo Beach. It has the feel of one of the surf towns south of LA, but moved north: it sits about midway between Santa Barbara and Monterey.
If you're driving the Pacific Coast Highway then you can't miss Pismo Beach as Highway-101 and Highway-1 merge here and run right through it, and the small town of fewer than 10,000 people just begs you to stop. You have the ocean on one side and rolling California hills on the other. Both are good reasons to spend a few days here. The ocean's attractions are obvious and the hills contain the Pismo Preserve, hiking and cycling trails, and lead to some excellent vineyards where you can enjoy wine-tastings.
Pismo Beach Clams
If you've heard of Pismo Beach it might well be because of the famous Pismo Beach Clams. The town's motto used to be 'Clam Capital of the World', and the clams here are the largest you'll find along the California coast, as they grow to up to seven inches.
If you want to go looking for clams then first you'll need a permit, and be aware of the limit of ten clams per person. You'll also need a lot of patience as the clams have been over-harvested and there are very few left these days.
If you see clams or clam chowder on a menu here it's very likely the clams have come from elsewhere along the coast - but they'll still be tasty and may still be Pismo clams, as the clams are found in several places along the coast, not just in Pismo Beach.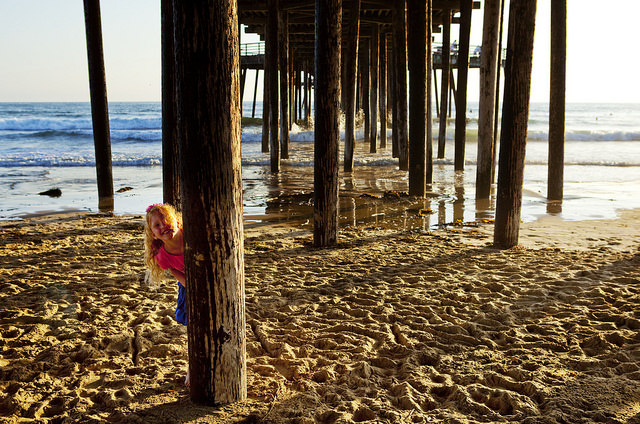 Photo Courtesy of Pismo Beach Conference and Visitors Bureau
The city still has its clam festival in October, which is lots of fun - and lots of clam chowder! Incidentally, a recent winner of the People's Choice award for best clam chowder was the Splash Café. 
You can learn more about the situation on clamming at Pismo Beach here:

Pismo Beach Pier
A good marker point is Pismo Beach Pier. If you're passing through and want to stop then head for the pier as you'll find restrooms, parking… and more clam chowder! If you're driving PCH then look for the west turn onto Pomeroy Avenue, a one-way street that will take you down to the pier and the parking. You get back to the highway by going east on Hinds Avenue.
Pismo Beach Monarch Butterfly Grove
Just south of the town and off Highway-1 at Pismo State Beach is one of Pismo Beach's most popular and unusual attractions, the Pismo Beach Monarch Butterfly Grove. From late October through February thousands of beautiful orange and black monarch butterflies can be found here. They migrate south to escape winter further north, and who can blame them for wanting to spend a few winter months in Pismo Beach? We'd love to do that!
These days you might get anywhere from 25,000-35,000 butterflies wintering in Pismo Beach, although as recently as 1990-91 there were 230,000 of them. What a job, counting those. There is a trick to it, though. You count the wings and divide by two.

Take a look at this video to see the butterflies:
Courtesy of Pismo Beach Convention and Visitors Bureau

Pismo Beach Wine-Tasting
There are several wineries inland from Pismo Beach, and wine-tasting opportunities in the town itself. South on Highway-101 is the Laetitia Vineyard and Winery, whose vineyard has a walking trail with great ocean views. The tasting room is open daily.
In the town center on Price Street is the tasting room for San Liege Wines. Also on Price Street is Puffers of Pismo, where you can taste local wines and beers and also enjoy live music and good food. Still on Price Street, Tastes of the Valleys is both a wine shop and tasting room which has over 1,000 selections, including of course many wines from the local area.

Courtesy of Pismo Beach Convention and Visitors Bureau
Pismo Beach Surfing
As you can see from the photos, Pismo Beach is good for surfing too. Don't miss the Pismo Beach Surf Shop, which claims to be the oldest surf shop on the Central Coast. Pismo Beach also has several surf camps including one from the Association of Amputee Surfers.
Photos Courtesy of Pismo Beach Conference and Visitors Bureau
Driving Times and Distances
If you drive the Pacific Coast Highway route then Pismo Beach is:
From Los Angeles: 4-5 hours/210 miles
From Santa Barbara: 2 hours/106 miles
From Monterey: 2-3 hours/150 miles
From San Francisco International Airport: 7-9 hours/275 miles
If you want to get there more quickly then there are faster routes avoiding the coast.
Where to Stay in Pismo Beach
---
---
May 10, 23 09:47 AM

A food and drink expert charts the perfect course from San Francisco to Los Angeles.

Apr 26, 23 10:07 AM

California is home to some of the most diverse and beautiful natural landscapes in the world, making it a haven for outdoor enthusiasts. The state of California offers a wide range of outdoor activiti…

Apr 25, 23 11:08 AM

The latest study by Upgraded Points sets gas cars against electric vehicles to see which vehicle is truly the most economical on five American road trips. Examining the time and fuel costs along iconi…