Newport Beach
Christmas Boat Parade
All Photos (c) Newport Landing Cruises and www.christmasparadeboats.com
The Newport Beach Christmas Boat Parade, or the Parade of Lights as it's also known, is one of the major Xmas events in the whole of Southern California, and within easy reach of Los Angeles. As you can see from the photos, it's one of the most colorful parades you could find, and it's been going now for over 100 years. In fact The New York Times described it as "one of the top 10 holiday happenings in the nation."
Each holiday season Newport Harbor comes alive with Christmas lights and decorations, and these and the Boat Parade bring over a million people to this beach town less than an hour from downtown Los Angeles. Some of the boats in the parade spend over $50,000 decorating themselves, in the hope of winning a prize for the best boat in the parade.
Best Way to See the Boat Parade
The best way to see the boat parade is definitely up-close and personal. From December 1st five boats in Newport Harbor offer cruises around the harbor to see the lights, with three departures every night. The cruises offer visitors the best opportunity to see the boats in the Boat Parade. See below a link to the online booking form.
When to See the Newport Beach Christmas Boat Parade
The Christmas lights start going up after Thanksgiving, and by December 1st Newport Harbor is lit up like… well, lit up like a Christmas tree!
2013 Dates
From December 1st to December 17th you can join one of the harbor cruises to see the best of the Christmas lights. The Boat Parade itself takes place on the evenings of December 18-22, though the harbor cruises continue. From December 23rd to the end of the month, you can still join a harbor cruise to enjoy the holiday lights.
Booking Online
You can book an evening tour of Newport Harbor to see the lights here:
http://www.christmasparadeboats.com/reservationrequestform.html
More Info about the Newport Beach Christmas Boat Parade
There are two websites in particular where you can find out much more about the boat parade:
www.christmasparadeboats.com
www.newportbeachboatparade.com/boat_parade_newport_beach.html.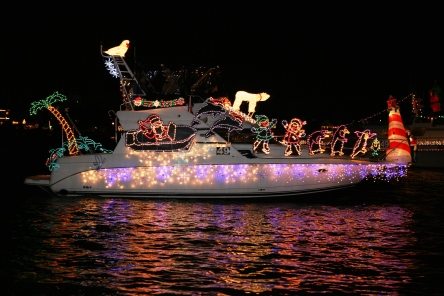 ---
---
Oct 03, 18 12:36 PM

Located on a peninsula, Westport is a small fishing town in Washington State with the largest marina in the Pacific Northwest.

Sep 20, 18 11:20 AM

Little Sequim on the Olympic Peninsula in Washington is a delightful place to stop if driving the Pacific Coast Highway.

Sep 20, 18 06:58 AM

The places along the Pacific Coast Highway include big city vacation destinations like Seattle, San Francisco, Los Angeles & San Diego, and other attractions such as Santa Barbara and Monterey.