Overleaf Lodge & Spa


Yachats, Oregon

We'd driven to the Overleaf Lodge & Spa in Yachats from the amazing Florence Sea Lion Caves, where we'd spent much longer than we thought we would, so we were keen to get into our room and relax. 

All Photos (c) Donna Dailey
The hotel is a few miles north of the center of Yachats, and easily found down a turning off the PCH, between the highway and the ocean. It's got a great location, with the rooms looking out over the beach, the rocks, and the tide-pools along this impressive part of the Oregon Coast.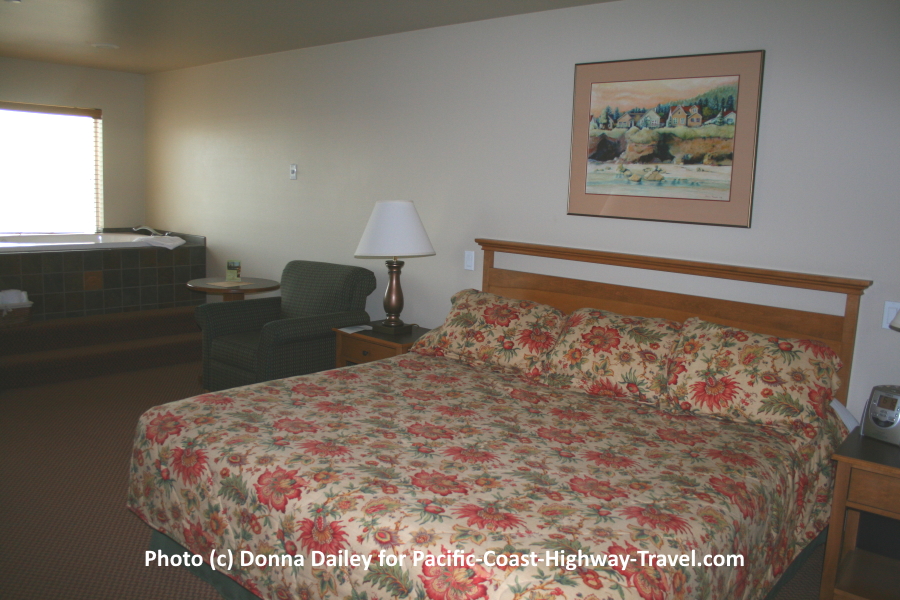 Our Room
Relaxing at the Overleaf Lodge, Yachats

We were booked into one of the Sunset Suites, and it would indeed have been a great place to watch the sun setting, if there had been a sun to set. By the time we checked in it was grey and windy, but the coastal views were still impressive. We braved the balcony (all the rooms have balconies with ocean views) and watched some families playing on the beach, wrapped up against the March cold.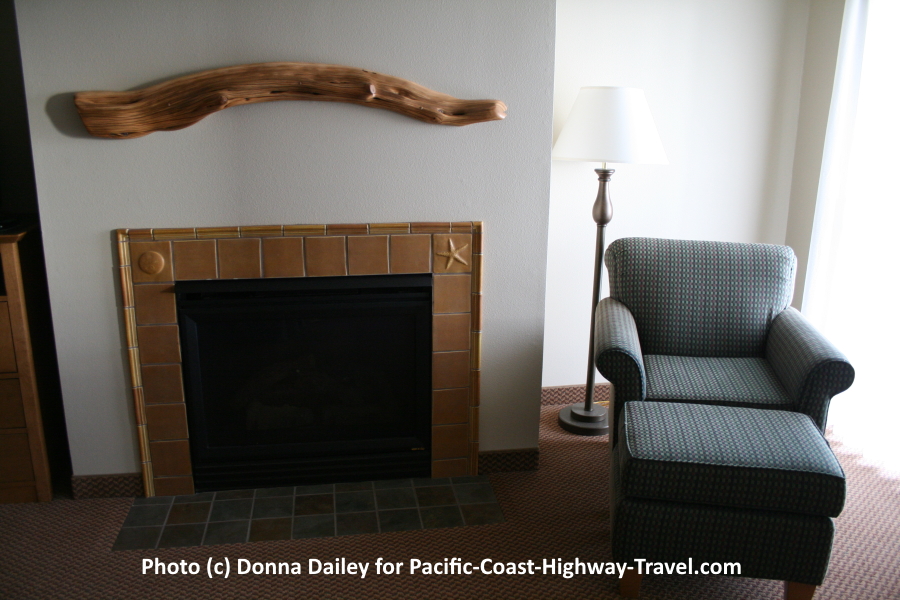 Our Room
The room was really spacious, and one great feature was a big bath which also had an ocean view, being built into a recess with its own picture window over the bay. The décor was a little plain, but there were some nice touches like wooden sculptures on the walls, art works of the Pacific coast, and plenty of chairs and lamps.

A Bath With A View
The Spa at the Overleaf Lodge in Yachats
Sadly we'd no time to make full use of the Overleaf Spa, but it was impressive. We loved the raised little pool with its ocean views, and there's also a hot tub, steam rooms, and saunas, with massages and facials available. There's also a small Exercise Room - yes, with ocean views - and though it's not huge it does have a treadmill, a bicycle, an elliptical machine, a universal weight machine, a physio ball, and a yoga mat.

Cute Chess Set In The Hotel Lobby
Dining at the Overleaf Lodge in Yachats
What the Overleaf Lodge in Yachats doesn't have is a restaurant, but it's only a mile out of town and there's plenty of choice. We spotted a place called the Drift Inn, where there was a great musician called Richard Sharpless playing a set, so we joined the queue for a table and had a fantastic evening. We loved the laid-back guitarist's laconic style, and he's recorded a live album at the Drift Inn.

Unfortunately we couldn't find a video of this guy on YouTube but here's a flavor of what the Drift Inn is like when there's music on:
There's music every night, a wide choice of Oregon beers on tap and by the bottle, and a menu featuring things like pasta, pizza, burgers, and steaks. We both had halibut and chips, and it was some of the best fish and chips we've ever tasted- and hey, Mike's from England and he knows his fish and chips! The Drift Inn is obviously doing something right as there was a short wait for tables - we waited a little longer so we could get a booth - and this was a cold and wet Thursday night in March.
Breakfast at the Overleaf Lodge in Yachats
Although there's no dining room, breakfast is served in the lobby area and a very good buffet breakfast it was too. It set us up for our drive the next day to Cannon Beach, though before we left we made sure we had a walk along the coast. You can walk right out onto the coast path from the lodge. So despite the weather we did have a fabulous stay at the Overleaf Lodge in Yachats.
Contact Details

Overleaf Lodge and Spa
280 Overleaf Lodge Lane
Yachats, Oregon 97498
Toll-Free Phone: 800/338-0507
Phone: 541/547-4880

Unique Inns

The hotel is a member of Unique Inns. For more details and for online booking information for all the Unique Inns in California, Oregon and Washington, as well as their inns in Idaho, and British Columbia in Canada, visit the Unique Inns website.
---
---
Oct 06, 21 03:29 AM

The Pacific Coast Highway is California's longest state route at 656 miles (1,055 kilometres) and runs along the Pacific Ocean, making it arguably one of the prettiest drives in the United States. Fou…

Oct 06, 21 03:29 AM

United Airlines just made a lot of friends among cycling enthusiasts. The Chicago-based carrier has eliminated its fees for passengers traveling with their bicycles, joining fellow airlines American a…

Sep 30, 21 03:15 AM

Best Tours & Travel's recent reopening saw sellout tours and a continuing recovery in its private charter operations, thanks to nonstop outreach throughout 2020's shutdown months that continues today.