Astoria Hotels
We recommend these five Astoria hotels, listed under Budget, Mid-Range, and Expensive categories. See the box for the price ranges covered by those categories.
Price Ranges
These Astoria hotels are listed under three simple headings – Budget, Moderate, and Expensive. We haven't given specific prices, as these can change enormously from season to season. Also, if you visit a hotel website or check on websites like TripAdvisor or Expedia, you might get special deals which turn an Expensive hotel into a Moderate one or a Moderate into a Budget. In addition, some places have a range of rooms and prices that can vary widely. By and large, though, we're reckoning under $100 per room per night is Budget, $100-200 is Moderate, and over $200 is Expensive.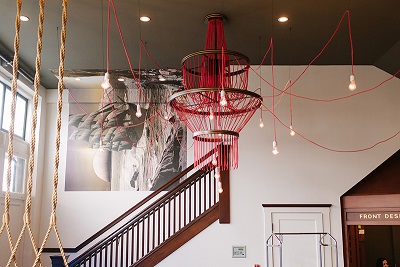 Commodore Hotel, Astoria
Photo by Shelby Brakken
BUDGET HOTELS IN ASTORIA
Commodore Hotel
258 14th Street
503/325-4747
Budget boutique-style hotel in a historic building one block from the waterfront. The regular rooms have sinks but share bathrooms, while the suites (in the mid-range price category) have private bathrooms. They all have iPod docks and TVs, and there's free WiFi too. There's a coffee shop on the premises and plenty of eating and drinking options, and shops, within walking distance.
The View from the Crest Motel in Astoria
Crest Motel
5366 Leif Erickson Drive
Tel: 503/425-3141
The Crest is a plain and simple motel, and all but the very best rooms come in at under $100. It looks out over the Columbia River (see the photo above) and has a laundry, Jacuzzi, cable TV, and a complimentary breakfast. It's AAA approved, and if you're on a budget it's hard to beat.
---
The Benjamin Young Inn
MID-RANGE HOTELS IN ASTORIA
Benjamin Young Inn
3652 Duane Street
Tel: 503/325-6172 or 800/201-1286
This characterful old inn is on the National Register of Historic Places and has just four large rooms which mix antique furnishings with modern hotel amenities and are priced at $100 or just over. There's a generous gourmet breakfast, too. No pets, no smoking.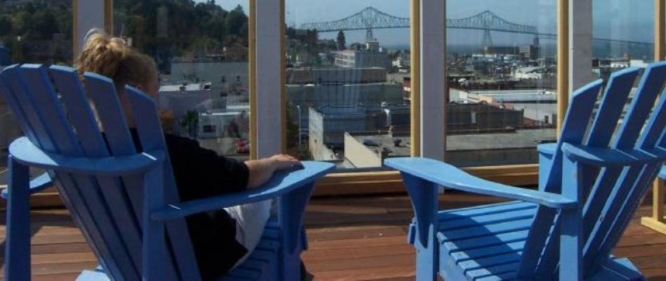 At the Hotel Elliott
Hotel Elliott
357 12th StreetTel: 503/325-2222 or 877/378-1924Both Moderate and Expensive rooms in this very smart downtown hotel, which has a rooftop garden giving lovely views of the Columbia River. There are 21 deluxe rooms and six suites, all non-smoking, with each room having free internet, TV and DVDs, heated bathroom tile floors, and many other amenities.
---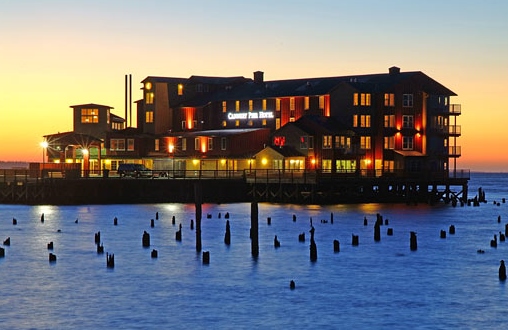 The Cannery Pier Hotel
EXPENSIVE HOTEL IN ASTORIA
Cannery Pier Hotel and Spa
10 Basin Street
Tel: 503/325-4996 or 888/325-4996
This modern luxury hotel in an impressive historic building has great river views from every room. It provides boutique hotel comforts, has its own spa, and complimentary to guests are the breakfast, day-use bicycles, and a nightly wine and lox tasting. The hotel's interior design has been done by a local artist, Sarah Goodnough, and it reflects Astoria's history and salmon fishing industry in a really stylish way. Some rooms at Moderate prices.

Astoria Hotel Locations
You can see from the map below that all these hotels have good locations in Astoria:
Search All Astoria Hotels
Alternatively you can search all Astoria Hotels here:
---
---
Feb 01, 19 04:24 PM

San Clemente in California is a small city on the Pacific Coast Highway midway between San Diego and Los Angeles, noted for its beaches, surfing, and Spanish colonial-style architecture.

Jan 21, 19 05:19 PM

If you're looking for good Gold Beach Oregon lodging check out the Tu Tu Tun Lodge a few miles inland along the Rogue River, not far from the Pacific Coast Highway on the Southern Oregon coast.

Jan 21, 19 04:48 PM

Gold Beach is a small town on the Oregon coast at the mouth of the Rogue River with the Pacific Coast Highway, Highway 101, here called the Oregon Coast Highway, running right through it.