Get Some Fun PCH Gifts Here
Gold Beach, Oregon, Lodging:
The Tu Tu' Tun Lodge
 If you're looking for good Gold Beach, Oregon, lodging check out the Tu Tu Tun Lodge a few miles inland along the Rogue River on the Southern Oregon coast.

All Photos (c) Donna Dailey
When we were looking for some lodging near Gold Beach in Oregon we were persuaded to drive a few miles inland, following the Rogue River, till we came to the Tu Tu' Tun Lodge.

It's about forty miles from the California border and another seven miles inland from the Pacific Coast Highway. That's easily close enough to drive in to Gold Beach to eat but giving it a peaceful and beautiful location. The unusual name, by the way, comes from the original people who lived in the area, the Tu Tu' Tunne Rogue Indians.

Cocktail Time at Tu Tu' Tun Lodge
Like many places we've stayed at along the Pacific Coast Highway, the Tu Tu' Tun Lodge offers a complimentary cocktail hour in the late afternoon, when wine or beer is served along with hors d'oeuvres. It's a great idea, especially as we seem to have the knack of arriving at hotels just as this Happy Hour is taking place.
That was the case here, and we couldn't find anyone to check us in as the staff was busy serving drinks to the other guests. Well, if you can't beat 'em, join 'em! The appetizers, the drinks and the company all made for a warm welcome and got us into a relaxing mood after a day driving the Pacific Coast Highway.

Our Room at Tu Tu' Tun Lodge
The accommodation at the Tu Tu' Tun Lodge is rustic in style but wonderfully comfortable. There are sixteen rooms, two suites, and two separate houses in the grounds. We had a regular room and you can see from Donna's photos exactly what it was like - luxurious and very spacious, with a balcony that had a hot tub on it, and views of the Rogue River.
We sat on the balcony for a short while and watched an osprey flying past. It was magical, totally relaxing. One of the staff later told us there's a nest nearby, and you often see bald eagles too.

Dining at the Tu Tu' Tun Lodge

Unfortunately we happened to be at the Lodge on a Monday, the one night that the restaurant was closed. It was a great shame as the kitchen here has a really good reputation, and offers a full service from May through October.
The rest of the year the service is more limited, although breakfast is served all-year-round. It was no major problem, as Gold Beach is an easy and pretty twenty-minute drive away and there are plenty of eating places here.

We liked the look of Spinner's Seafood, Steak, and Chop House, and had a terrific meal in there so do try it if you're looking for a Gold Beach restaurant - the wild salmon smoked on a cedar plank was excellent. Not pricey, either.

Other Activities

We only spent one night at the Tu Tu' Tun Lodge as we were making our way up the entire west coast and time was a little tight on occasion. We would definitely have stayed longer, and will go back any time we get chance. There's lots of good hiking in the area, and you can go fishing or take kayaks or jet boats on the Rogue River.
As we already knew, there were osprey and bald eagles to see, but you may also see otters, beavers, and perhaps even a bear. The Lodge can arrange golfing for you too, or an in-room massage, but you can be as lazy as you like as well. Our feeling was that if you're looking for some good lodging in Gold Beach in Oregon then the Tu Tu' Tun Lodge will be hard to beat.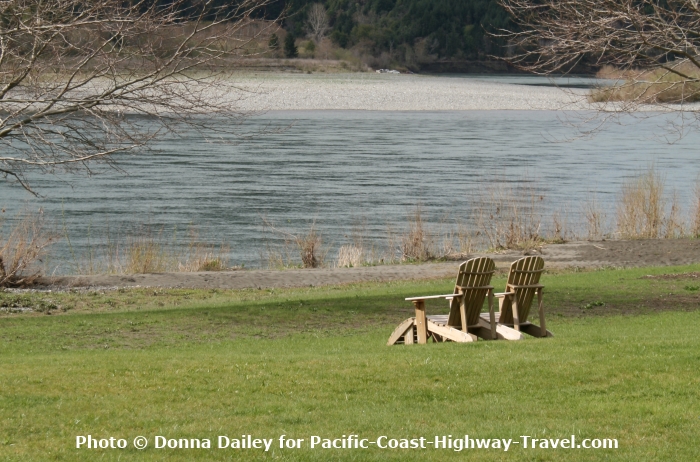 Contact Details
Tu Tu' Tun Lodge
96550 North Bank Rogue
Gold Beach, OR 97444
Freephone: 1-800/864-6357
Phone: 5411/247-6664
Email: lodge@tututun.com
---
---
May 10, 23 09:47 AM

A food and drink expert charts the perfect course from San Francisco to Los Angeles.

Apr 26, 23 10:07 AM

California is home to some of the most diverse and beautiful natural landscapes in the world, making it a haven for outdoor enthusiasts. The state of California offers a wide range of outdoor activiti…

Apr 25, 23 11:08 AM

The latest study by Upgraded Points sets gas cars against electric vehicles to see which vehicle is truly the most economical on five American road trips. Examining the time and fuel costs along iconi…