North Bend Casino Hotel
The Mill Casino Hotel and RV Park
The Mill Casino Hotel and RV Park in North Bend, which merges into Coos Bay on the Oregon coast, turned out to be one of the unexpected and really pleasant surprises of our Pacific Coast Highway trip. 

Our Room
It was a great place to stay. "You're gonna love this room," the receptionist said when we checked in. "I think the bathroom's bigger than my apartment." She was right. We loved it, and the bathroom was huge with wonderful waterfront views as the photos above show. (It was room 651, folks, one of the new rooms recently added to the hotel, and we'd definitely ask for it again.)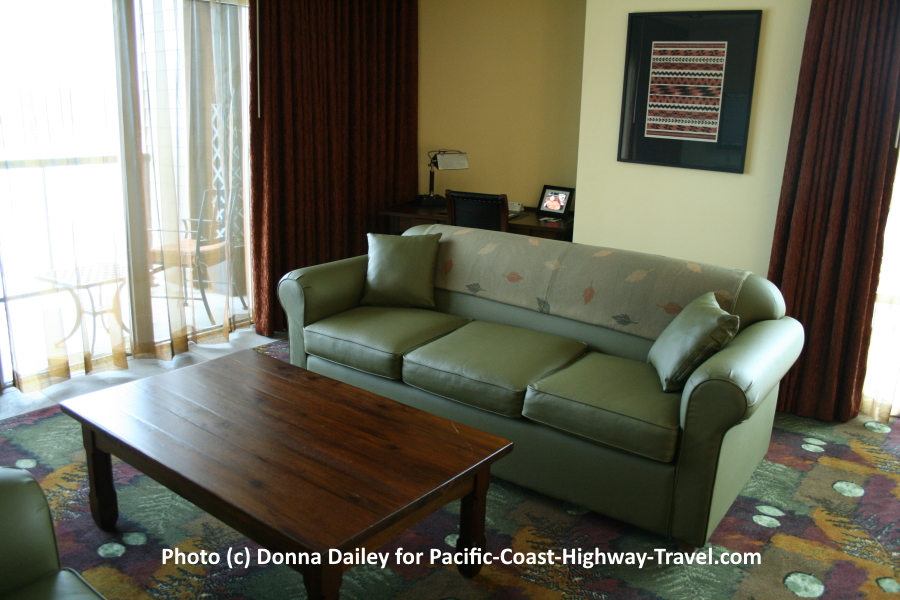 The Lounge Area In Our Room
The bathroom had a twin-person whirlpool bath, and there's an automatic blind that comes down if you're shy. The shower was big enough to hold a convention in, with a massive rainwater shower head, and the sink unit with two sinks had acres of space for toiletries – everything not only looked good, it was practical too, and the two don't always go together in hotel rooms, do they?

The Bathroom
North Bend Casino Hotel Room
As well as being vast, our room had relaxing soft-yellow walls, a three-person couch, three extra armchairs, a big coffee table, a desk to work on (with free wireless internet), a side table, an enormous TV – in short, it was a great room just to hang out in. Which in fact we had to do as the next day the rain really socked in and we had to delay our planned activities (wildlife and sand dune buggies like to keep out of the rain too) and simply enjoy our lovely room. That's a rare treat, believe you me.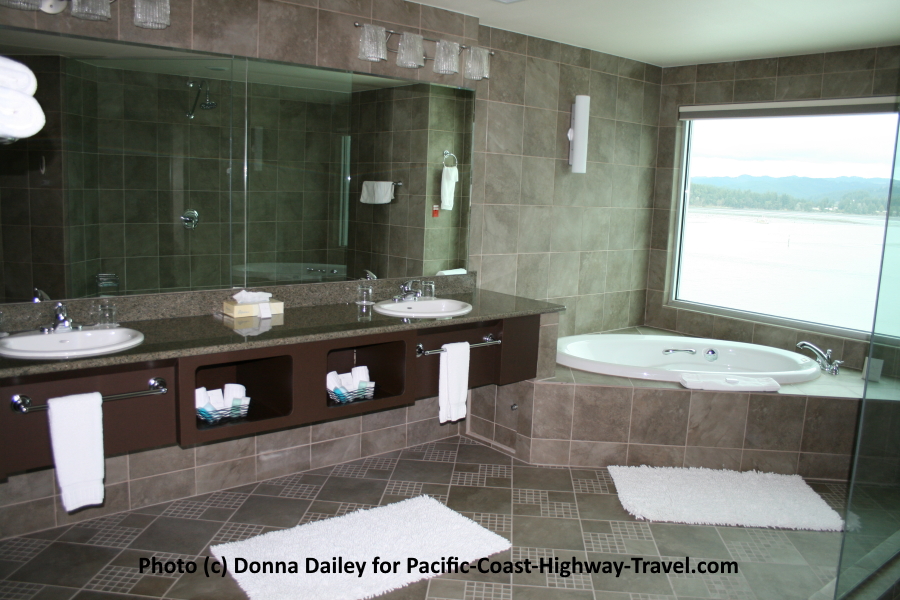 The Bathroom
Mill Casino Hotel Facilities

We'll be honest, we're not Casino people, so all we saw of it was as we went through on our way to the restaurant. But apparently it has over 700 slots, Vegas style table games, a 4-table poker room and, for members of their Millionaire$ Club, complimentary food and beverages. There's regular entertainment at the Mill Casino too, with names like Kenny Loggins and Davy Jones, winemaker's dinners, a jazz festival, and loads of other special events.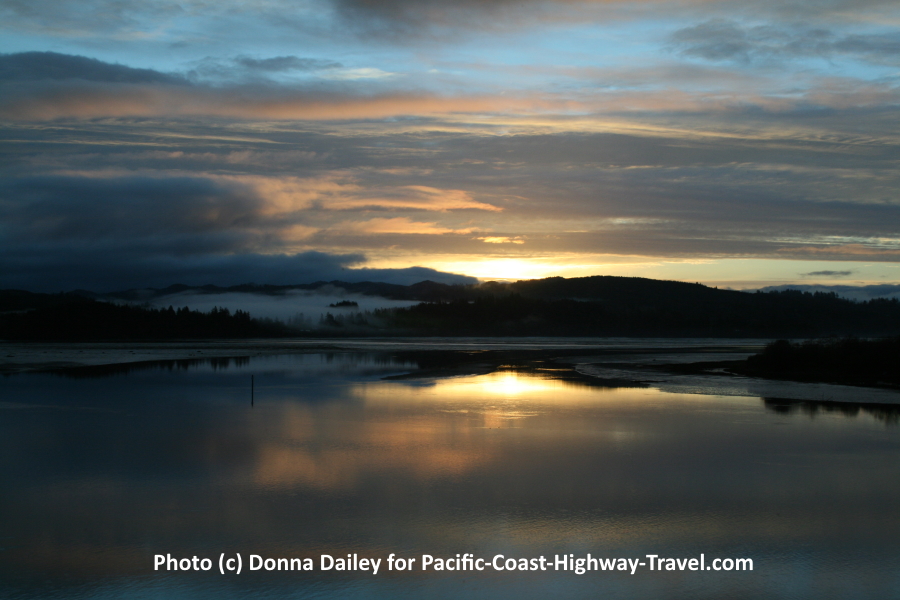 The View From Our Room At Dawn...
Mill Casino Dining and Drinks

The Mill has its own bakery, a café, a buffet, a sports bar, a lounge, and the Plank House Restaurant, where we ate. We took advantage of the Early Bird specials, where the menu includes choices like Oregon fish and chips, Oregon coast seafood paella, catch of the day, prime rib, and ravioli. There were plenty of options and it was good, cheap, and in large portions. There's also a special menu of Senior Choices, for those 55 years and over.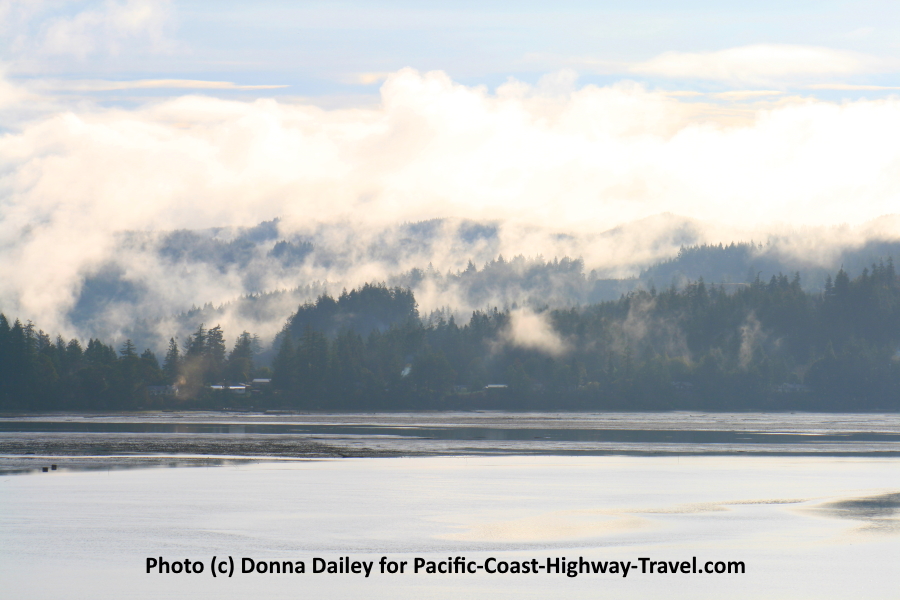 ... And The View Later In The Day
Oregon Native-American Casino

The Mill Casino is owned by the Coquille Native-American tribe, who have lived here in the Coquille Valley for countless generations. At one time their tribal land covered over 700,000 acres, which was ceded to the US Government, but because the treaties were never ratified by Congress, the Coquille people were denied a homeland.
In 1954, even their Tribal status was removed from them by the Federal Government, though it was thankfully restored in 1989. In 1995 they bought an abandoned lumber mill, which was transformed into the Mill Casino, and today the Coquille Tribe is the second-largest employer in Coos County. The bottom line, though, is this. They run a great hotel.

Contact Details

The Mill Casino
3201 Tremont Street
North Bend, OR 97459
Tel: (800) 953-4800
---
---
Oct 06, 21 03:29 AM

The Pacific Coast Highway is California's longest state route at 656 miles (1,055 kilometres) and runs along the Pacific Ocean, making it arguably one of the prettiest drives in the United States. Fou…

Oct 06, 21 03:29 AM

United Airlines just made a lot of friends among cycling enthusiasts. The Chicago-based carrier has eliminated its fees for passengers traveling with their bicycles, joining fellow airlines American a…

Sep 30, 21 03:15 AM

Best Tours & Travel's recent reopening saw sellout tours and a continuing recovery in its private charter operations, thanks to nonstop outreach throughout 2020's shutdown months that continues today.