Bandon
With a population of about 3,000 it would be easy to drive straight through Bandon - the Pacific Coast Highway does go right through the town center - and out the other side without thinking you needed to stop. But for a small town it has lots to offer.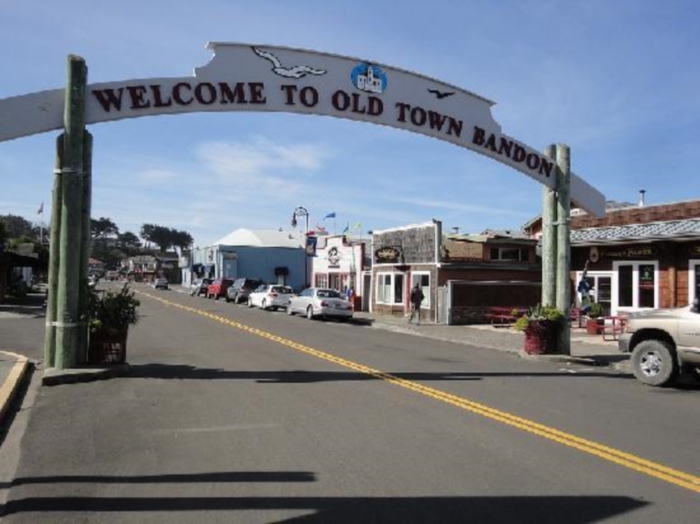 What to Do in Bandon
If you're staying in Bandon you should definitely try and visit the town's museum to learn more about the place. There are displays on the local Native American tribe, the Coquille people, as well as the cranberry business, the lumber and maritime industries, the town's history, and the taverns in the area!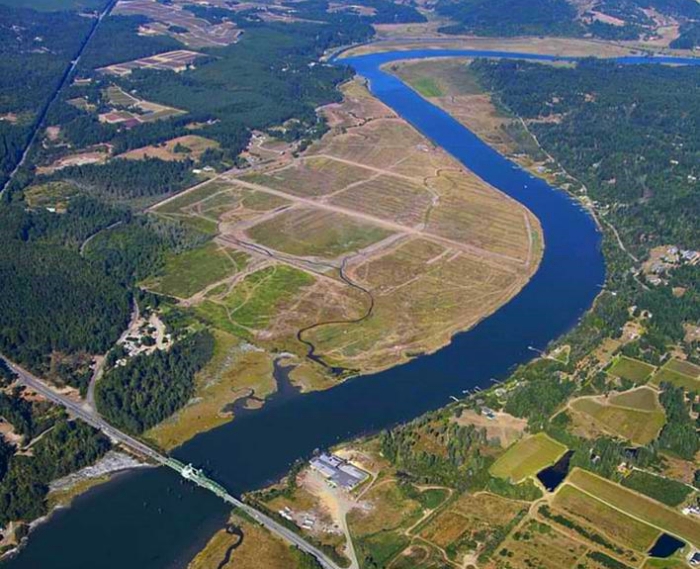 Bandon Marsh National Wildlife Refuge
Just off Highway 101 north of Bandon is this wonderful wildlife area, alongside the Coquille River. It's especially noted for its shorebirds and waterfowl, but you'll also find osprey, peregrine falcons, hawks, owls, bald eagles, and other raptors. Among the mammals are Roosevelt elk, deer, otters, beavers, and muskrats.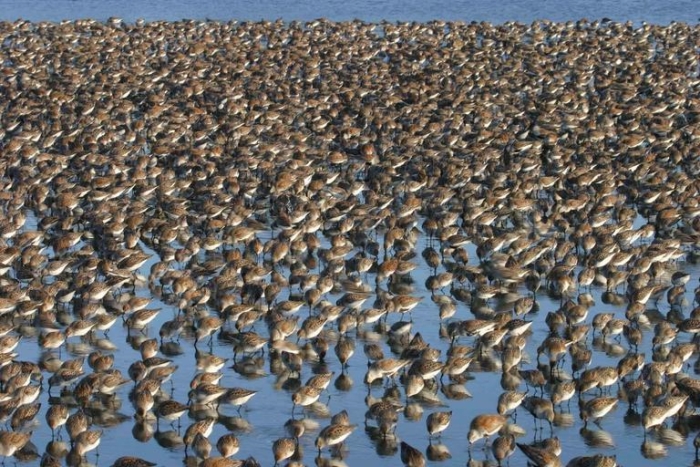 Western Sandpipers and Dunlins
at the Bandon Marsh National Wildlife Refuge
Beach Loop Drive and Face Rock
Head south and west of town for a lovely coastal drive that takes you to the Face Rock State Scenic Viewpoint. The rock is said to be the face of a Native American princess who was turned to stone by a wicked ocean spirit. You can see other offshore rocks and islands from the viewpoint too.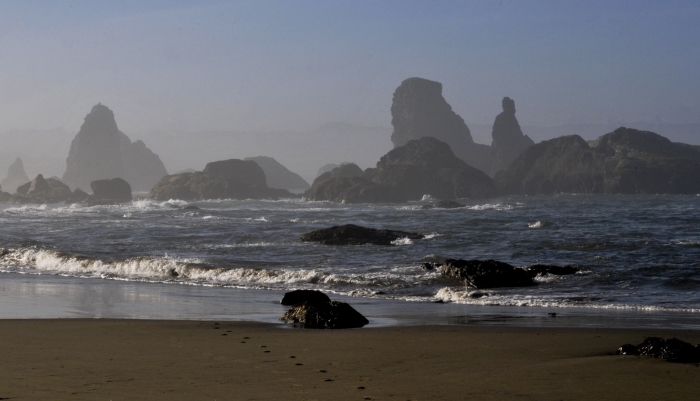 The Bandon Coast
This park to the north of town has beaches, bike trails, hiking trails, and is a great place for whale watching. It's also where you'll find the Coquille River Lighthouse, at the very southern tip of the park where the Coquille River flows into the Pacific Ocean. The Pacific Coast Highway, here called the Oregon Coast Highway, goes right by the turn-off into the park.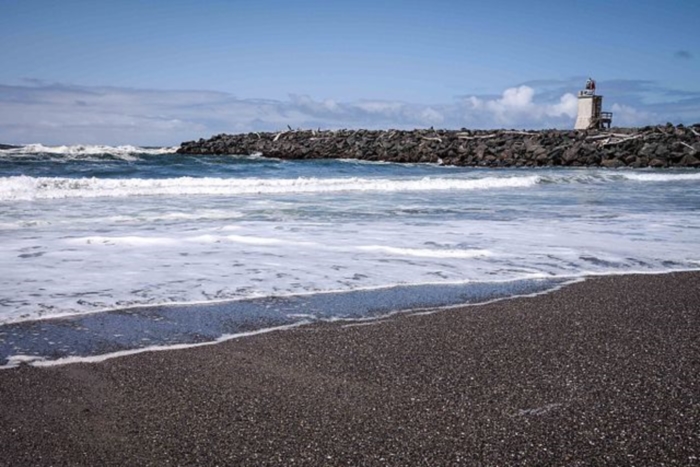 Coquille River Lighthouse
Golf in Bandon
Bandon has several award-winning golf courses, providing some of the most scenic golfing on the west coast thanks to its grassy sand dunes. The Bandon Dunes Golf Resort has no fewer than five courses, all very different. One is a short 13-holer but the other four are all 18-hole championship courses and they've been voted the best four courses in Oregon.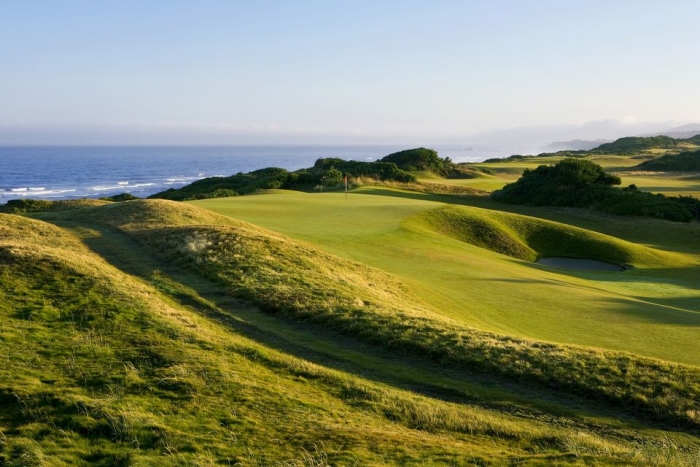 The Bandon Crossings Golf Course is an 18-hole public course which also provides a driving range, two practice putting greens, and short game practice area.

This walk-through wildlife attraction will have you interacting with some of the animals as soon as you enter, as creatures like goats and deer are free-roaming. Children can also meet baby animals in Nursery Land, and you can get up close to some of the tamer animals too. Other stars include lions, tigers, leopards, and black bears.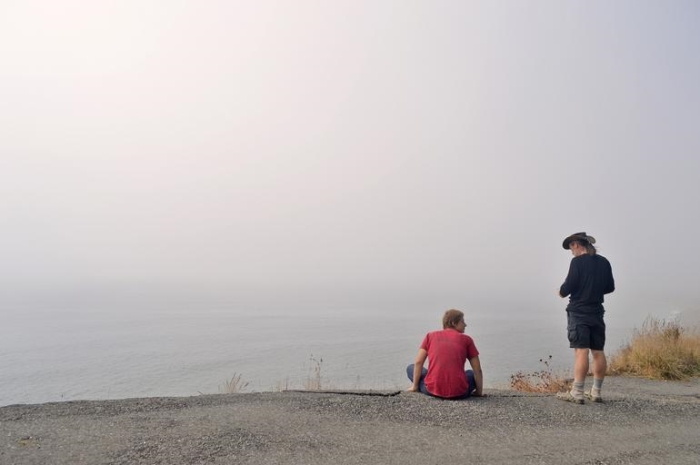 When to Visit Bandon
June to September are the driest months, when you'd have to be very unlucky if you saw more than one day of rain. December through February there might be a flurry of snow, but there will probably be some rain. It only occasionally drops below freezing.
From November to April temperatures are pretty consistent with average highs of 54-58F (12-14C) and lows averaging 39-42F (4-6C). In the summers you're likely to get temperatures in the mid to upper 60s (about 18-20C), but of course there are always exceptions.
You might also want to check out the Events Calendar on the website of the Bandon Chamber of Commerce to see what's on when you're thinking of visiting.
Bandon Cranberry Festival
Cranberries have been grown in Bandon since 1885 and today the cranberry industry is huge, with over 100 growers in the area. The town supplies 95% of Oregon's cranberries, and 5% of the USA's cranberries. On the second weekend of September the harvest is celebrated with the Bandon Cranberry Festival, with parades, markets, cooking, dancing, and live music.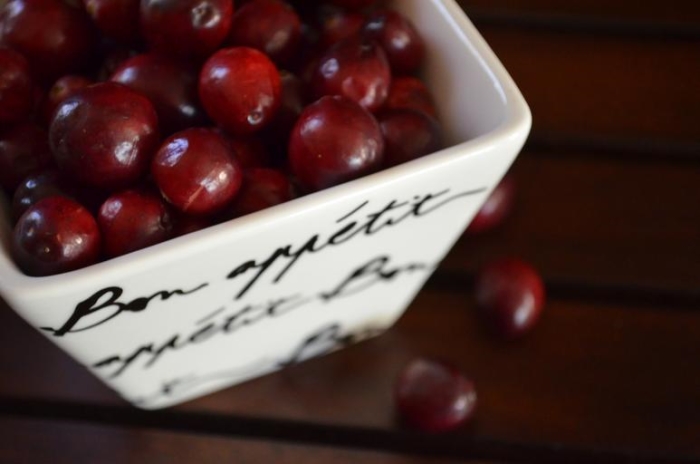 Where to Stay in Bandon
---
---
Oct 06, 21 03:29 AM

The Pacific Coast Highway is California's longest state route at 656 miles (1,055 kilometres) and runs along the Pacific Ocean, making it arguably one of the prettiest drives in the United States. Fou…

Oct 06, 21 03:29 AM

United Airlines just made a lot of friends among cycling enthusiasts. The Chicago-based carrier has eliminated its fees for passengers traveling with their bicycles, joining fellow airlines American a…

Sep 30, 21 03:15 AM

Best Tours & Travel's recent reopening saw sellout tours and a continuing recovery in its private charter operations, thanks to nonstop outreach throughout 2020's shutdown months that continues today.